The Real Estate Story
Wanting to trade the consumer food industry recently, I looked at McDonald's (NYSE:MCD) alongside YUM Brands (NYSE:YUM), Darden Restaurants (NYSE:DRI) and other players. McDonald's started taking the lead on my radar as the price dipped to its fresh 52-week low November 16th, and as I dug deeper, I noticed some interesting statistics.
According to Trefis, nearly half (44.8%) of McDonalds' stock price is "Franchisee Rent & Fees", which they call "the most important division". Company-owned restaurants account for 31.7% of the stock price, while Franchisee Royalties rounds it out at 23.5%.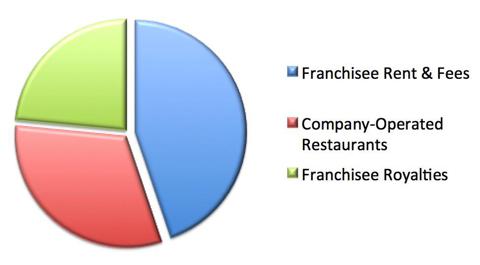 As we all know, however, valuing a company (or components thereof) can be pretty subjective. While Trefis had the stock price targeted at $94.43 based on their valuation, I was more interested in the nuts and bolts of it - the earnings. How much of McDonald's E in P/E is from property? It turns out, there is a proportionally large amount there.
The adjusted EBITDA for 2011 shows $4.9B in Franchisee Rent & Fees (44.9% of total) versus 3.6B for Company-Operated Restaurants (32.3%) and 2.5B (22.8%) for Franchisee Royalties. By far, the lion's share of McDonald's earnings is directly related to property.
What Does This Mean?
So you may be asking yourself, who cares? The tenants, i.e. McDonald's franchisees, still need to operate a profitable business to pay rent, right? They still sell burgers and a portion of that sale goes to rent. While that's true, the details are what makes the case for McDonald's strategy true genius.
Consider for a moment that suddenly half of McDonald's current traffic started going to KFC or Subway. A franchisee of 20 years would take a huge hit and would probably go out of business. The franchisee is forced to close down operations and an empty shell of a building is left. McDonald's then says "Sure, that is bad luck, but we now have a building/land that is nearly or completely paid for, that we can turn around and sell... to KFC or Subway, at a premium". So what's that worth?
McDonald's currently has about 31,000 restaurants worldwide. About 15% of those are operated by the company. That leaves 85%, or 26,350 that are operated by franchisees, where McDonald's still owns the property in the vast majority of cases. McDonald's earns $4.9B in Franchisee Rent & Fees, which averages out to $185,958 per restaurant, per year. Borrowing a term from real estate investing, capitalization rate (also known as cap rate), if we assume a moderate cap rate of 10%, then the average McDonald's property is worth $1.85MM.
So the property is one piece of the puzzle - what about the royalties? McDonald's earns 2.5B annually in Franchisee royalties, which divides out to about $94,876 per restaurant, per year. If a franchisee goes out of business, this is lost.
So let's tie this all together. The 20-year franchisee goes out of business, and the property takes 5 long years to sell. During that 5-year period, $474,380 in royalties are lost, as is $929,791 in rent. That totals $1,404,171. However, McDonald's is able to sell the property for $1,850,000, a difference of $445,829 to the positive.
Summing it Up
McDonald's has a win-win strategy with owning the properties their franchisees use. They developed a tried-and-true business model that franchisees can follow to earn themselves a decent income, of which McDonald's takes a piece in both rent and in royalties. The franchisee has "skin in the game" by risking some of his own capital to start the franchise, and by directly benefiting with increasing sales. This keeps them motivated and, historically, franchised restaurants do better than company-owned facilities. It's a fact that McDonald's is actively trying to spin off the locations it currently operates to franchisees, in part for this very reason.
Plan A for McDonald's is simple: Find a franchisee willing to work hard for their business, using a proven business model, while McDonald's collects rent and royalties.
Plan B for McDonald's is almost an insurance policy: Take the equity built over time in a given location to cushion the impact of a franchisee going out of business. They can either find a new franchisee to take over, or simply divest the property and be at a net gain within a reasonable time frame.
Along the way, properties only take so much time to pay off. McDonald's then earns rent on a paid-for property free and clear, adding even further to their bottom line.
My thoughts are - with a solid strategy in place where a primary business plan works well, and a backup insurance policy is in place, how can you go wrong buying the world's largest restaurant chain, with a great dividend history, especially at near 52-week lows?
Disclosure: I have no positions in any stocks mentioned, but may initiate a long position in MCD over the next 72 hours. I wrote this article myself, and it expresses my own opinions. I am not receiving compensation for it (other than from Seeking Alpha). I have no business relationship with any company whose stock is mentioned in this article.