When Cliffs Natural Resources (NYSE:CLF) was trading at $35 in September 2012, many investors speculated that Cliffs would have an uneventful quarter. Shares rallied above $45 by mid-October. Since then, Cliffs quarterly results were weakened by a sharp drop in iron ore prices. Seabourne pricing declined 36% in the quarter, while iron ore revenue dropped from $138 to $111. At a macroeconomic level, weakness in Europe and uncertainty of sustainable growth in China supported the outlook for lower iron ore prices. This raises two questions for Cliffs shareholders.
First, investors will want to know how much lower will iron ore prices continue to drop. Second, investors need to look at why the correlation between Cliffs Natural Resources and Chinese firms is increasing. To answer these questions, investors need to consider 4 things first.
1) Iron Ore Prices Could Decline
Iron ore prices closed at $113.95 on October 31. Since then, steel leading iron ore prices closed on November 20 at around $120. An investor might speculate that in the short-term, iron ore prices found support above $100: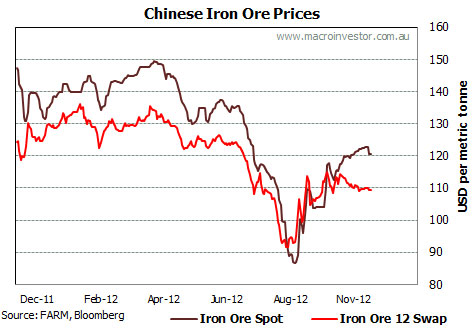 (Chart Source: Bloomberg)
Possible actions by China could lower the price of iron ore and create excess supply. China said it may reduce the tax rate paid by domestic iron ore producers by half in an effort to stimulate local supply and to reduce the prices received by miners in Australia and Brazil.
2) Sales Volumes Expected to Decline
Cliffs said on November 19 that it expected sales volumes to decline. Cliffs reduced its sales volume forecast to 9-10 million tons. This is down from a previous forecast of between 13-14 million tons. The company will achieve this reduction by lowering operating plans for a number of its mines. Construction for the load out facility and the concentrator for the Phase II expansion of Bloom Lake Mine in Eastern Canada were ceased immediately. In effect, Phase II construction was forecast to be complete in early 2014.
In the U.S., half of the production lines at Northshore Mining in Minnesota will be idled. Cliffs maintained its sales volume for U.S. Iron Ore at between 19 - 20 million tons.
3) Reduction in Capital Expenditure
Cliffs lowered its capital expenditure forecast for 2013 to a range of between $700 - $800 million. The previous CapEx was $1 billion.
4) Cliffs Shares Riskier Than Competitors
Iron ore prices will be watched closely by investors who hold shares in miners, including Vale (NYSE:VALE), Rio Tinto (NYSE:RIO), and BHP Billiton (NYSE:BHP). In the equipment making industry, investors in Joy Global (NYSE:JOY) and Caterpillar (NYSE:CAT) will need to monitor the price of iron ore. Yet Cliffs shares still hold greater risk compared to its competitors. For the year-to-date, shares are down 50%. BHP and RIO are flat for the year, while Vale shares are down 20%: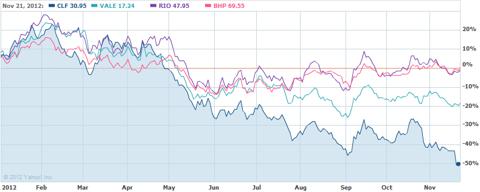 (Chart Source: Yahoo Finance)
Investors currently favor larger market capitalization mining companies. Cliffs currently has a market cap of $4.4 billion, while Rio, BHP, and Vale are much bigger. The latter companies have a market cap of $89 billion, $188 billion, and $90 billion, respectively.
Analysis
The move by Cliffs Natural Resources to reduce its CapEx is prudent, given the declining conditions for iron ore. Iron ore prices could very well drop back to $100 per ton, led by deteriorating macroeconomic conditions in Europe and in China. On the bright side, the leadership transition in China could be one reason to explain slowing growth.
By reducing CapEx by $200-$300 million Cliffs is more likely to sustain its 8.01% dividend yield. Even with dividends being trimmed by a small margin, Cliffs has a higher yield than its competitors. Only Vale is closest, paying a yield of almost 6%: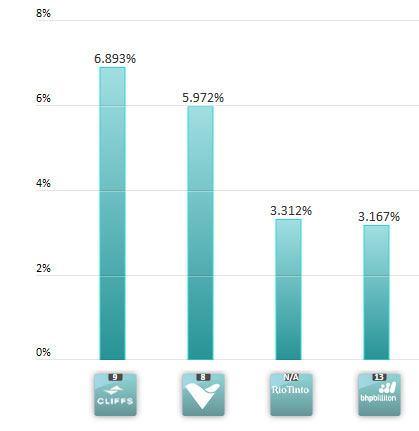 (Data Source: Kapitall.com)
With a 141.18 million share float, Cliffs is currently committed to $352.95 million in dividend payments each year. Cliffs last declared a dividend of $0.625 per share on November 13, 2012, payable to shareholders of record on November 23, 2012.
Conclusion
Investors should expect greater scrutiny for Cliffs Natural Resources than for Rio, Vale or BHP to continue. The company reported weak quarter results two consecutive times. The companies are all lowering spending to adjust for weaker times ahead, but this may not be enough to ease competitive threats. Most notably, Chinese firms could be a greater threat to the iron ore industry in the near-term. A tax cut by China could help Chinese firms reduce marginal output costs by as much as $14 a ton. Large Chinese firms would benefit most, which will raise competitive pressures for Cliffs.
Cliff has a low valuation, with a forward P/E of 7.95 and low debt to equity of 0.55. With a short interest to float of 19.25%, Cliffs may choose to retain its generous dividend yield. Short-sellers will need to pay the generous yield to maintain their bearish bet. By sustaining the dividend, it would provide support for its share price.
Disclosure: I have no positions in any stocks mentioned, and no plans to initiate any positions within the next 72 hours. I wrote this article myself, and it expresses my own opinions. I am not receiving compensation for it (other than from Seeking Alpha). I have no business relationship with any company whose stock is mentioned in this article.