VIX - Market Sentiment:
S&P futures drifted lower initially Monday as investors again worried about "Fiscal Cliff" and issues out of Europe. The market continued to meander sideways to slightly down, continuing to burn off last week's oversold bounce. The S&P ETF (NYSEARCA:SPY) traded in a very tight range today, following the futures trading mostly within a 12 handle pattern. The NYMO Oscillator has now moved from -92.31 to a positive reading of 50.00. The reading after today should fall slightly, but remains under the overbought level of 80.00.
The spot CBOE Volatility Index (VIX) rose today, but unfortunately for volatility ETF (NYSEARCA:VXX), 2x ETF (NASDAQ:TVIX), and alternative 2x ETF (NYSEARCA:UVXY), the futures were lower across the board. These ETFs continue to underperform in this market as the VIX futures fall continues. The VIX pits were crazy active today, trading more than 939K contracts, with calls outpacing puts more than 4.8:1. It appears large block orders dominated the trading, with what appears to be short call rolls from December to January leading the way. The December 32-35 call spread appears to be shutdown and rolled 100K times to January 25-35 strikes. Of those calls and puts that trade on the bid or ask, 1.4M of call premium was purchased versus 1.2M of put premium sold in today's trading session.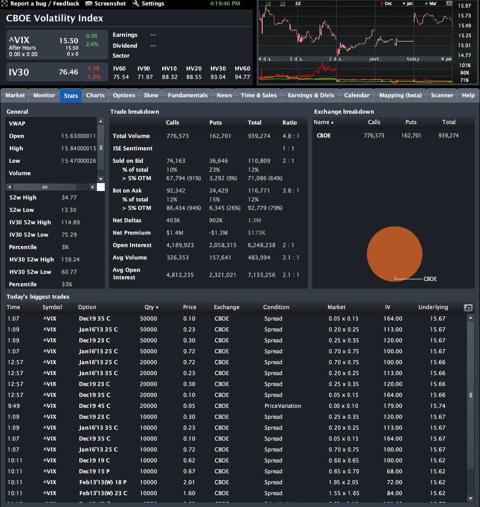 Statistics and Screenshot Provided By LiveVol
VIX futures are below:
Friday
· December VIX futures 15.90
· January VIX futures 17.60
· February VIX futures 18.90
Today
· December VIX futures 15.73
· January VIX futures 17.48
· February VIX futures 18.70
Options Paper:
Although the market traded just 13.6M contracts today, tech giant Apple (NASDAQ:AAPL) was outshined by a few. Today the mode was clearly bullish, as AAPL climbed back and through the 580 resistance level. For those who follow my trades on Twitter, know I tried a short at the 580 level, but was quickly stopped out. The big move today was call accumulation, as more than 14.1M of net calls were bought on the ask. Although not all positive, the puts were also bought with a net of 6.0M as investors brace for another leg down. AAPL traded more than 886K contracts today, with calls outnumbering puts 1.5:1. Keep an eye on the weekly open interest, as this could be a key note as to where AAPL could move for the rest of the week.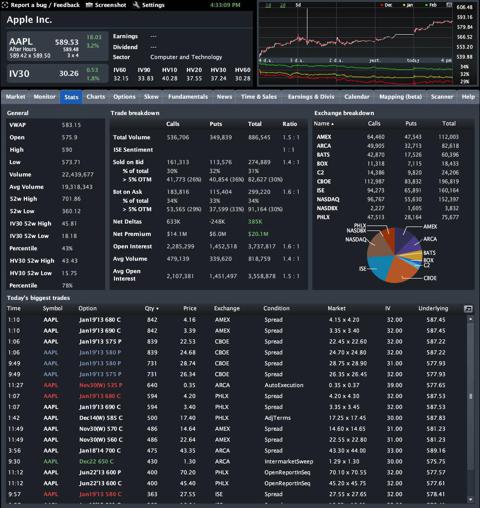 Statistics and Screenshot Provided By LiveVol
Last week on the Sonar (here), Estee Lauder (NYSE:EL) saw call options bought, which ripped more than 50% higher in Friday's trading. Today, the retail theme continued, but at a much longer timeframe. Today, the Gap (NYSE:GPS) saw a call buyer of 7,000 of the January 2015 35 strike calls for 6.40. This trade almost cost the buyer of calls 4.8M worth of premium and gets the investor net long 700K shares with significant leverage to the upside. The spreads in this name are a mile wide, trading 5.60 x 6.45 at the time of the trade. GPS typically only trades 7.1K contracts a day, so this trade was almost bigger than the entire day's volume. Calls outnumbered puts more than 3:1 on the day, with traders following this trade buying front month 36, 37, and 38 strike calls. GPS traded up only fractionally on the day.
Popular ETFs and equity names with bullish/bearish paper:
Bullish Option Flows - ISE and % OTM calls bought on offer
JDS Uniphase (JDSU) 71% calls continue to be bought in this name
Keryx (NASDAQ:KERX) 2.7K OTM calls bought on a very painful name for me
Digital River (NASDAQ:DRIV) 9.2K OTM calls bought almost 95%
Weatherford (NYSE:WFT) 4.7K OTM calls bought
Micron (NASDAQ:MU) 53% of the 11.1K calls bought
Avon Products (NYSE:AVP) 78% OTM calls continue to be bought form last week
Oracle (NYSE:ORCL) saw 7.8K of the 16K OTM calls bought on the ask
Bearish Option Flows - ISE and % OTM puts bought on offer
Ultra Silver ETF (NYSEARCA:AGQ) 3.7K OTM puts bought looking for a pullback
Oncothreon (ONTY) 84% of puts bought
Verizon Communications (NYSE:VZ) 16K or 63% of OTM puts bought
Delta Air Lines (NYSE:DAL) 57% but follows large call buying from last week
MBIA Inc (NYSE:MBI) 42% of the puts as a possible hedge for the gains today?
Celsion (NASDAQ:CLSN) 3.3K of the 9K puts as hedges for those who are lucky enough to be long
Molycorp (MCP) 5.1K of the OTM puts bought
Disclosure:
I am long: AGNC, APC, KERX, MTGE, WLL, and I am short: FXE, SPY.
Trades today:
Entered and exited AAPL short, bought SPY puts
Trades Friday (because I didn't do a Sonar report):
Closed INFA calls (Friday), closed EL calls, closed Short EL puts
I wrote this article myself, and it expresses my own opinions. I am not receiving compensation for it (other than from Seeking Alpha). I have no business relationship with any company whose stock is mentioned in this article.
Disclaimer: The opinions in this document are for informational and educational purposes only and should not be construed as a recommendation to buy or sell the stocks mentioned or to solicit transactions or clients. Past performance of the companies discussed may not continue and the companies may not achieve the earnings growth as predicted. The information in this document is believed to be accurate, but under no circumstances should a person act upon the information contained within. I do not recommend that anyone act upon any investment information without first consulting an investment professional as to the suitability of such investments for his or her specific situation.