The recent news out of Navios Maritime Holdings (NYSE:NM) included a surprise change in the company's charter default insurance coverage and that change may give Navios the opportunity to more comfortably sail through the current down market for ship charter rates and profit handsomely if and when those rates return to more historic levels.
Navios Maritime Holdings charters out a fleet of 50 drybulk ships of various sizes. Of the 50 vessels, the company owns 30 and the other 20 are leased-in on long-term contracts. In addition to its own fleet, the company owns 25% and the general partner units of Navios Maritime Partners L.P. (NYSE:NMM), 54% of Navios Maritime Acquisition Corp. (NYSE:NNA) and 64% of Navios South American Logistics. More on the value of these holdings in a minute.
The recent news from Navios is a change in the charter insurance coverage it has carried against defaults by the companies contracting to vessels. Navios has a history of extensive use of insurance to guarantee charter revenues. The policy paid off when the customers who signed long-term contracts back when charter rates were much higher started to default on contracts. The fleet list on the Navios website shows that the revenues from 8 of the 30 owned vessels are currently supported by insurance proceeds.
The insurance company providing the charter default insurance has decided to get out of the maritime business and has come to an agreement with Navios Maritime Holding to make a lump sum payment instead of continuing to pay claims. Navios will receive a lump sum payment of $175.4 million to cover defaulted charters. The lump sum includes an extra $11 million above the lost charter revenue and Navios calculates a $25 net present value benefit from receiving the money now rather than spread over a period of years. Approximately $41 million of insurance remains in force on charterers that are current on their payments.
Value of the Navios Assets
The value of Navios Maritime Holdings as a company can be viewed from an asset point of view and a cash flow perspective. The insurance payout has changed the cash flow story, but first a quick look at the asset values. Here is a breakdown of the company's asset values:
Vessel fleet: Balance sheet value: $1.76 billion. Long term debt: $1.36 billion. Vessel equity: $400 million.
NMM interest: $204 million at the current market value.
NNA interest: $57 million.
South American Logistics: $100 million based on balance sheet assets.
Balance sheet cash: $320 million after receipt of insurance payout.
The current assets of Navios Maritime Holdings total up to $1.08 billion. The company has a current market cap of $368 million, barely more than the cash total soon to be on the balance sheet.
Cash Flow Problems
The valuation problems for Navios Holdings comes from not generating enough cash flow from that billion dollars worth of net assets. Ongoing expenses include interest on the debt, charter-in vessel costs and operating expenses, G&A expenses and principal repayments on debt. The result is an average cost of $15,933 per vessel per day for 2012. For the full year of 2012, fixed charters will result in revenues of $18,900 per vessel per day. Total operating revenue for the year will be $262 million, costs are forecast to be $231 million, leaving $31 million of surplus revenue over cost.
However, for 2013, Navios only has 33.7% of available ship operating days on fixed contracts, down from 98% for 2012. This 33.7% contracted will produce $93 million, leaving a $145 million shortfall on the projected $239 million of operating costs. To cover the $145 million, there are 9.880 open days for charter of the Navios fleet. Eyeball math says that Navios needs to earn about $15k per day to break even. The other eyeball on the fleet list and current lease rates shows that $15k is a big number in the current drybulk market. While Navios has two-thirds of its business coming off contract or insurance mitigation, rates in the drybulk charter market continue to push to new lows as indicated by the Baltic Dry Index.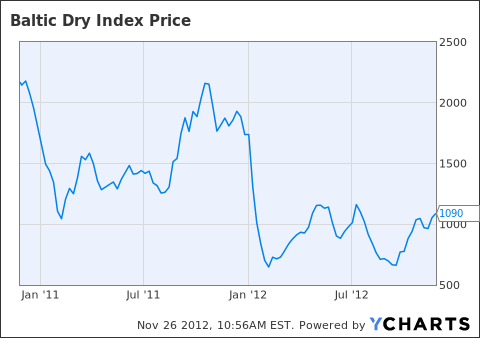 As you can see, the drybulk shippers index bounced off multi-year lows in 2012. Not a good time to be trying to put your drybulk vessels on long-term contracts.
Saved by $175 Million
Although the idea to make a single payout of future insurance proceeds did not come from Navios, the unexpected cash infusion gives the company an opportunity to safely weather the current low in shipping rates and set itself up for some very nice profits and value increases starting in 2014 - hopefully.
With the $175 million of insurance money, Navios does not need to charter one of those 10,000 available days and will still have cash in the bank at the end of 2013. Of course, the company will be out actively chartering those vessels and every charter dollar earned goes right back into that health cash balance. The situation allows Navios to generate cash flow through two different options:
Charter on the spot markets, collecting whatever the market is willing to pay and stay flexible and liquid through the ongoing troubles of the drybulk shipping sector.
Lock up long term contracts at profitable rates when there are opportunities to do so. It may take 6 months, a year, 18 months or longer, but it seems inconceivable that drybulk rates can stay at a level where almost every shipping company in the business is losing money. Navios has an excellent reputation and should be able to attract high quality charterers when relieved of the desperation of generating cash flow to cover the bills.
Long Term Value Play
Navios Maritime Holdings is now in a position to wait out the drybulk rate downturn and go back to its usual strategy of long term contracts when the rates for those contracts get better. In the meantime, the 24 cents / 6.7% annual dividend is covered by dividends coming in from NMM and NNA. Note: Navios Holdings made sure that Navios Maritime Partners remains covered by adequate default insurance.
The challenges faced by drybulk shippers is a slow growth global economy and uncertainty about China's growth engine. Drybulk shippers move commodities such as iron ore, coal and grains from the producing countries to the manufacturing and consuming economies. Drybulk charter rates have been in an ugly downtrend for 4 plus years and it is difficult to predict a bottom and recovery. The Navios Maritime Holdings share price could end up stagnating at $3 to $4 if charter rates do not improve by sometime in 2014. The upside is a double or triple of the share price if the company can lock in some profitable charters during that time frame.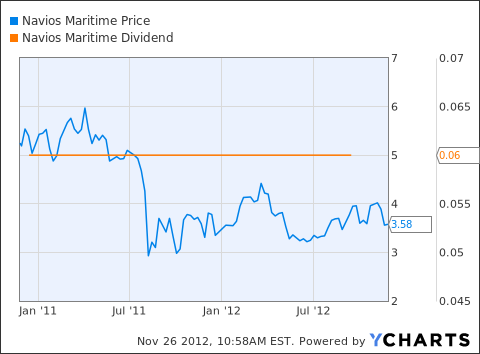 Disclosure: I have no positions in any stocks mentioned, and no plans to initiate any positions within the next 72 hours. I wrote this article myself, and it expresses my own opinions. I am not receiving compensation for it (other than from Seeking Alpha). I have no business relationship with any company whose stock is mentioned in this article.