ETF Spotlight on the iShares MSCI EAFE Growth Index Fund (BATS:EFG) is part of an ongoing series.
Assets: $1.3 billion.
Objective: The iShares MSCI EAFE Growth Index Fund tries to reflect the performance of the MSCI EAFE Growth Index, which is comprised of securities from Europe, Australasia and the Far East that represent 50% of the free float-adjusted market cap of the MSCI EAFE Index and cover the growth style.
Holdings: Top holdings include Nestle SA-REG 2.7%, Roche Holding AG 2.6%, Toyota Motor Copr 2.2%, BHP Billiton Ltd. 2.21%, and Glaxosmithkline Plc 2.1%.
What You Should Know:
BlackRock's iShares sponsors the fund.
EFG has a 0.40% expense ratio.
The fund has 531 holdings, and the top 10 make up 19.4% of the overall portfolio.
Sector allocations include: consumer staples 21.2%, industrials 15.7%, consumer discretionary 14.5%, materials 13.1%, health care 11.0%, financials 8.8%, information technology 6.6%, energy 5.0%, telecom services 2.2%, and utilities 1.4%.
Country allocations include: U.K. 23.4%, Japan 20.4%, Switzerland 10.2%, Australia 8.5%, Germany 8.4%, France 7.5%, Sweden 3.7%, Netherlands 3.2%, Hong Kong 2.8%, and Denmark 2.0%.
EFG has a 3.8% 30-day SEC yield.
The ETF is down 1.0% over the past month, up 1.8% over the last three months, and up 10.9% year-to-date.
"Because the MSCI EAFE Growth Index covers approximately half of the assets in the MSCI EAFE index, it does not overweight cutting-edge high-risk, high-return growth stocks," according to Morningstar analyst Alex Bryan.
"Relative to the MSCI EAFE Index, EFG has greater exposure to consumer defensive and industrial stocks and significantly less exposure to the financial services sector," Bryan added. "EFG may offer a more defensive way to gain access to the developed markets in the EAFE Index."
The Latest News:
"Growth stocks generally trade at higher multiples, so paying too much for quality can wipe out the benefits," Bryan wrote in a Morningstar report. "But when the valuation gap between value and growth stocks is reasonable, as it is now in the MSCI EAFE Index, this quality tilt can offer defensive market exposure."
European markets were up slightly Wednesday after recovering from the earlier losses on the failure to come to an agreement on Greece's new loan agreement, reports RTTNews.
However, the markets recovered after Germany announced it was open to new financing for the European Financial Stability Facility rescue fund.
"Germany seems more determined than it has been in making sure that the Athens program remains intact," Marc Chandler, global head of currency strategy at Brown Brothers Harriman, said in a Wall Street Journal report. "The new funds would ostensibly be used by buy back Greek bonds."
iShares MSCI EAFE Growth Index Fund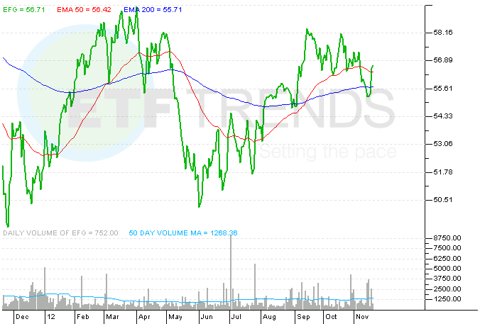 Max Chen contributed to this article.
Disclosure: I have no positions in any stocks mentioned, and no plans to initiate any positions within the next 72 hours. I wrote this article myself, and it expresses my own opinions. I am not receiving compensation for it. I have no business relationship with any company whose stock is mentioned in this article.