When a Chief Executive Officer buys his own company's stock, it can often be a strong symbolic commitment from the one in charge. After all, the CEO tends to be the one who is most familiar with the company's everyday operations. But not every person invests on the same timeframe or rationale as these officers. In the same sense, not every large insider purchase should also be treated with the same level of confidence by individual investors. The following three companies have recently had large insider purchases by their CEOs. While they each express a form of value on some level, investors should continue to formulate their own conclusions on the basis of the underlying risks that remain.
STEC, Inc. (NASDAQ:STEC)
STEC is a global leader when it comes to providing solid state technologies and solutions that are customized to the meet the needs of original equipment manufacturers. The company designs and manufacturers solid-state drives, flash cards, flash modules, and high-density DRAM modules. As of November 25, the company currently supports a market capitalization of $220 million, carries a price-to-book ratio of 0.86 and trades with a price-to-sales ratio of 1.10. In the last year alone, the stock has fallen over 45%.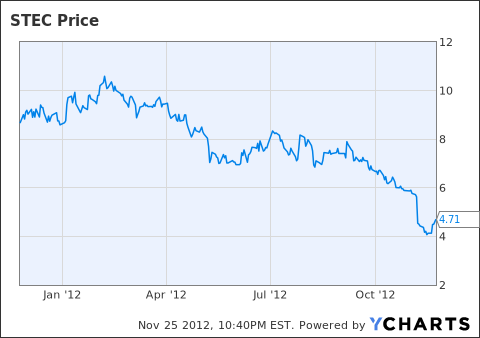 On November 21, CEO and co-founder Mr. Mark Moshayedi purchased 32,828 common shares at $4.50/share in a transaction worth $147,726, as found on the Form 4 filed here. Starting from November 19, this brought his total recent purchases to 137,664 shares at a total transaction value of $593,049. By the end of his most recent purchase, he indirectly held a total of 3,300,954 shares for a company with a little under 47 million shares outstanding.
Yet despite this large purchase, STEC continues to remain a speculative buy for most investors. The company's annual revenues have proportionally declined in recent years. The company continues to be in the red, and analysts expect a loss of $1.00/share in 2012, with an even greater loss of $1.02/share in 2013. The most disheartening alarm comes from the company's latest conference call, found here. As quoted below, the company has staked its future on a reliance towards a different customer base found in non-OEM clients -- a transition that is sure to take much time to implement:
"The increasingly competitive environments over the past year and the slower-than-expected uptake of our new products with OEMs have made refocusing our go-to-market strategy a top priority. Our transition efforts are designed to enable us to ultimately capture an increasing share of a wider base of potential customers and deliver as much value to them as possible but this transition will not happen overnight. In fact, our pursuit of non-OEM accounts will continue well into next year and is expected to remain a core focus for us going forward." - Mark Moshayedi, CEO of STEC, Inc.
Altogether, STEC currently finds itself in the short term a more likely takeout client than a stand-alone operator with a prosperous future. The remaining hard-disk drive manufacturers such as Seagate Technology (NASDAQ:STX) and Western Digital (NYSE:WDC) are on the prowl for a greater presence in the solid-state drive market. For their part, Seagate and Western Digital have effectively generated lucrative cash flows having cornered the market that is slowly becoming outdated. Yet despite the possibility of a buyout down the road, it remains a speculative risk for investors to rely on one of these two companies to save STEC's share price. After all, as it stands, the fundamentals appear to be deteriorating.
Molycorp, Inc. (MCP)
Molycorp is a leading rare earth producer with a unique advantage of being located outside of China. The company is in the process of expanding and modernizing its primary production facility located in Mountain Pass, CA. The company has acquired numerous businesses around the globe in its attempt to form a vertically integrated mine-to-magnetics supply chain. As of November 25, the company currently supports a $1.19 billion market capitalization, carries a price-to-book ratio of 0.62 and trades with a price-to-sales ratio of 1.89. In the last year alone, the stock has fallen over 71%.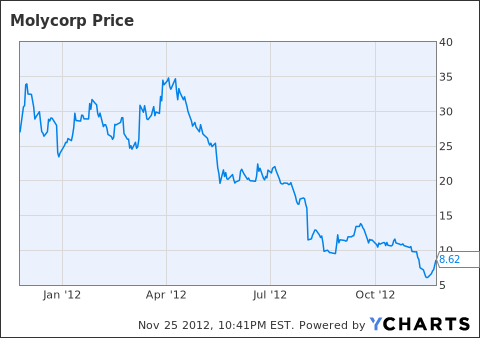 However, as stated in my article found here, CEO Mark Smith recently purchased 20,000 common shares at an average price of $6.20. According to the Form 4 found here, Smith directly purchased $124,000 worth of stock, bringing his total amount of shares directly owned up to 849,318. Likewise, he indirectly owns an additional 157,633 shares.
Yet what continues to cast a heavy shadow over the company remains the less than informative SEC request for information. In response to the inquiries by investors and the media, the company released a rather dry statement regarding the request, found here. With the connected formal order of investigation possibly pertaining to the accuracy of the company's public disclosures, there remains little to comfort investors in the short term. Despite the heavy insider purchases that sent the stock rising 19% on Friday, investors would be wise to exercise caution with this company prior to thinking that all is well.
MEMC Electronics Materials Inc. (WFR)
As a global leader in the semiconductor and solar industries, MEMC stands as a expert in the development and manufacturing of silicon wafers. The company's products are used throughout the electronics industries from computers to satellites. MEMC is also advancing the field of solar energy, as it provides silicon wafers and modules thus far used in 580 solar power systems representing over 600 megawatts of energy. As of November 25, the company currently supports a $594 million market capitalization, carries a price-to-book ratio of 1.02 and trades with a price-to-sales ratio of 0.23. In the last year alone, the stock has fallen over 36%.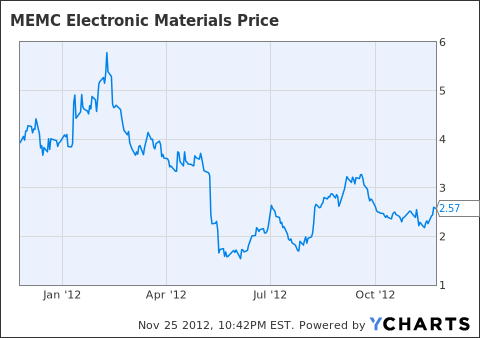 On November 20, CEO Ahmad Chatila directly purchased 83,682 shares of the company's common stock. With an average purchase price ranging from $2.38-$2.47, the total transaction value came to be roughly $203,010. According to the Form 4 filed here, the CEO's latest purchase increased his total holdings to 407,654 shares in a company with roughly 231 million shares outstanding.
MEMC has largely been hit from its association with solar energy as the second-largest polysilicon maker in the United States behind Dow Chemical's (DOW) Hemlock Semiconductor. The industry has suffered from intense competition from the likes of Chinese manufacturers such as LDK Solar (NYSE:LDK) and Yingli Green Energy (NYSE:YGE). Yet as stated in the company's conference call found here, MEMC may be in a more safely established form than investors and analysts give it credit for. In regards to the solar energy business, Mr. Chatila states the following:
"The solar wafer business and the business unit as a whole were cash flow-positive in the quarter. Our strategy, focused on downstream, continues to show its value. While many upstream competitors are facing significant challenges, our upstream material business is structured primarily on cost-effective internal sourcing, which will help our long-term positioning." - Ahmad Chatila, CEO of MEMC Electronic Materials Inc.
Perhaps more convincingly, MEMC has continued to top analyst expectations for two quarters in a row. For the quarter ending June 2012, the company reported earnings of $0.14 vs. an expected loss of $0.02, an 800% surprise. For the quarter ending September 2012, the company reported $0.30 vs. an expected loss of $0.12, a 350% surprise. Now with analysts predicting MEMC to be in the black in 2013 and a significant increase of solar projects expected in the coming years for the industry, MEMC might be ready to stage a fair recovery in share price.
Disclosure: I am long WFR, STX. I wrote this article myself, and it expresses my own opinions. I am not receiving compensation for it (other than from Seeking Alpha). I have no business relationship with any company whose stock is mentioned in this article.