Well, it's been less than 90 days since I wrote this article on Realty Income (NYSE:O): The Conundrum of Triple Net Lease Valuation. In that article, I explained that in the triple-net sector, a high multiple is what you strive for since the lower cost of capital is considered a mantra for success. As I wrote:
The high multiple equates to being the 'low cost' provider. So the highest valuation has the cheapest cost of capital, the best margins and the best strategically flexible operating platform.
In the case of Realty Income, I argued that
The conundrum is cheap is truly great…if it comes with a cost of capital that is competitive over the long term. Due to a cost-based advantage, Realty Income has been able to exploit all of the potential cost drivers that allow for greater efficiency in the company's overall value-add proposition.
Two Apartment REIT Giants Getting Bigger
Monday AvalonBay Communities Inc. (NYSE:AVB) and Equity Residential (NYSE:EQR) inked a deal with Lehman Brothers Holdings Inc. to acquire the assets and liabilities of Archstone Enterprise LP for about $16 billion.
Under the terms (detailed in news releases for EQR and AVB), AvalonBay will acquire approximately 40% of Archstone's assets and liabilities and Equity Residential will acquire about 60%.
Equity Residential said it will acquire 78 wholly owned stabilized operating properties, consisting of 23,110 apartment units, as well as four properties now under development, one each in the Washington metro area, San Francisco, Phoenix and South Florida, and 15 land sites primarily in its core markets for future development.
AvalonBay will acquire 66 communities aggregating 22,222 units, of which six assets are under construction. AvalonBay will also acquire three land parcels with the potential for the development of 968 homes and interests in joint ventures that own 10 communities.
The sale is expected to close during the 2013 first quarter. AvalonBay put the weighted average cap rate for the entire portfolio in the high 4% range.
Equity Residential put the cap rate for the properties it will acquire at approximately 5.0%. When adjusted for transaction costs and the debt mark-to-market, the cap rate would be approximately 4.7%, the company said.
Some Archstone assets, including its interest in a portfolio of apartment communities in Germany, will be placed in joint-venture arrangements with the same ownership-percentage breakdown. AvalonBay and Equity Residential will co-manage the assets until they are sold or assigned out to one or the other. The combined gross value for both companies is approximately $500 million, with a net value of about $170 million.
The Conundrum of Multifamily Valuation
On October 2nd, Realty Income announced that the company was utilizing its cheap cost of capital to merge with American Realty Capital Trust (NASDAQ:ARCT-OLD). In the announced $2.95 billion deal, Realty Income is set to finance the deal (closing in Q1-13) using $1.9 billion of its common stock, the assumption of $526 million of debt and the immediate repayment of about $574 billion of ARCT's outstanding debt and transaction fees.
Similarly, AvalonBay and Equity Residential plan to fund the mega-deal with Lehman by utilizing common stock offerings, the funds of which each plans to use to finance the deal.
AvalonBay expects to increase the common stock dividend for the first quarter of 2013 by a range of between 8% and 12%, subject to approval by its board of directors. The company reaffirmed its fourth-quarter and full-year FFO-per-share guidance, last updated in October, at between $1.40 and $1.45 and between $5.45 and $5.50, respectively.
Equity Residential reaffirmed its full-year 2012 normalized FFO guidance range, originally issued in October, of $2.74 to $2.78 per share. The FactSet consensus FFO estimate for the full year is $2.91 per share. The company expects its 2013 full-year normalized FFO to be reduced by up to 4 cents per share because of the transaction and related disposition activity.
The combined purchase price for the Archstone assets consists of $2.7 billion in cash, a stipulated fixed number of shares of AvalonBay and Equity Residential common stock valued at $3.8 billion as of the market's close Nov. 23, the assumption of approximately $9.5 billion of consolidated and unconsolidated debt, and preferred equity units with a redemption value of $330 million as of Sept. 30.
Of the debt the two entities will assume, about $8.6 billion is held by Fannie Mae and Freddie Mac, each of which has provided written consent to the assumption of the debt, subject to satisfactory documentation. The total debt to be assumed includes tax exempt bonds and other single asset loans for which additional consents are required.
AvalonBay's portion of the purchase price consists of $669 million in cash; 14,889,706 shares of common stock, valued at $1.9 billion as of the market's close Nov. 23; the assumption of indebtedness with a face value of approximately $3.9 billion; obligations related to preferred equity units with a redemption value of $132 million as of Sept. 30; and the assumption of 40% of all other liabilities, known and unknown, of Archstone, other than certain excluded liabilities.
The $3.9 billion debt assumption consists of $3.7 billion in principal amount for consolidated borrowings and $238 million in principal amount for AvalonBay's proportionate share of debt related to unconsolidated joint ventures. Contemporaneously with the Lehman Brothers deal, AvalonBay obtained a commitment from Goldman Sachs Lending Partners LLC to provide a $2.2 billion bridge loan facility, which has been sized amply in the event the additional lender consents are not received.
Equity Residential will pay its portion of the transaction consideration with $2.02 billion in cash and the issuance of 34,468,085 common shares to Lehman Brothers. In addition, the company will be responsible for approximately $5.5 billion of consolidated and unconsolidated secured debt, exclusive of an approximate $300 million mark-to-market adjustment, including $5.1 billion of Fannie Mae and Freddie Mac secured debt.
Equity Residential has also obtained a commitment from Morgan Stanley Senior Funding Inc. to provide a $2.5 billion bridge loan facility. The company intends to fund a substantial portion of the acquisition with proceeds from asset sales.
Lehman Brothers said that following the deal, it and its affiliates will own a 9.8% stake in Equity Residential and a 13.2% stake in AvalonBay.
Lehman Brothers has agreed that, as of Nov. 26, it will not sell or hedge shares of AvalonBay's common stock until April 26, 2013, and the company has agreed that it will enter into a registration rights agreement with Lehman Brothers to help facilitate its sale of the shares acquired in the transaction.
In the event that Lehman Brothers terminates the deal due to the failure of AvalonBay and Equity Residential to perform their obligations, the latter two will be required to pay to Lehman Brothers liquidated damages of $800 million, or $650 million if the agreement is terminated in the first 60 days. AvalonBay and Equity Residential agreed that they will share any such liquidated damages in accordance with their 40% and 60% interests in the agreement, unless one party is solely responsible.
With respect to the equity offerings, AvalonBay said Nov. 26 that it commenced an underwritten public offering of 14.5 million shares of common stock, and it expects to grant the underwriters a 30-day option to purchase up to 2.175 million additional shares.
If the Archstone acquisition does not occur, the company intends to use the net proceeds from the offering for general corporate purposes. Goldman Sachs & Co. is acting as lead book-running manager for the offering.
So What Does This Mean for Dividend Investors?
Equity Residential and AvalonBay have both under-performed the S&P of late. The $16.48 billion Equity Residential has returned just 6.25% during the last year, while the smaller ($12.6 billion) AvalonBay has produced a modest total return of 12.29% (compared with the S&P one year return of 40.12%)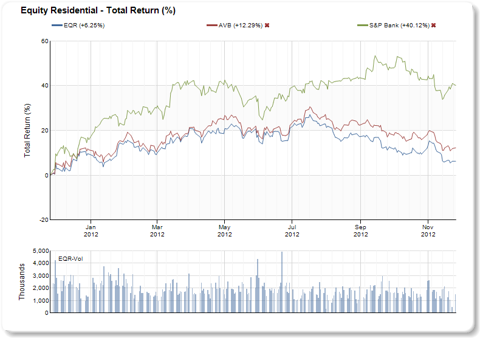 Around sixty days ago, former Seeking Alpha contributor Michael Terry wrote (in an article: Apartment REITs - Reasonable Valuation But Low Yield And A Weak Catalyst):
The apartment sector is a bit of a conundrum for me. On the one hand, valuations are not much more stretched than the REIT sector, but on the other hand the catalyst for further growth eludes me. Ultimately, if you can't see the growth driver and the income is low - why be involved? It does not look like there is a decent balance of valuation and yield available in the sector. There are other REIT sectors that have better growth drivers and higher yields or other equity sectors that can provide more growth and income.
Accordingly, I tend to argue with Terry in that the sector appears to be "played out." As Terry explained,
The major catalyst has occurred - the foreclosure to rent movement. This is not to say that there will not be further former homeowners that are forced to rent, but the major shift has been priced in. There will continue to be growth as the 'American dream' is no longer homeowner focused and the 18-34 yr old demographic is content to rent.
Clearly, the institutional investors are still looking to capitalize on the "high-multiple hype"; however, I see the conundrum of multi-family valuations to be simply driven by crazy valuations with egos bigger than checkbooks. I suppose the silver lining is that the "mega" transaction rids Lehman of its largest single asset and comes amid growing signs that the U.S. real-estate market is continuing to recover from the subprime meltdown. But wait, didn't the same "crazy" money get Lehman into this mess originally?

Source: SNL Financial
Note: Michael Terry no longer writes for Seeking Alpha. His comments were posted from a previous article dated September 20, 2012.
Disclosure: I have no positions in any stocks mentioned, and no plans to initiate any positions within the next 72 hours. I wrote this article myself, and it expresses my own opinions. I am not receiving compensation for it (other than from Seeking Alpha). I have no business relationship with any company whose stock is mentioned in this article.