There seems to be a glut of troubled retailers these days. There's Best Buy (NYSE:BBY), the electronics giant which has struggled with declining sales and the "showrooming" effect. There's J.C. Penney (NYSE:JCP), whose turnaround strategy has been disappointing, to say the least. There's Sears (NASDAQ:SHLD), a century-old company trying to remain relevant in a changing world. And then there's RadioShack (NYSE:RSH).
A Transformation
Over the past few years RadioShack has evolved from a general electronics store to a distributor of mobile devices and plans from all of the major wireless providers. This transformation was certainly necessary, with the rapid growth of smart phone use in the United States, but it had the effect of eliminating any competitive advantage that RadioShack once maintained. Because of this, RadioShack will most likely never again see the margins which the company enjoyed in the past. In 2002 revenue was $4.5 billion with a free cash flow of $415 million - a FCF yield of 9.2%. In 2011 revenue was $4.4 billion with a free cash flow of $136 million - a FCF yield of just 3.1%. The stock, which traded for over $20 per share in 2010, has plummeted to under $2 per share since then, currently trading at $1.91 per share.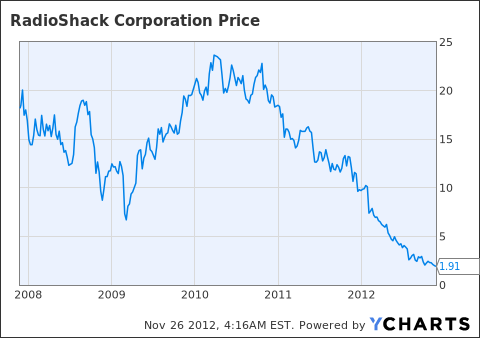 At this point the stock is highly speculative, with RadioShack unlikely to be able to dramatically improve its operating results in the short-term. There's an alternative to the stock, though. In 2011 RadioShack issued $325 million of bonds maturing in 2019. And over the course of the past year these bonds have dropped in value considerably. This, of course, opens up a buying opportunity.
An Uncommon Yield
The RadioShack bonds maturing in 2019 have a fixed coupon of 6.75% and are continuously callable, meaning that they can be called away at any time. At the beginning of 2012 this bond was trading for around $90. Since then the bond price has dropped by a third to $60.75, the most recent trade occurring on 11/23/2012 at that price.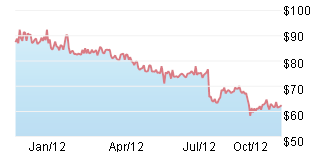 * Bond data from FINRA.
It's unlikely that this bond will be called early, but if it is the total return will be higher than if kept until maturity since the price is below par. I'll use the Bargain Bin Yield to Maturity Calculator to analyze this bond.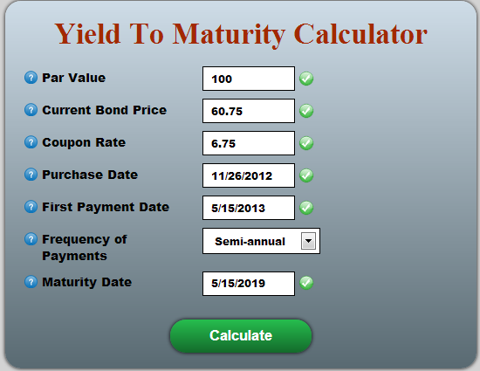 While the current yield is an impressive 11.11%, the yield to maturity is nearly 17.8%. This means that if you buy this bond for $60.75 and hold it until maturity, assuming that RadioShack does not default on the debt, your annualized rate of return will be 17.8%. In January 2012, when the bond was trading near $90, the yield to maturity was roughly 9%. In less than a year the yield to maturity of this bond has doubled.
Of course, the stipulation that RadioShack not default on the debt is not a trivial one. The company has been struggling, so we need to examine the balance sheet and cash flow statements to determine if it's likely that RadioShack will be able to fully service this debt.
Will It Survive
As of the end of September 2012 RadioShack has $546 million in cash on the books. Short-term debt, which is debt due within one year, totals $275 million, while long-term debt totals $474 million. RadioShack paid $47 million in interest in 2011, which is a fairly small amount. On the whole the balance sheet looks ok. The company has enough cash to cover the short term debt, and interest payments aren't worrisome. Moving to the cash flow statement, the company has recorded a negative free cash flow for the past two quarters. In the first 9 months of 2012 the free cash flow was $-12 million. While this is troubling, the cash position on the balance sheet provides a buffer for small losses like this. As long as the operating results don't deteriorate too far beyond this, RadioShack should survive until maturation of the bonds.
Conclusion
This RadioShack bond maturing in 2019 offers a yield to maturity of 17.8%, a rare find these days. There are risks involved, as RadioShack has struggled over the last few years. The company's cash position is reassuring, and my feeling is that the chances of RadioShack being able to fully service this debt is quite good. If you're confident in RadioShack going forward, this bond is a great deal.
Disclosure: I am long BBY. I wrote this article myself, and it expresses my own opinions. I am not receiving compensation for it (other than from Seeking Alpha). I have no business relationship with any company whose stock is mentioned in this article.