Stocks To Trade:
Today, we are looking at an earnings trade in Research in Motion (RIMM), longs in Expedia (NASDAQ:EXPE) and Amazon.com (NASDAQ:AMZN), and shorts in Aeropostale (NYSE:ARO) and McDonald's (NYSE:MCD).
For an earnings trade, we are looking at Research in Motion. The company reports earnings in late December, and RIMM is looking strong right now. The stock has been benefiting from hopes for BB10 after months of selling. RIMM has been dogged for months due to the fact that the company has not had an appealing phone. Hopes are that the BB10 can restore some of the company's image and create strong sales. Analysts have been lining up on different sides of the stock each day, but we want to look at how the stock can move into earnings over the next month for a potential options trade.
Expectations are for a 50% drop in revenue as well as a move from 1.27 EPS to -0.40, which is quite a hit to the stock. A lot of this fear, though, has been priced into the stock. At the same time, how far can RIMM go even if BB10 and other new products are successful? RIMM has lost a lot of enterprise support, and one product will not be enough to compete with Samsung (OTC:SSNLF), Apple (NASDAQ:AAPL), and the Android. We believe that this strength is a chance to enter a bear call spread for RIMM as we expect that it will lose support on gains as we near earnings. The drop in earnings year/year is just too great for even "hope" to overcome. Traders will lock in gains as we near that date.
Trade: RIMM, Dec22, 15/16 Bear Call Spread
Max Gain: 10%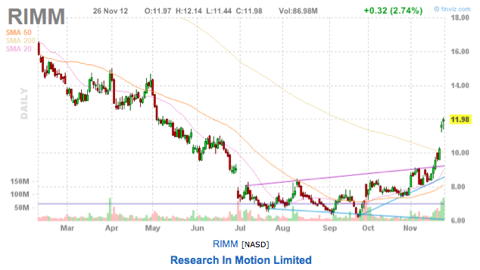 For longs, we like the looks of Expedia and Amazon.com. Expedia looks ready to break out to higher highs, while we believe AMZN is a great candidate for a bull put spread. EXPE has been moving very well since its last earnings report, and it is a strong upward wedge. Right now, the stock has resistance at 61.50. Once that level breaks, EXPE should start to really move. The catalyst for the rise is a great earnings report at the end of October combined with better market conditions. EXPE beat earnings expectations along with competitor Priceline.com (PCLN) to show that online travel business is back, and we believe until something drastic happens to reverse that idea EXPE will continue to move higher. 61.50 is a strong resistance point that has not been breached all year. Look for a breakout over that level.
AMZN is benefiting from very strong online sales for Black Friday and Cyber Monday. Those two catalysts are helping to push AMZN higher along with two technical resistance levels being broken in the 20-day and 50-day MA. Right now, the stock is looking very strong, and we like a bull put spread at the 220 area where the 200-day MA and previous support this month stands. According to stats from ChannelAdvisor, AMZN sales are up 50%+ for Cyber Monday. With stats like that, AMZN is looking very solid moving forward.
Equity Trade: EXPE, Long
Breakout Point: Break of 61.50
Options Trade: AMZN, Dec22, 220/215 Bull Put Spread
Max Gain: 9%
For shorts, we like the looks of Aeropostale and McDonald's. Both of these stocks continue to look weak, with ARO looking like it is ready to have a major breakdown and MCD lacking a catalyst to make a major move higher. ARO dropped about 5% Monday, but it was able to hold the 50-day and 20-day MA. Those levels are continuing to act as support, but if they are lost, we could see ARO retest 12. The problem for Aeropostale is that the move out of the deep recession where the company gained market share as American Eagle (NYSE:AEO) and Abercrombie & Fitch (NYSE:ANF) struggled has stopped. AEO and ANF have restored their brands as shown by their projected 8% increase in sales this year.
ARO is only expected to see a 4% increase as its less expensive line is not as popular in a stronger economy, and we believe that Aeropostale will continue to remain weak until earnings on November 28. If the company loses the two MA support lines, the stock should lose even more support. MCD has been unable to rally since its last earnings report. It has lost just under 10% since that report, and MCD has strong resistance at the $90 level. The stock should remain depressed until sales reports start to show a solid turnaround for MCD. Yet, we see that difficult as Europe is mired in recession, competition is rising for MCD, and the company is having issues with growth due to the strength of the dollar. As long as Europe and Asia remain weak, the dollar will remain strong, hurting MCD's growth in those areas. We do not foresee a strong rally from them until Europe moves out of its recession, which does not look to be anytime soon.
Stock Trade: ARO, Short
Breakout point: Break of 20-day and 50-day MA
Options Trade: MCD, Dec22, 87.50/90 Bear Call Spread
Max Gain: 14%
Tuesday's Outlook:
The market will be reacting mostly to data and Greece Tuesday. The Greek bailout issue was not resolved on Monday, and the talks are continuing on how to help Greece stay solvent. The issue is that some parties do not want to take a haircut while others want to give Greece debt forgiveness. The decision should be out sometime during market hours Tuesday, so it will be very impactful. Along with the Greek situation, there is a healthy dose of data due out Tuesday. The market will be reacting to Durable Orders, Consumer Confidence, and Case-Shiller Index.
Chart courtesy of finviz.com.
Disclosure: I have no positions in any stocks mentioned, and no plans to initiate any positions within the next 72 hours.
Business relationship disclosure: The Oxen Group is a team of analysts. This article was written by David Ristau, one of our writers. We did not receive compensation for this article (other than from Seeking Alpha), and we have no business relationship with any company whose stock is mentioned in this article.