Back in July, I wrote an article reminding investors about my favorite Warren Buffett quote, "We simply attempt to be fearful when others are greedy and to be greedy when others are fearful." In the article, I highlighted three "fearful" stocks that I felt represented good long-term buying opportunities, and with the new year rapidly approaching, I feel now is a good time to take a look at a few more "fearful" stocks.
With the highly contentious presidential election finally behind us, the European debt crisis has again returned to the forefront, and added to the looming "fiscal cliff" our nation faces, has driven many investors to take profits and race to the sidelines. I believe this is a mistake, and that now is one of those times to be greedy.
Forgotten in all this fear and uncertainty is the fact that the US economic recovery, while slow, continues at a steady pace. Retail sales continue to gain, showing increasing consumer confidence. The much feared financial sector continues to improve, with banks solidifying their capital reserves and slowly but surely settling out their mortgage related lawsuits. The auto industry recovery continues, and at long last, the housing sector finally seems to have turned the corner for good.
I've chosen to highlight the following four stocks, which I believe are trading at significant discounts to fair value and stand to enjoy significant long-term gains along with the continuing economic recovery, and that I believe could rally sharply with an expected fiscal cliff agreement.
Ford (NYSE:F)
Ford stock is currently trading at $11.10, which is 15% below its 52-week high, which represents a 25% upside to its $14.67 analyst target price. Ford's current dividend yield is 1.80%, a number I expect to increase as the company continues to pay down debt. Ford has now reported 13 straight quarters of positive earnings, and has beaten analysts' expectations for the last three quarters. Ford's debt position continues to improve, and investors should take comfort in the fact that CEO Alan Mulally will remain at the helm at least through 2014. With US auto sales continuing to improve, Ford's high quality lineup, and the 2013 launch of the C-Max Hybrid SE, which is aimed at taking market share from the wildly popular Toyota (NYSE:TM) Prius, Ford is well positioned to take advantage of the improving US economy, and at this level, represents a tremendous value for the long-term investor.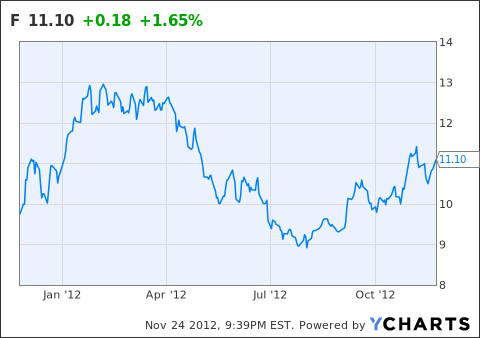 Bank Of America (NYSE:BAC)
Bank Of America stock is currently trading at $9.90, which is only 2% below its 52-week high of $10.10, and only 3% below its $10.16 analyst target price. Even so, I strongly believe the stock is still greatly undervalued, considering its tangible book value of $12.77. Bank Of America's troubles during the financial crisis have been widely documented, but the bank has made great strides in clearing out the long list of mortgage related lawsuits it has faced over the last several years. The bank has also sold off many non-core assets, using the proceeds to strengthen its capital levels, which as of its October 17 earnings announcement, were stronger than JPMorgan (NYSE:JPM), Citigroup (NYSE:C) and Wells Fargo (NYSE:WFC). CEO Brian Moynihan's "Project BAC" has helped the company lower risk and refocus on its most profitable customers, while cutting costs company wide, and has gone a long way toward helping the company return to profitability. Bank Of America was recently upgraded and given an $11.00 target price by Stifel Nicolaus. Bank Of America stock has risen 42% year to date, and with expected improvement in the housing market and an expected dividend increase over its current 0.40% yield, and/or share buybacks to be announced sometime in 2013, shareholders should continue to be rewarded. I am long BAC, and am continuing to add to my position on any weakness.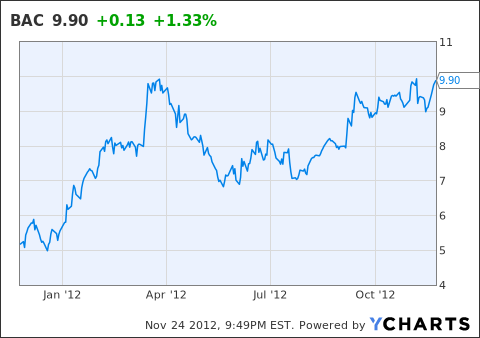 Nucor Corporation (NYSE:NUE)
Nucor Corp. stock is currently trading at $41.14, 11% below its 52-week high and it has analyst target price of $46.05. Nucor also offers a solid 3.60% dividend yield with a very sustainable 61% payout ratio. As with the banks, the steel industry has been hard hit over the last few years while world economic growth has slowed and, with it, steel demand has plummeted. Nucor represents the strongest play in the industry, with a solid balance sheet and a very employee and shareholder friendly management. Long time CEO Dan DiMicco has recently announced he is stepping down as CEO, although he will remain with Nucor as Executive Chairman. Conditions in the steel industry are seen as improving heading into 2013 due to increasing steel demand and rising prices, and assuming a fiscal cliff resolution, Nucor is much better positioned to take advantage of these improving conditions than competitors US Steel (NYSE:X) and AK Steel (NYSE:AKS). This stock represents a strong value and remains a very close watch on my watch list.
Bed Bath & Beyond (NASDAQ:BBBY)
Bed Bath & Beyond is trading at $60.16, well below its 52-week high and offers a potential 22% upside to its $76.19 analyst target price. Bed Bath & Beyond reported strong Q2 year-over-year sales and earnings growth, up 12.1% and 5.4% respectively. The company has a very strong balance sheet, with $900 million in cash and zero debt. The company expects to open 45 new stores in 2012, and has also sought growth through acquisition, having acquired Cost Plus, Inc. and Linen Holdings in 2012. Despite this strong growth picture, shares are basically flat year to date, and down significantly from their 52-week high of $75.84. The company does not offer a dividend at this time. With its diverse lineup of home furnishings and kitchen, bed and bath products, we see a significantly undervalued company that is well positioned to take advantage of an improving economy and the long awaited turnaround in housing, and that offers investors another compelling value opportunity.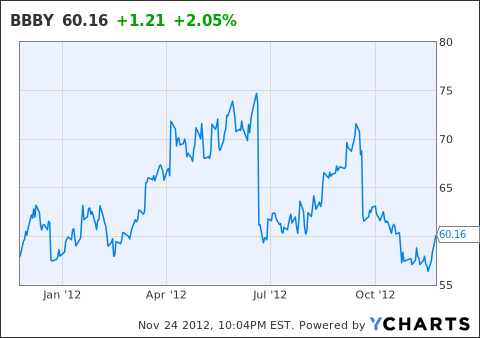 Summary
Although predicting politics is a fool's game, I do not believe that Washington will allow the country to go over the fiscal cliff. Both sides seem to understand the need to roll up their sleeves and engage each other in a good faith effort to tackle the problem, and even if they do not agree to a long-term solution before January 1st, I believe they will put in place a temporary plan to buy more time to work on a permanent agreement. In the meantime, although the US economy continues to improve, markets will remain volatile, presenting the "greedy" investor with an excellent long-term buy and hold opportunity.
Disclosure: I am long BAC. I wrote this article myself, and it expresses my own opinions. I am not receiving compensation for it (other than from Seeking Alpha). I have no business relationship with any company whose stock is mentioned in this article.
Additional disclosure: I am not a registered investment advisor and do not provide specific investment advice. The information contained herein is for informational purposes only. Nothing in this article should be taken as a solicitation to purchase or sell securities. Before buying or selling any stock you should do your own research and reach your own conclusion. It is up to investors to make the correct decision after necessary research. Investing includes risks, including loss of principal.