One of the most hotly debated issues in the presidential election was the current state of the healthcare industry and surely you remember the Supreme Court's June decision on the Affordable Care Act. There was discussion that Romney would have the ACA repealed, and there are still some rumblings that individual states will not implement the mandated exchanges. But one thing that the media and investors have passed over is a major opportunity in the medical software industry that would not have been affected, which may explain a lack of an election bump. Regardless, current legislation has created a holeshot that will certainly benefit investors with a long-term perspective. This article will look to these current laws and then give an analysis of Cerner Corporation (NASDAQ:CERN), a company poised to take full advantage of the laws.
Legislative History
Most laypeople, and certainly investors in the healthcare industry, have heard of the Health Insurance Portability and Accountability Act, or HIPAA. The law was passed in 1996 and its major function is protecting patient privacy. At the time, medical records were almost exclusively in paper form, like the rows of folders you still see at many doctors' offices. Of course the late 1990s and early 2000s were known for technical/electronic innovations and you would think that hard copy records were a thing of the past.
However, doctors (and hospitals) were and remain slow to adopt technology. There are several reasons for this. For one, it takes a large investment to overhaul a recording system. Second, they do not have expertise in information technology. Many small to medium sized doctors' offices do not have the luxury of having an IT team and they have much higher priorities in front of them. Lastly, there was a concern that electronic systems would slow practices and result in fewer patients seen, and consequently, less profit. These three concerns still exist today and Congress has taken steps to alleviate them.
In 2005, then President, George Bush, declared that he would like to see the adoption of electronic medical records. To make reading this article (and others on the topic) slightly easier, for these purposes the following all mean essentially the same thing: electronic medical record (EMR), electronic health record (EHR), and electronic personal health information (ePHI). These are merely terms of art that are largely interchangeable. George Bush was not successful in implementing any legislation on the issue, but he did partially set the table for the Health Information Technology for Economic and Clinical Health Act (HITECH) which was part of the American Recovery and Reinvestment Act of 2009 (ARRA, read: bailout).
HITECH stepped up the privacy and security regulations imposed on healthcare providers and specifically addressed EMR software. Unfortunately, Congress, with the help of the Department of Health & Human Services, has done so in a fairly complicated manner. HITECH introduced the healthcare world to the term "meaningful use" and at the same time created what I am deeming "the meaningful use paradox." Meaningful use is an incentive based system where hospitals and physicians may adopt EMR systems and receive additional Medicare/Medicaid kickbacks to the tune of millions for hospitals and tens of thousands for doctors.
The catch is that the systems must meet several requirements: some are core objectives and others are a series of "menu set objectives" that the provider need only meet half of. The rule has been released in a series of stages, the most recent of which kicks in 2013. A more in-depth look at meaningful use requirements can be found here. One of the basic rules is that the software must comply with HIPAA Privacy and Security rules, and herein lies the paradox. HHS has been due to issue a final ruling on Privacy and Security, and specifically the Breach Notification Rule, for the past two and a half years. Congress was made aware of the problem that this has created at a subcommittee hearing held in November 2011. Based on personal experience, I would not recommend listening to it unless tedious discussions on law making and enforcement are your thing. The cliff notes would explain that there is a severe hesitation to adopt EMR systems until this rule comes out, because it would be a wasteful investment to purchase software that is soon to be non-compliant. When HITECH was passed, EMR usage was somewhere around 11% and the most recent data has it around half. Hospitals have been quicker to adopt than doctors, large practices are quicker to adopt than small practices, and younger doctors are more likely to adopt than older doctors; basic economics and such.
And what is all of this supposed to mean to an investor? Well, in 2015 meaningful use carrots become meaningful use sticks. The incentives will be turned into penalties, which may lead to some new legislation, but means that the gap of practices not using EMR will be closing, and fast.
Why Cerner
So why should a hospital or doctor's office (and an investor) being choosing Cerner over the panoply of other EMR providers? Cerner offers a full range of health IT products and their largest revenue driver is EHR software sales and licensing. The company believes that this is what distinguishes them from their competitors. In Cerner's 2011 Annual Report and 10k, they state that their main competitors only offer a narrow line of products while they can provide a complete integrated system. Second, they can provide services to hospitals and doctors no matter their current level of technology; meaning, through partnerships with major hardware providers, they can devise a personalized health IT system from the ground up. In addition, their margins are rising with every system sold because it is less expensive to service an existing client than to market to new ones. Below is a diagram of Cerner's sales pipeline.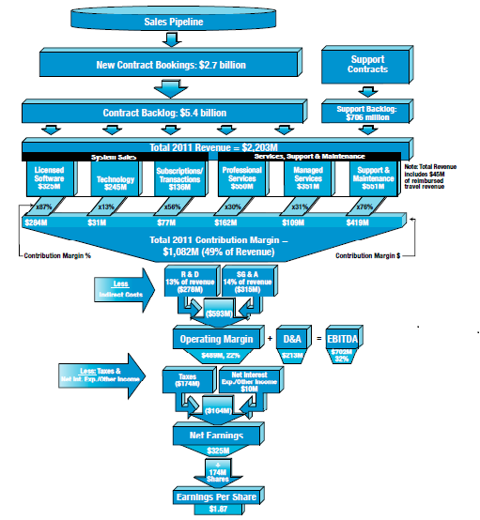 As you can see, and as mentioned above, a large portion of Cerner's revenue comes from software licensing and it comes with very good margins. You will also see that they offer professional and managed services. This consists of the consulting that goes along with developing an EHR platform.
Fundamentally, Cerner is a very sound company. They are surprisingly large, at $13.39B in market cap, given their low daily volume and not having much of a presence in the media. Cerner's earnings have been growing steadily since the height of the recession and are expected to double by 2015. The company has a strong balance sheet, with a substantial amount of cash on hand and more than enough to cover their debt. This means that they can cover R&D costs with room to spare.
From a quick glance at the chart below, it may seem like the chance to buy Cerner has come and gone. The stock has nearly doubled in the last two years, but you will also see the teetering in price since last February. In this period, Cerner's P/E has dropped significantly since the price has been stagnant while earnings have risen. Their current P/E of 36 is not very high for a technology company, but is when compared to a competitor such as McKesson Corp (NYSE:MCK).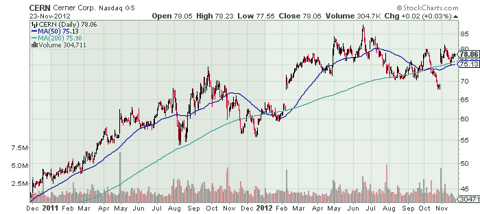 It is only logical to ask why there has not been much price appreciation in the last 9 months. Part of it may have been due to the wavering over the Affordable Care Act. But as previously stated, most of the health IT initiatives are contained in the HITECH Act which is not likely to be repealed anytime soon. And, even though Cerner did not see an election day jump, the implementation of healthcare exchanges could work to their benefit, especially in the realm of e-prescribing and the like.
One major issue facing Cerner is the existence of strong competition. Again, Cerner's 10k states that they are superior to others because they offer a system-wide service while others are narrower. Of course this would lead one to think that maybe the other companies are better at what they do and healthcare providers would rather pick and choose services and over choosing one all-points platform. But there has not been any evidence to show that Cerner is losing clients to their competitors, and in healthcare software, just like prescription pharmaceuticals, marketing will play a major role in finding a winner. One interesting report that I have come across (found here) shows that Cerner is Mac (NASDAQ:AAPL) and Linux (NYSE:IBM) compatible. This is more important than meets the eye. More and more doctors and medical students are using iPads and having software specifically tooled for them is integral. Obviously, there is nothing stopping others from doing the same, but being the first could provide Cerner with a foothold.
In sum, there is currently an opportunity in the entire health information technology sector and it will be interesting to see which companies come out on top five years down the road. Cerner is a strong company with a strong line of products and services that is poised to take advantage of the legislative opportunity. With the risk involved, they present a great play on the sector as their earnings continue to rise and more hospitals and medical practices make the conversion to electronic health records and meeting the meaningful use standards.
Disclosure: I have no positions in any stocks mentioned, and no plans to initiate any positions within the next 72 hours. I wrote this article myself, and it expresses my own opinions. I am not receiving compensation for it (other than from Seeking Alpha). I have no business relationship with any company whose stock is mentioned in this article.