Cliff Natural Resources (NYSE:CLF) has developed a strong history of success through operating in the mining and natural resources industries. The primary focus of CLF's operations are centered around producing iron ore as well as metallurgical coal. However, to coincide with CLF's long history of success, CLF has recently exhibited a significant influx in volatility in its stock price. This article outlines multiple factors that contribute to CLF's increased level of volatility and concludes with analyzing the future of CLF's dividend yield, which is an area of strong concern for many dividend seeking investors.
The Market Value Story
CLF reveals a 52-week price deviation of $49.05. Over the past year, CLF has traded as high as $78.85, and as low as $29.80. It is important to consider that CLF does operate in an industry that typically exposes investors to a moderate level of risk; however, a company that has provided investors with a large dividend yield and consistently kept a promise to shareholders should not reveal a beta value of 2.57. This value was computed by constructing a regression using CLF's holding period returns relative to the returns of the S&P 500 for the same trailing period.
Figure 1: CLF's Five-Year Price Graph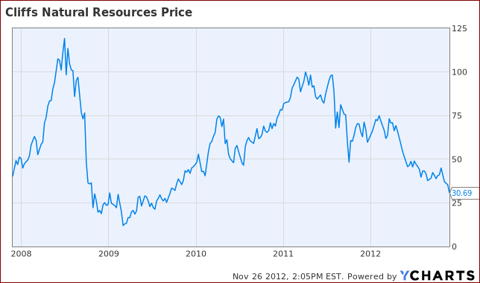 The chart above outlines CLF's market value per share over the past five years. As you will see, at the time I extracted this graph from YCharts, CLF was trading at $30.69 per share. This current market value per share figure indicates CLF is only trading 2.3% above its 52-week low, which was established recently in the past two months.
Declining Stability In Free Cash Flows
It is more than clear the reduction in CLF's ability to generate free cash flows has produced negative outcomes for individuals and institutions investing in CLF. CLF's market valuation, new short-term investments in operating capital, as well as security price volatility are all victims; however, I feel there is a significant concern among market participants as to how the declining level of free cash flows will impact CLF's current dividend payout. CLF's market value seemingly has a repetitive history of being substantially impacted by its ability to generate free cash flows, but more importantly the stability over time does not exist. I strongly feel the issue of stability has caused an immense influx in volatility in CLF's security price, which essentially magnified the decline in market value ultimately forcing it to a level substantially under fair value.
Figure 2: CLF's Free Cash Flows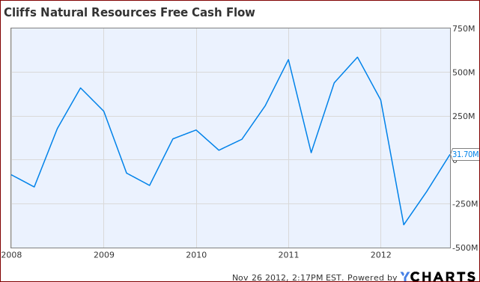 YTD CLF's free cash flows have declined approximately 90.71% and CLF's market value per share has dropped heavily as well by nearly 53.56% per share. Below I have constructed a figure illustrating the impact of CLF's declining free cash flows on intrinsic firm value.
Figure 3: CLF's Intrinsic Valuation

For comparative purposes, I assumed a conservative growth rate of 1.5% across the board and used a weighted average cost of capital of 10.7%, which I computed based off of CLF's capital structure. I extracted the actual free cash flow figure for FY 2011 and then used estimations for FY 2012 and FY 2013. The model clearly depicts the effect of declining free cash flows on intrinsic firm valuation. As you will notice, the free cash flow value for FY 2011 was $1,320 million and the new estimated free cash flow for FY 2012 is approximately $21.02 million. These values imply the free cash flow estimate for FY 2012 is 62x less than the previous year. This an extreme difference.
Dividend Cut, Or No Cut, That Is The Question
While CLF was still capable of distributing the cash dividend as promised to shareholders in the most recent quarter, it is not unfair to state that free cash flows will not continue to permit such a large dividend payout to shareholders. According to an article from dividend.com, entitled Analysts Sees Future Dividend Cut For Cliff's Natural Resources:
"BMO Capital analyst reported on Monday that he sees natural resources company, Cliffs Natural Resources Inc cutting its dividend significantly. After finishing the shortened session with only a 0.9% increase on Friday, analysts at the firm are forecasting a cut in the stock's dividend. Analyst Tony Robinson believes that the current quarterly dividend of 62.5 cents is "not sustainable." This dividend leaves the stock with a payout ratio close to 100 percent, although the company is currently maintaining enough cash flow to meet their dividend obligations for now."
Figure 4: CLF's Dividend Change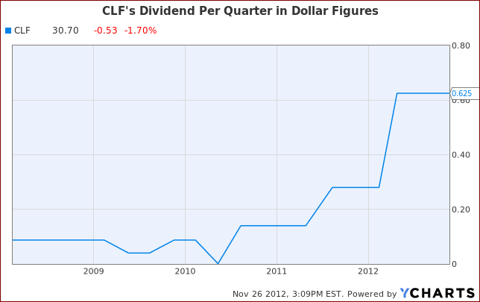 The chart above shows the change in dollar value of CLF's dividend over the past five years. Focusing on the beginning of 2011, you will see a dramatic increase in CLF's dividend. CLF's dividend was almost doubled mid way through FY 2011. The most extreme case was displayed at the beginning of FY 2012 where the dividend was increased, equating to an annualized payout of $2.50 per share. It is safe to assume that dramatic changes made to CLF's dividend can be attributed to a portion of the volatility that has created a threatening environment surrounding CLF's market valuation.
Conclusion
CLF has a high beta and provides investors with a substantial level of exposure to risk. Investors need to take into account the decline in the level of CLF's free cash flows. In conclusion, if this depletion of excess free cash flows continues, it is highly probable CLF will have to adjust its dividend.
Sources: YCharts, Dividend.com, & TD Ameritrade.
Disclosure: I have no positions in any stocks mentioned, and no plans to initiate any positions within the next 72 hours. I wrote this article myself, and it expresses my own opinions. I am not receiving compensation for it (other than from Seeking Alpha). I have no business relationship with any company whose stock is mentioned in this article.