In a move that I saw coming, Amazon.com (NASDAQ:AMZN) is reportedly getting ready to issue debt. The last time Amazon.com issued debt was in the bygone dotcom year of 1999.
Ever since 2010, Amazon.com has been on a steep earnings decline brought about by increased costs and competition, as well as some ill-advised moves like giving free video to its existing Prime membership. Also, Amazon.com's increased investment, especially in fast-depreciating AWS assets, had a severe earnings impact. The chart below tells the whole story.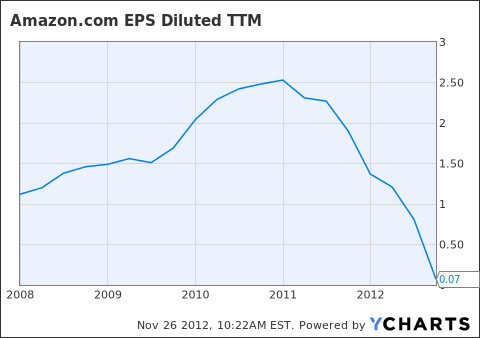 AMZN EPS Diluted TTM data by YCharts
Less well-known, was Amazon.com's liquidity situation. Through a combination of decreased profitability, higher working capital needs and substantial capital outlays, Amazon.com's liquidity cushion has seen a severe deterioration. Couple that with Amazon.com's acquisition of its headquarters, and the stage was set for Amazon.com to take the initiative to issue debt. The chart below illustrates how Amazon.com's current ratio has fared, bringing about the inevitability of this debt issuance.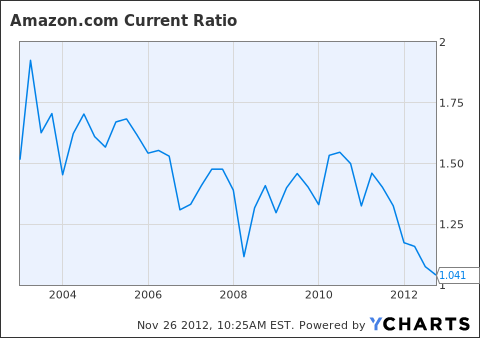 AMZN Current Ratio data by YCharts
A major doubt
A major doubt regarding the incoming debt issuance, will be whether it will have a conversion feature. This is very significant for Amazon.com shareholders. If the debt carries a conversion feature, the stock is certain to get hit, due to arbitrage between buying the converts and shorting the common. However, at this point there's still no information regarding this characteristic.
On the other hand
Amazon.com, against all odds, has enjoyed endless analyst support. Amazon.com has disappointed analysts consistently for about 2 years straight, and has seen its earnings estimates plunge by 80-90% during that timeframe, to the point where amazingly 2012 is now expected to show a whole-year loss.
I say against all odds, because much cheaper stocks would have been slaughtered if subjected to such a turn of events. Amazon.com wasn't, the support never went away. Part of the reason is that Amazon.com's growth history can still credibly be "sold". But another part is consubstantiated just in the kind of event that a debt issue represents - an opportunity for investment banking commissions.
Conclusion
Amazon.com already had debt in the form or operating leases, so Amazon.com having debt is not exactly new. Amazon.com's need to issue straight debt is just one more step in the long road of fundamental deterioration that Amazon.com has been on in ever since 2010. For now, and in terms of short term impact, what is more relevant for Amazon.com shareholders is whether the debt will have a conversion feature or not, since if it does the negative impact on AMZN shares will be mechanical from the associated short selling.
In any instance, Amazon.com remains brutally overvalued and its fundamental trajectory remains deeply negative. Amazon.com issuing debt is just one more clue as to how this impending submarine is taking on water.
Disclosure: I am short AMZN. I wrote this article myself, and it expresses my own opinions. I am not receiving compensation for it (other than from Seeking Alpha). I have no business relationship with any company whose stock is mentioned in this article.