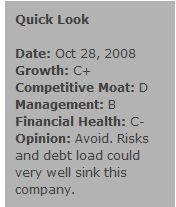 Healthways (HWAY) provides disease management services to health insurers, businesses, and the government. The company creates and implements plans of care focusing on a number of common conditions, such as diabetes or asthma. By providing doctors and patients with information, support plans (through telephone or Internet), and nurses who can guide and answer questions, Healthways aims to reduce overall medical costs to their clients. The value comes from savings in medical costs due to these programs outstripping the costs of signing a contract for Healthways' services. The company has several large clients ranging from Fortune 500 companies like McDonald's (NYSE:MCD) to health insurance providers like Cigna (NYSE:CI).
Up until 2008, Healthways had been enjoying outstanding growth. Revenues have grown at a 23% compound rate over the past five years, and operating earnings had followed suit at a 19% per year clip. Contract renewal rates have been very high, and Healthways protects against cancellations by generally signing long-term (3-7 year) contracts. The business model itself is attractive economically. Providing nursing and informational resources is very low capital, allowing Healthways to produce an average 88.5% MFI return on capital, and 13.7% free cash flow margin over the trailing five-year period. These increased earnings had allowed Healthways to increase its business, signing on more plans, corporate clients, and even the government through Medicare and Medicaid pilots.
However, things have gone sour in 2008, and the problems being exposed this year are fundamental ones that could potentially cripple the business model. The very visible problem is with the Medicare pilot. The government agreed to, in effect, test drive Healthways' services and measure them to see if value was really being provided. The reward to the company was potentially very large if the government decided to implement the program widely. However, the risk was also large - if Healthways failed to meet Medicare's targets, its failure would be public for all to see, including current and potential customers that may think twice before signing or renewing contracts. As of today, the news has been negative - Healthways has failed to meet Medicare targets up to this point.
This immediately makes the prospects for large government sales very dim. The spillover effect to existing customers has not yet played out, but it could as contracts come up for renewal. Corporate clients may decide to cut the expense of an effectively discretionary service to improve current earnings figures, given the difficult economy. Compounding the problem is the fact that most large health plans have the ability to provide Healthways' services in house - there is very little barrier to entry. Blue Cross Blue Shield of Minnesota recently did just this, opting not to renew its contract with Healthways. This risk is magnified when one considers that 20% of Healthways' revenue comes from a single customer - Cigna, a health plan with plenty of ability to move services in house. The loss of Cigna would be a massive blow.
You would think that with such a risky situation, Healthways' would be conservative with its capital. However, that's not the case. The balance sheet is highly levered, with just $35 million of cash vs. $348 million of debt load. Interest coverage ratio is pretty tight at about five times operating earnings. That would concern me with a very stable company, and it alarms me with a company that relies on a revenue base that can vanish in a hurry.
All of this adds up to a Magic Formula stock to avoid. For better choices, have a look at the MagicDiligence Top Buys list.
Disclosure: Steve owns no position in any stocks discussed in this article.