Issues around the U.S. fiscal cliff and a holiday shortened week appear to have contributed to a low level of corporate insider buying for the week ended November 25, 2012. Insider buying for the top 1500 market capitalization stocks tracked by Thomson Reuters Stock Reports Plus totaled only $35.8 million, compared to the four week total of almost $690 million, and the 13-week total of $873 million. The Sell to Buy Ratio for corporate insiders stood at 3.83, and the trailing four week average stood at 4.15. That ratio is lower than the current 13-week average of 6.7.
Five stocks logged insider buying of $1 million or more and are listed below, including their StarMine Value-Momentum Model (VM) scores (from a bearish score of 1 to a bullish score of 100) versus all other U.S. stocks (see note below).
Agco Corp (NYSE:AGCO) - about $26 million bought, VM score = 82. Outside Director Mallika Srinivasin made her sixth purchase of shares since September 13, adding 597,839 shares and bringing total common holdings to 2,644,750 shares at an approximate market value of $119 million.
American Express Co. (NYSE:AXP) - about $3.9 million bought, VM score = 69. Director Jan Leschly both purchased and sold 70,500 shares, maintaining a total common share exposure of 155,559 shares, with an approximate market value of $8.7 million. Ms. Leschly is the Founder and Chairman of private investment firm Care Capital LLC, and was the CEO of SmithKline Beecham PLC.
AT&T Inc. (NYSE:T) - about $1.4 million bought, VM score = 76. Director and Chairman of Burlington Northern Santa Fe LLC (a Berkshire Hathaway, Inc. subsidiary) purchased 40,000 shares, bringing his common holdings to 43,000 shares, at an approximate market value of $1.45 million.
Tuesday Morning Corp (NASDAQ:TUES) - about $1.3 million bought, VM score = 55. $240 million in market cap Tuesday Morning Corporation has been under accumulation since October 23 by independent director Stephen R. Becker, a partner and co-founder of Becker Drapkin Management, L.P. According to the press release. Mr. Becker's firm is focused on constructive activism in the small cap market. The 237342 share purchase brings total common shares held to 3,651,420. As may be seen from the chart above, Tuesday Morning stock has returned over 70% year to date.
Apple Inc (NASDAQ:AAPL) - about $1.0 million bought, VM score = 41. Apple board member and Disney (NYSE:DIS) CEO Robert Iger was the sole reported inside buyer of Apple shares last week, bringing his total share holdings to 4,667 or about $2.7 million, according to Thomson Reuters Stock Reports Plus.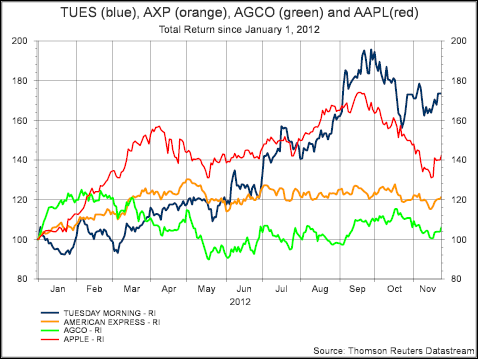 Note: Value-Momentum is a combination of four StarMine models that combines two mean-reversion models of Intrinsic Valuation and Relative Valuation, and two trending models of the Analyst Revisions Model and the Price Momentum Model. The models have historically outperformed their benchmarks over time.
Disclosure: I have no positions in any stocks mentioned, and no plans to initiate any positions within the next 72 hours. I wrote this article myself, and it expresses my own opinions. I am not receiving compensation for it. I have no business relationship with any company whose stock is mentioned in this article.