It's been a few weeks now since Deckers Outdoor (NASDAQ:DECK) reported a dismal third-quarter sales number and the stock fell below $30 for the first time since late 2009. Many problems for this company have been cited over the past year, with the two prominent ones being high sheepskin costs and warm weather. As we now are on the brink of the true holiday shopping season, Deckers is focused on keeping its brand popular and looking for a more normal winter. Deckers still faces several headwinds. Today, I'll discuss those headwinds and discuss what Deckers can do to mitigate or overcome them.
Part One - The Challenges
For those of you who don't know the Deckers story, I encourage you to read any of my Deckers articles. Even if you don't know the name Deckers, you probably know, or have at least seen, someone wearing the company's trademark UGG boots. Deckers enjoyed a bit of success coming out of the recession, and shares rallied from about $12 (split adjusted) at their 2009 low to over $115 during the second half of 2011. I started following Deckers in December 2011, when the stock traded above $90, when I called the name a short candidate. Many of the problems I've discussed have continued throughout 2012, and shares have declined to a recent low after earnings of about $28.50. A small rally has put us back up over $33, but this company is still facing some tough challenges. Let's start discussing them.
Weather is a key for the business
Deckers' UGG boots are primarily fashionable in the winter and cooler temperatures, so 2011-2012's warmer-than-average winter did not help. Deckers sales were definitely impacted by the warmer weather, and that was key in the 2012 forecast. When Deckers reported 2011 results, it guided to 2012 revenue growth of 15%, which was well below the 19.8% growth analysts were expecting. Additionally, the company stated high sheepskin costs would cause earnings to be flat, whereas analysts were looking for 14% earnings growth.
Deckers has since lowered its forecast a couple of times, and the latest forecast is for just 5% sales growth and a 33% drop in earnings per share this year. Earnings per share will probably return to levels comparable with 2009, when you factor in the company's stock buyback.
Weather is obviously a key, and that fact is summed up by the following quote from CEO Angel Martinez in the company's third-quarter conference call:
If we're sitting here in mid-November, early December, and it's 75 degrees in New York City, we're going to be over-inventoried in the channel, I can guarantee you that. So I think retailer have brought in the appropriate amount of inventory based on last year, which was not a good year for weather. So we're kind of just sitting here waiting on cold weather. I mean I hate the -- that's what drives me nuts, it's just sitting here with this, watching the weather report everyday. It's kind of I feel -- and I know what it's like to be in the ski resort industry.
Now, I know he isn't being completely serious, but I am a bit troubled by the sentence "So we're kind of just sitting here waiting on cold weather." There are plenty of things Deckers could be, and should have been doing, that I will cover later on. The good news for Deckers is that right now, in the NYC area, temperatures are in the low 50s and upper 40s, so the weather has turned in its favor. Still though, I was not impressed by the quote, because it gives the image of a room full of executives sitting around just watching The Weather Channel.
Inventory levels appear to be too high
One of the issues with Deckers over the past year has been too much inventory. With inventory levels a bit inflated, Deckers has been forced to reduce prices and look to closeout sales to get rid of inventory, especially in Europe. After third-quarter sales numbers came well below expectations, Deckers' inventory balance is again a big question.
Think about it this way. When Deckers gave Q4 guidance last year, the company guided to about $555 million in sales for the quarter. At the end of Q3 last year, Deckers had slightly under $357 million in inventory on hand. This year, the company is guiding to about $640 million in sales for Q4, but it had $486 million in inventory on hand at the end of Q3. Remember, Deckers' sales widely missed expectations in Q3, so it didn't sell as much as it had hoped. That means it has extra inventory. Also, with sheepskin prices not expected to improve until late 2013, Deckers will still have some of its higher cost inventory from earlier in this year on hand.
Now on the flip side, Deckers has opened more stores, so it will need to stock them. You also have the argument that you can't sell what you don't have. But when you have too much inventory, and it appears Deckers does, the company may need to discount products further. The other possibility would be that Deckers doesn't buy as much inventory going forward. But for now, that doesn't help Q4.
Falling margins and when they will rebound
There is a common misunderstanding when it comes to Deckers about some of its input costs, and I'm primarily referring to the cost of sheepskin, one of Deckers' biggest costs. When Deckers shares started falling during the warm winter last year, and sales started to be hit, sheepskin prices started falling from their highs. This happened because demand fell, so there was too much supply, and that caused prices to start falling. There were many investors who believed that as sheepskin prices fell throughout 2012, Deckers' gross margins would start to rebound in the second half of this year.
But that's not how it works for the company. On Deckers' conference call, it noted that sheepskin prices for the fall 2013 lineup have come down by about 11% from fall 2012 prices. That's after a 30% rise in 2011 and a 40% rise in 2012. Deckers expects that sheepskin price reductions will help gross margins improve by about 150 basis points in 2013 after a 500 basis point hit in 2012. When Deckers refers to its fall lineup, most of those sales occur in the second half of the year, so I would expect the lion's share of those gross margins gains to be in the second half of 2013. That means that Deckers will still have 3 quarters of pressured gross margins, Q4 now and the first half of 2013. Remember too the inventory issue from above. With Deckers having too much inventory now, that means it is higher priced inventory from 2012. Deckers will still have to work through that, which is why Q4 guidance was disappointing as Deckers also reduced some of its prices, which it thought were high.
There is also another issue that investors need to realize with Deckers' margins. Gross margins are only part of it. A company can still overcome declining gross margins if it can keep operating expenses in check. That's something Deckers has not been able to do consistently. Part of the reason is because Deckers is expanding its retail store count. More on that later. The following table shows Deckers selling, general, and administrative expenses over the past three years, as a percentage of revenue. These expenses account for all operating expenses.

Deckers' sales expenses are uneven over the year, as you can see. That's because it has a lot of fixed expenses that are evenly distributed throughout the year. Since Deckers' business is very seasonal and quarterly revenue fluctuates tremendously, it results in a higher percentage during the lower revenue quarters. But you have to notice the trend, and it is not good. The Q4 of 2011 and Q3 of 2012 numbers didn't show that much increase over the prior year, but look at them compared with two years ago. The first and second quarter trends are even worse, which is why Deckers reported such a big loss in Q2 this year.
So when you combine the decline in gross margins, plus the added SG&A expenses, you can see below that operating margins have fallen at a faster rate than gross margins. Deckers has seen its effective tax rate decline in recent years, so it has recovered some on the bottom line, but numbers are still well down. The following table shows Deckers' three primary margin categories over the past three years.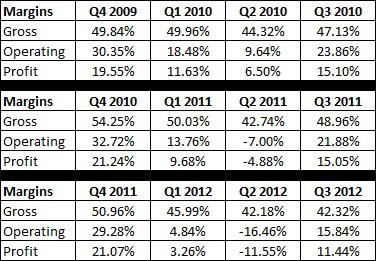 Deckers believes that sheepskin prices in fall 2013 will rebound, but will only recover a fraction of the gross margins that were lost this year. Add in the extra selling expenses, and this is becoming a lower margin business. Deckers investors will need to realize this, and net income over time will be pressured. Now, earnings per share won't suffer as much because of the buyback, but net income is more important as it has other impacts, such as cash flow.
Balance Sheet / Buyback / Acquisitions
Deckers' balance sheet metrics have gotten worse over the past year, as seen in the following table. Dollar values in thousands.

The reason that the numbers got much worse is that Deckers had $275 million outstanding under its credit facility at the end of Q3 in 2012, compared with just $45 million at the same time a year ago. Furthermore, the company stated in the quarterly 10-Q filing that the balance was up to $300 million. It did not mention that on the conference call. One reason that the outstanding balance is so high is that the company has used the facility for funds to buy back stock. At the end of Q3, Deckers had bought back almost $186 million of stock at an average cost of about $51.50. That's well above where we are now.
Deckers is still a highly profitable company, and the majority of this year's profit will come from Q4. However, earnings per share are expected to be down 14% over last year's period, and that includes the benefits from the buyback. That means net income will be a bit lower than in Q4 of 2011, and net income is the first line in cash flow from operations. Deckers won't generate as much cash this year.
Now, I've applauded Deckers in the past for the Sanuk acquisition, but I must also criticize the company for the buyback. Between the two buyback plans that Deckers has announced, the company is expected to spend $300 million on buybacks. That's a lot for a company of this size. I've suggested that Deckers should have used this money on acquisition(s), as those would have helped with the main issue, and that is sales growth. I'll show you why in the next table, which shows Deckers' revenue growth over the first four quarters after the Sanuk acquisition was completed in July 2011. These figures show revenue growth over the prior year's period, with and without the Sanuk results included.

Overall, the revenue growth is slowing, but when you take out the add on from the acquisition, the numbers are extremely terrible. Deckers recently reported third-quarter results, the first quarter in which there are comparable numbers for Sanuk. Deckers reported an overall decline of 9.16% in revenue, but Sanuk revenue grew 17.6% in the period. If you take out the Sanuk growth, Deckers' revenue was down 9.81% in the period. Deckers' timely acquisition of Sanuk helped to pad a serious slowdown in revenue growth. During the third quarter of 2011 report, Deckers said it had used $126.6 million in cash for payments in the Sanuk acquisition. Deckers is planning on $300 million in buybacks, so imagine what it could have done using that money for acquisitions, plus what it would not have necessarily needed the credit facility for. Additionally, the buyback looks even worse at the prices it paid for shares.
Other Items to Consider
Investors have to remember that Deckers' products do have a bit of luxury to them. The company sells a lot of high-priced items, including most boots that go for $150 to $250 or more, slippers that cost $75 to $100 or more, etc. A fair amount of the women's boots fetch $300 or more, with some costing nearly $900. Handbags and other accessories go for several hundred dollars a pop. We're not talking about a company that sells $50 sneakers or $10 flip flops. Even some of Deckers' kids items are priced up to $200.
Investors also need to think about two news items that have lingered in the media over the past couple of weeks. They are Superstorm Sandy and the fiscal cliff. You might laugh at those two items, but people that need to do major home repairs or completely rebuild their house aren't exactly running out to buy $400 boots. Also, the impact of the fiscal cliff could definitely have an impact on retail sales this holiday season. If people think their taxes are going up a bit at the end of the year, they probably won't be spending as much this year. Neither one of these issues is going to destroy Deckers. But if you take enough chunks out, eventually, you are talking about serious damage.
Now that I've covered a bunch of the challenges and past issues with Deckers, it is time to focus on the opportunities that the company has in front of it.
Part Two - Potential Opportunities
In this section, I will focus on a couple of opportunities that lie ahead for Deckers. These are opportunities that I see for the company, as well as some that I have heard investors discuss throughout my own Deckers articles as well as other bullish articles on the name. For purposes of this argument, I don't consider weather as an opportunity, because the expectation is that winters are usually cold. Last year, the winter was a challenge, so I don't see a normal winter as an opportunity, it's more of just a return to normal.
Expectations are really low
Expectations for the company have continued to go lower and lower, and rightly so. The company has basically warned for four straight quarters. After Deckers guided to a huge Q4 after Q2 results, it took down its guidance tremendously at the Q3 report. Analysts still don't believe in Deckers after the recent history. Deckers guided to 6% revenue growth for Q4, but analysts are expecting just 4.1% growth currently. On an earnings per share front, the company guided to a 14% year-over-year decline, and analysts are currently forecasting about a 17% decline. To show you how much analyst estimates have come down, I've put together the following chart. The chart shows Deckers' 2010 and 2011 earnings, followed by where 2012 and 2013 expectations have been over a series of dates.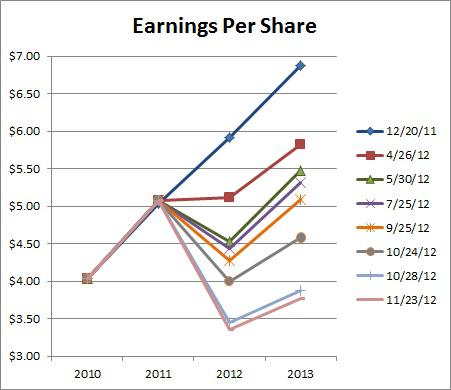 Just 11 months ago, analysts were expecting Deckers' earnings per share to be $5.91 for 2012 and $6.87 for 2013. Now, they are expecting just $3.36 and $3.77, respectively. Additionally, Deckers' website shows that analysts currently expect $4.38 in earnings during 2014. If that occurs, Deckers would see a roughly 13% decline in earnings over three years, despite the huge buyback in place. Net income would fall at a much more significant rate.
With expectations so low, this is where Deckers has an opportunity. Analysts expect just 3.6% revenue growth this year, where Deckers' guidance was for 5%. For 2013, analysts are only looking for 4.5% revenue growth currently. But again, expectations coming down this much is why the stock has fallen roughly 70% over the past year. Deckers has not issued a 2013 forecast just yet, other than some of the margin commentary provided above, so we'll have to wait until Deckers reports Q4 and full-year results to get guidance. But as many have pointed out, this is a name where nearly half of the shares outstanding are short. Should Deckers be able to weather the storm and have a decent Q4 and guidance, a major short squeeze could occur. But it has to deliver, and lately, it hasn't been delivering.
Deckers expands its retail footprint
Deckers is trying to become more globally diversified, and that process is continuing strongly in Asia, obviously a huge market. Deckers has increased its presence in Japan with six new stores, and during the third quarter, the company opened seven new stores in China. The company now has 20 stores in China, up from eight a year ago. The new stores have been doing well, although the company did note that some cannibalization of the already open stores is occurring.
Here's what the company had to say about its retail business, including two specific quotes from the conference call.
I'd like to continue sharing additional details about our retail business as this channel becomes a larger portion of our overall results and what we believe will be an important profit driver for us. We ended the third quarter with 68 global locations, up from 53 at the end of the second quarter, and compared to 39 a year ago. Of these, 30 are now in the comp base, including 17 in the U.S., 4 in the U.K., 4 in China and 5 in Japan.

As of September 30th, the for stores open at least 12-months, annual sales per square foot on a trailing 12-month basis were approximately $1,700, a figure we are very proud of especially given the warm weather during this period. We also believe that our retail division has yet to fully benefit from the leadership of Dave Powers, President of Consumer Direct, and many of the systems and infrastructure investments we have made during the past year. In terms of regional performance, the U.S. and Asia are above the company average while Europe is below. We ended the third quarter for both comp stores and new stores with approximately 180,000 total square feet compared to 110,000 total square feet at the end of last year's Q3. Meanwhile, the retail comp fleet continues to generate great returns with the average store paying back our initial investment in 1 year. Our U.S. comp store sales generate the greatest ROI, followed by China comp stores due to a low initial build-out cost and an inexpensive operating model.
Deckers will look to open a similar number of stores in 2013 to what it did in 2012. This is a great opportunity for the company, as they say, because its annual sales per square foot are among the highest in the industry. Again, that goes back to its high priced products I mentioned before. If Deckers' statement that its stores pay back the investment in just one year is correct, this company will do well in the future as it continues to increase the store count.
Other Items to Consider
When you have a stock that has been beaten down this much, you know there will always be talk about it being an acquisition candidate. Deckers is still a profitable company, and if many think this is the bottom for the name, someone looking to Deckers won't find a better chance to pick up Deckers. At this point, I won't specifically comment on a buyout, but right now, if one were to occur, I think Deckers' management would have to sell at a range of $45 to $50, at minimum. That would still be a huge haircut for the $115 shares fetched about a year ago, but it's certainly better than the $28 and change we saw recently.
Final Thoughts
Deckers does have some headwinds ahead but they are certainly ones that could be overcome. This winter will certainly be key for the company as it tries to have a good quarter and flush out some of its older and higher-priced inventory. At just over $33, there is more potential short-term upside for the name at the moment. Any good news or positive analyst notes could spike some short covering that would send this name higher. When Deckers initially dropped below $40 in August, we saw the name bounce toward $50 twice before the latest fall. Deckers is less than $5 from its 52-week low, and it probably would take some sort of negative pre-announcement for the stock to break that before the next earnings report. For now, Deckers remains an overall short candidate for the challenges I've outlined. That doesn't mean you should short it right away, but shorting it on pops has worked well. If you took advantage of the recent pop above $35, you could have made approximately 6% to 7% on a short. For now, Deckers needs to prove itself, something it hasn't done in recent quarters, which is why the stock is down so much over the past year, and you can't blame it all on the weather or sheepskin prices.
Disclosure: I have no positions in any stocks mentioned, and no plans to initiate any positions within the next 72 hours. I wrote this article myself, and it expresses my own opinions. I am not receiving compensation for it (other than from Seeking Alpha). I have no business relationship with any company whose stock is mentioned in this article.
Additional disclosure: Investors are always reminded that before making any investment, you should do your own proper due diligence on any name directly or indirectly mentioned in this article. Investors should also consider seeking advice from a broker or financial adviser before making any investment decisions. Any material in this article should be considered general information, and not relied on as a formal investment recommendation.