PepsiCo (NYSE:PEP) is the largest food and beverages business in North America and second largest in the world. Coca Cola (NYSE:KO) - the company's main competitor holds the number one position in the industry. PepsiCo has a $106 billion market capitalization and operates in almost 200 countries. We recommend a neutral rating on Pepsi as KO offers better growth prospects than PepsiCo.
Lately, the company has been focusing on promoting healthy alternates and not only calorie-rich drinks. Earlier this year, PepsiCo has introduced Pepsi NEXT which contains 60 calories, lesser than 150 calories in Pepsi and 140 calories in Coca Cola. This move towards the healthy alternate might have a negative impact on the company's financials, as it might not be able to focus on its existing profitable brands. PepsiCo has already lost its second slot to Diet Coke in terms of market share.
Over the years, the company has successfully increased its top line at an average of 8% per annum. However, due to rising competition and increasing commodity prices, margins of PepsiCo do not display a satisfactory image. PepsiCo needs to focus on its most profitable brands and markets to compete effectively and regain the second slot. The chart below shows the contraction of margins over the years: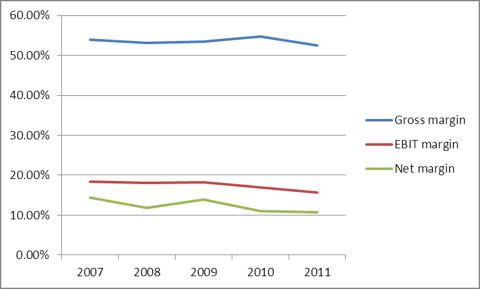 Source: Qineqt's Calculations
Moreover, in the last couple of years, the company has failed to maintain its return on equity, which almost peaked at 40% in 2009 and since then has declined to 33%. The chart below displays the decline in ROE from 2007 until 2011.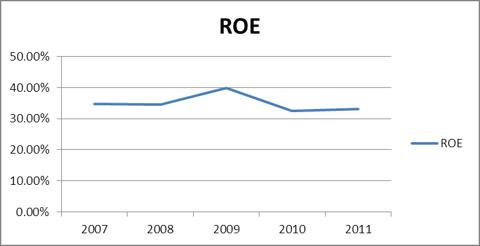 Source: Qineqt's calculations
Last month, PepsiCo reported its financial performance for the recent third quarter. Earnings for the quarter were $1.2, down 5% YOY, beating analyst estimates by 3%. Revenues for the quarter were $16.65 billion, down 5% YoY. However, organic revenue growth of 5% was experienced by the company. As the company has been facing rising commodity prices and an intense competition, the spending on advertisement and marketing has increased to maintain/build market power. 5% organic top line growth achieved by the company in the recent third quarter was a result of 4% price increase and 1% volume increase.
Going forward, to improve its operations and results, we believe the company needs to focus on emerging markets. In the last quarter, the company achieved 11% organic growth in emerging markets. To focus on China and other markets in the region, the company has plans to invest $2.5 billion in China. Under the plan, PepsiCo last week launched its research center in China with a hope to boost sales in the region. The company has spent more than $40 million on the centre. The company is aiming to make snacks and beverages in accordance with the taste of the region. This densely populated region provides a great growth potential.
Mehmood Khan, PepsiCo's chief scientific officer said, "China is a critical part of our global strategy, our growth engine." "It makes absolute sense that we do as much of our innovation close to the Chinese consumer and the Asian consumer on the ground."
Last year, PepsiCo signed an agreement with Tingyi (maker of beverages and noodles) to improve its market share and performance in China. Under the agreement, PepsiCo will receive a 5% stake in Tingyi; in addition, the company has the option of increasing the stake up till 20%. According to a report, PepsiCo currently has an almost 4.5% market share in China's beverage market.
PepsiCo offers a decent dividend yield of 3.1%, supported by a 5% free cash flow yield. In the past couple of years the company has comfortably covered its dividends, indicating that the current dividends are sustainable. The table below shows dividend coverage in the last couple of years.
| | | |
| --- | --- | --- |
| | 2010 | 2011 |
| Dividend Coverage | 1.75x | 1.85x |
Source: Qineqt's Calculations
Valuations:
| | | | |
| --- | --- | --- | --- |
| | PEP | Coca Cola | Dr Pepper Snapple Group Inc (NYSE:DPS) |
| Forward P/E | 16x | 17x | 13.5x |
| PEG | 4 | 2.3 | 2 |
| Growth (next five year) | 4.2% | 8.2% | 7.3 % |
Source: Yahoo finance
PepsiCo has a forward P/E of 16x, which is on the lower end as compared to KO and higher than DPS. However, PepsiCo's PEG of 4 reflects that the company offers an expensive growth as compared to its competitors KO and DPS. PepsiCo has a lower growth rate of 4.2% per annum for the next five years as compared to 7.75% of its competitors.
PepsiCo has a five-year average P/E of almost 17x. Earnings for the fiscal year 2013 are expected to be $4.4 per share. Using average P/E of 17x and estimated 2013 earnings of $4.4, we get a $75 price target.
However, we recommend a neutral rating for the stock as its competitors KO and DPS offer better investment opportunities with higher growth prospects.
Disclosure: I have no positions in any stocks mentioned, and no plans to initiate any positions within the next 72 hours.
Business relationship disclosure: The article has been written by Qineqt's Consumer Staples Analyst. Qineqt is not receiving compensation for it (other than from Seeking Alpha). Qineqt has no business relationship with any company whose stock is mentioned in this article.