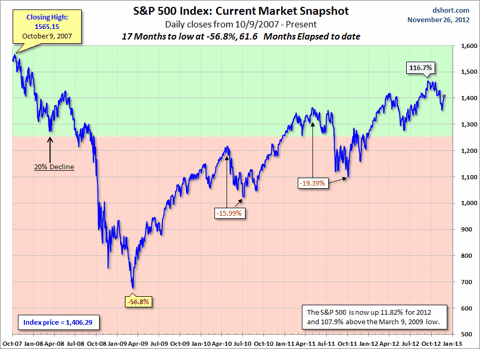 How will we finish November?
With just 4 trading days left to the month and then just 19 more to close out the year, it's already been a wild ride but, as you can see from Doug Short's S&P chart, we're up a very solid 200 points for the year (16.66%) and not likely to give much of that back and, of course, 1,400 on the S&P represents a 100% recovery off those 2009 lows.
That's 25% a year folks. What are you complaining about? No, we didn't go up in a straight line but sticking with pretty much any stock over the past 4 years has been a winning strategy and that's been replenishing 401Ks and IRAs and Pension Funds and has allowed the investing class to recoup most of their losses from the crash and NOW the question is - what happens next?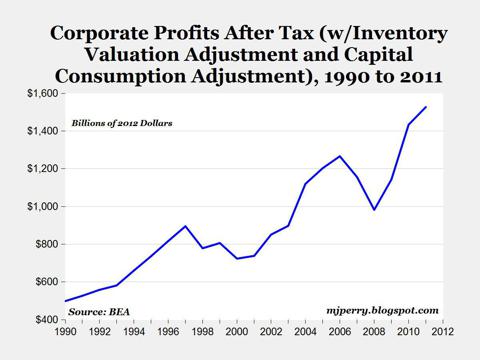 Surely we can't grow the market 25% every year. This year we will struggle to get back to 20% (1,450) - if it happens at all and, realistically, we have to assume that closing high of 1,565 was not deserved at the time and, if we figure it was a 10% overshoot of the proper top - then 1,400 IS the right level for the S&P to be hanging out at.
Clearly we still have plenty of economic challenges to deal with and the world is not growing as fast as we thought it was in 2007 but it did grow and Corporate Profits are higher now than they were in 2007 and, if anything, tracking at the top of their 20-year trend so it makes sense that the S&P should be reflecting this - risk on or risk off.
Notice, by the way, that's $1.6 TRILLION in annual Corporate Profits and that's AFTER deducting the net of losses from some Corporations to offset the profits of others. How much tax do these Corporations pay on $1.6Tn in profits? Last year - it was just $192Bn - 12%. If Corporations paid 35% like their fellow citizens, that would drop another $368Bn into the US Treasury - THOSE are the rich people we need to chase down and force to pay their fair share! Why is this not discussed more?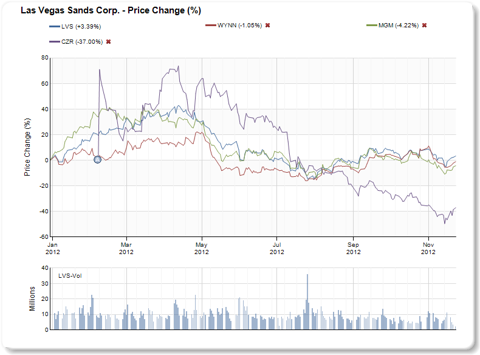 Mitt Romney's #1 backer, Shelly Adelson's Las Vegas Sands (NYSE:LVS) only paid $211M on $2,094M in income last year (10%) and now, rather than using that extra money to create jobs, they are skirting tax laws for the shareholders by paying the rest of the money out as a $2.26Bn special dividend that will allow Shelly to drop a cool $1.2Bn into his pocket and be taxed just 15% on the income. It's all legal, of course, but this is how the US government and the bottom 99% of the taxpayers, who have to make up the shortfall, get ripped off by corporations and their top 1% owners every single day.
Until we begin to address the myriad ways that corporations use to avoid paying all but token amounts of taxes, we are not being serious about tax reform. You can buy LVS for $44.03 and protect it with the January $44/41 bear put spread at $1.10 in anticipation of the stock dropping $2.75 when it goes ex-dividend (12/10) and then you book your dividend profit (15% tax rate) as 2012 profits but sell the stock for a loss by the end of the year to avoid paying all taxes and then take your profit on the bear put spread in 2013 which gives you an entire year to find more offsets. See how that works - it's like a shell game you (and your accountant) can play with the government!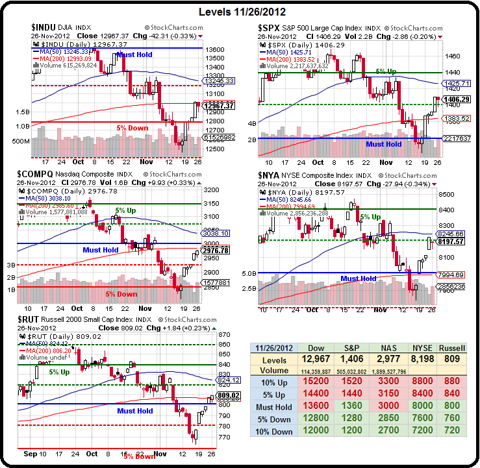 Anyway, back to the markets: We have some encouraging numbers from Case-Shiller this morning, with the Home Price Index rising 0.4% for the month and that's in-line with expectations - as is the 3% increase year/year. Home prices are still 30% off their 2006 peak but even Las Vegas is turning around now and Phoenix home prices are up 18.8% this year.
Durable Goods, meanwhile, came in flat against a 0.8% drop expected and, ex-Transportation, we're up 1.5%, which is excellent and way better than the 0.4% drop expected on the core number. We continue to get poor regional Fed Reports (and the Beige Book is tomorrow), with the Chicago Midwest Manufacturing Index down 1.2% in October. We also had very strong ICSC Retail Store Sales, showing a 3.3% weekly increase but that did include Black Friday.
Online retail sales jumped 26% from last year on Cyber Monday, IBM said late yesterday, adding that purchases from mobile devices, including tablets, rose 10.2%. The rise follows a strong increase in Internet shopping over the Thanksgiving weekend. And Greece is "fixed" again, by the way - so plenty of good news to take the markets higher - if they are so inclined.
Today's the day that will make or break our "V" recovery. It is more likely we flatten out here and HOPEFULLY manage to rise to challenge those 50 dmas by the week's end at 13,245 on the Dow, 1,425 on the S&P, 3,038 on the Nasdaq, 8,197 on the NYSE and 824 on the Russell - any move over those lines will keep us bullish but failing to hold our supports will lead us to do a bit more hedging.
It's been a good year - no need to be greedy.
Disclosure: I am long AAPL, XLF, TZA, HPQ, HOV, BBY. I wrote this article myself, and it expresses my own opinions. I am not receiving compensation for it. I have no business relationship with any company whose stock is mentioned in this article.
Additional disclosure: Positions as indicated but subject to change (fairly bullish mix of long and short positions - see previous posts for other trade ideas).