Nintendo (OTCPK:NTDOY) garners much attraction and hidden value for the patient investor. Iconic brands of games including: Zelda, Metroid, and Mario continually accomplish high sales with gamers while simultaneously maintaining a very lucrative cash position and even a dividend offer value to investors in the company. Let's not forget that Nintendo just released the Nintendo U as well -- so far demand appears to be high.
Recent History
Nintendo was a fantastic stock to invest in back in 2006 with the Nintendo Wii system just released. Demand rocketed sky high and supply was very tight. Nintendo made money on every Wii system sold as well as all software sold for the Nintendo Wii through original releases and royalty payments from 3rd-party software. The stock reacted by running up from 2006 to 2008.

However, a few years after launch the system seemed to have lost much of its novel appeal and the stock drifted lower with that loss. The graphics were vastly underpowered compared to the Sony (NYSE:SNE) Playstation 3 or the Microsoft (NASDAQ:MSFT) Xbox 360. Revenues for Nintendo tanked: Nintendo Wii and DS demand slumped. However demand for the Nintendo 3DS has taken off to the tune of a 64.8% rise in sales.
Sales continued to fall generally across the board; however, the DS and Wii, (both coming towards the end of their life cycles), sold 970,000 and 1.32 million units respectively - drops of 62.4 percent and 60.6 percent. On the other hand, the 3DS was the lone bright spot -- sales were up 64.8 percent for a total of 5.06 million units, of which 2.1 million were the newer (and more expensive) XL model.
Nintendo U
Nintendo has opted to break out of the gate first in the next- generation console battle. The Nintendo U will be sold as a loss-leader at a hefty price tag of $350 for the 32-gig model and $300 for the 8-gig model. AMD (NASDAQ:AMD) will supply the graphics portion while IBM (NYSE:IBM) will supply the CPU portion.
The company's strategy is to build up their massive market share before Sony or Microsoft launch consoles next year. Nintendo will receive royalty payments on each game sold. As the user base increases, more developers will be attracted to make games for the Nintendo U. Simultaneously, as the library of games increase -- more U systems will be sold. It's a vicious system of profits once the cycle gets rolling. However, it will take some time to get the profit-cycle rolling though.
Iwata points out that revenues were constrained by the rising value of the yen and production costs for the Wii U, which has been priced at a level "that consumers would consider to be reasonable." He then goes on to caution:

"Although we expect our financial performance to be revitalized, under these circumstances, unfortunately we cannot say that we will achieve 'Nintendo-like' profits within this fiscal year."
Looking here, we can see that quite a few larger developers such as Electronic Arts (NASDAQ:EA), Activision (NASDAQ:ATVI), and even THQ (THQI) have games out for the system.
Demand
So far the Nintendo U seems to be meeting high demand. Since the system has just launched, it will be necessary to check the retailers - i.e.,Gamestop (NYSE:GME) or Wal-Mart (NYSE:WMT) - in person to gauge demand for the system or see if it is even available; monitoring prices on eBay (NASDAQ:EBAY) for the Nintendo U could be another valuable source of intel.
Financials and Dividends
Glancing at the chart below, we can see Nintendo's ample history of profits, with its only loss in 2012. Notice the ramp up in revenues after the Nintendo Wii launch (late 2006) and hen by 2010 the company's negative growth as the Wii became long in the tooth.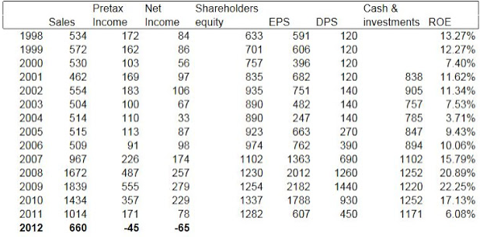 Nintendo also pays out dividends based upon profit level achieved. Since no profits were achieved in 2012, no dividends were paid. If the Nintendo U is a success and thus profits achieved, the dividend will be paid out per the formula in the above link.
Conclusion
Nintendo is marketing a new gaming system that is first-to-market over its competition. With sales improvements, dividends will rise as well as the stock. Nintendo also maintains a cash position of $11.19 billion with $0 debt. This equals out to $10.94 in cash per share. With a current stock price of $15.80, cash backing then comes out to 69%. Quite a buffer. Book value stands at $14.02 per share. At these levels Nintendo has minimal downside risk.
We consider Nintendo a long-term buy due to Nintendo U increasing revenues, dividends, and the favorable cash position.
Disclosure: I am long OTCPK:NTDOY, AMD. I wrote this article myself, and it expresses my own opinions. I am not receiving compensation for it (other than from Seeking Alpha). I have no business relationship with any company whose stock is mentioned in this article.