I have been impressed with the urgency of doing. Knowing is not enough; we must apply. Being willing is not enough; we must do. -- Leonardo Da Vinci
Regular readers of my columns know one of the areas I focus on is busted IPOs. Once a company has been public a year and the analysts'/underwriters' rose-colored glasses have come off and lockup expirations have occurred, that can provide a buying opportunity for an aggressive investor acting with urgency. This is especially true if the stock has sold off substantially even as it has increased revenues rapidly. One busted IPO that just showed up on my radar screen is Skullcandy (NASDAQ:SKUL). The stock is growing revenues impressively, has cheap valuations, and recently got some love from an analyst firm based on its initial Black Friday read.
I think I am going to take a shot at this one either by buying the shares outright or by structuring an out-of-money bull call option spread. I did this recently with Apple (OTC:APPL), when I correctly called the bottom of the sell-off on that stock on Nov. 16. It looks as if I will more than triple my money on that bet as it stands right now, and ironically Apple has products Skullcandy supplies accessories for. If I go with a bull market call spread on SKUL, it will probably be the March $10/$12.50 spread for around 30 cents. This has the potential to pay me back 7-to-1 if I catch this right and stock climbs back to $12.50. I also would not mind owning the shares outright here.
Skullcandy develops and distributes headphones and other audio accessories to retailers in the United States and to distributors internationally. Its headphone products include in-ear, on-ear, over-ear, and gaming headphones.
Here are eight reasons why SKUL is a solid speculative play at just over $8 a share:
DA Davidson reiterated its buy rating and $19 price target on SKUL after conducting its own Black Friday channel checks.
The eight analysts who cover the stock have a median price target of $16 a share on these shares, roughly double its current price. Price target range is fairly tight (low target: $15, high target: $19).
The company will grow revenues better than 25% in FY 2012, and analysts see a consensus sales increase of 15% in FY 2013.
International sales growth is even more impressive, clocking in almost 60% year over year in the company's second quarter.
Online sales are growing rapidly (an over 20% increase year over year) and now represent almost 10% of total revenue. The stock sports a minuscule five-year projected PEG (.54).
The company has beat earnings estimates five of its six quarters as a public company. It met expectations in the other quarter.
SKUL sells at a little over seven times forward earnings, a discount to its average since becoming a public company in July 2011 (13.2).
The stock has fallen some 60% since going public, despite impressive revenue growth. It looks as if the stock is trying to put in a bottom here (see chart).
Click to enlarge image.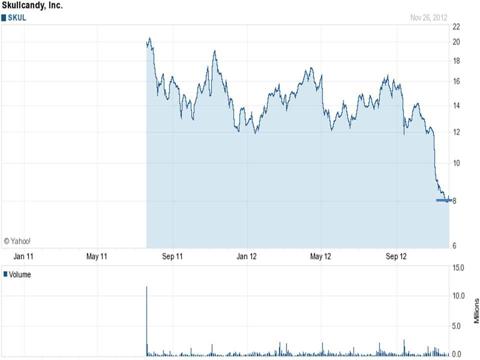 Disclosure: I am long AAPL. I may also initiate a long position in SKUL in the next 72 hours. I wrote this article myself, and it expresses my own opinions. I am not receiving compensation for it (other than from Seeking Alpha). I have no business relationship with any company whose stock is mentioned in this article.