Chile offers investors Latin American and commodity exposure in a single play. The iShares MSCI Chile Index ETF (BATS:ECH) allows exposure to the growth in Asian markets indirectly, as Chile is a top exporter of minerals and copper.
The latest data out of Chile indicates that economic activity increased at an annualized rate of 5.7% during the third quarter. A moderation in growth is expected due to a decline in exports because of the global economic slowdown, reports Carolina Pica and Stephen Wisnefski for The WSJ.
"The external situation is the main, but not the only, source of concern. We are concerned about the competitiveness of the Chilean economy in the medium and long term," President Sebastián Piñera said in a recent interview. "We have to make urgent and resolute efforts to improve the Chilean economy's competitiveness, and this is why we're committed to many microeconomic reforms."
The total growth rate for Chile this year is expected to come in around 5%. Strong domestic demand has helped bolster the economy where the global economy left off. Ebbing copper prices and the appreciation of the Chilean peso are the biggest threats to expansion within the economy next year. There was a 3.4% decline in exports this year, reports Zacks.
The Andean nation is a good alternative to Brazil or Argentina. Chile is expected to post growth at 4.3% in 2013. The country is the largest exporter of copper and is mineral rich, which has helped keep the economy humming as Asian nations have posted some growth.
ECH allocates exposure to utilities, industrials, financials and materials, and there is a 1.55% yield. ECH costs about 0.59%. The Global X Andean 40 ETF (NYSEARCA:AND) is another ETF that gives diversified exposure to the region. Chile, Peru and Columbia are all represented and Chile gets the largest allocation, at 39%. The fund yields 1.72%.
iShares MSCI Chile Index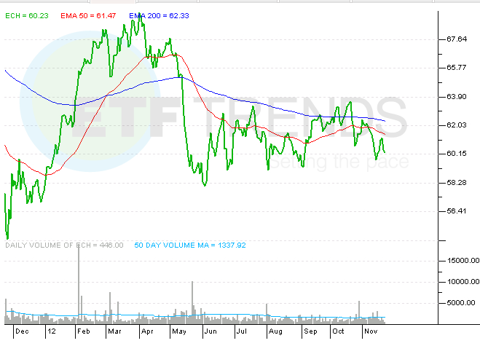 Tisha Guerrero contributed to this article.
Disclosure: I have no positions in any stocks mentioned, and no plans to initiate any positions within the next 72 hours. I wrote this article myself, and it expresses my own opinions. I am not receiving compensation for it. I have no business relationship with any company whose stock is mentioned in this article.