Earlier this month Anthera Pharmaceutical Inc. (NASDAQ:ANTH) broke below $.60, trading lower than the sell-off in late June, when the company released its Phase IIb data for Pearl-SC, and updated plans for Phase III testing. Despite repeatedly disappointing investors this past year--and falling over 90% in price since its opening--the stock still has a hope of entering the lupus market, which will be worth $1.3 billion in 2015, the year that the Phase III Chablis-SC trial is expected to end. The trial aims to demonstrate the drug's superiority when dealing with more severe cases of systemic lupus erythematosus. I believe this management strategy would allow their drug, Blisibimod, a niche in the market. And with a current market cap of under $49 million, there is some clear upside to be gained.
According to George S. Mack's interview with John McCamant, the company has two years of cash on hand. After the failure of an earlier cardiac drug, the company reduced its workforce, and eventually its quarterly expenses, by half. There is risk that the Phase III trials will yet again produce disappointing results, and that stiff competition from pharmaceutical giants will elbow Anthera's Blisibimod out of the market. However, a predicted edge over the current treatment, GlaxoSmithKline's (NYSE:GSK) Benlysta, potential for Blisibimod in treatment of other autoimmune diseases, and a reasonable technical entry-point make this stock a decent longer-term speculative investment.

The stock has been heavily oversold for most of November, dropping off significantly after an initial surge that was spurred by the acceptance of a late-breaking poster presentation at the Annual Scientific Meeting of the American College of Rheumatology and the Association of Rheumatology Health Professionals (ACR/ARHP). RSI is currently just over 32. The MACD is nearing a bullish crossover. The stock may soon test support around $.60. Although it appears to be a relatively strong support line, a lack of upcoming catalysts and a prevailing pessimism means the price could reach new lows. On the other hand, keep an eye on this stock's PPO/ADX. Momentum is fairly significant, at just below 30. PPO recently broke off a rounded bottom without crossing.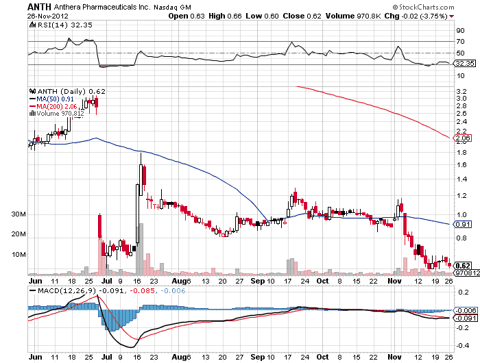 Even if ANTH has just a 50% chance of getting eventual FDA approval, and could manage to earn just 10% of the market--both of which seem conservative based on my research--then the company's valuation would still be $20 million more than the current market cap. If approved, Blisibimod would need to secure just 8% of the lupus market to make Anthera worth twice its current market cap. If the company can afford to investigate other uses of the antagonist of the BAFF cytokine, then Blisibimod, and Anthera, may yet return a handsome profit.
Disclosure: I am long ANTH. I wrote this article myself, and it expresses my own opinions. I am not receiving compensation for it (other than from Seeking Alpha). I have no business relationship with any company whose stock is mentioned in this article.