Occidental Petroleum (NYSE:OXY) has gone from $91 to $75 in a little over two months, a drop of some 18%. Despite showing some strength over the summer, OXY has dropped from well over $100 back in February. Has the selling been overdone and is it time to go long OXY?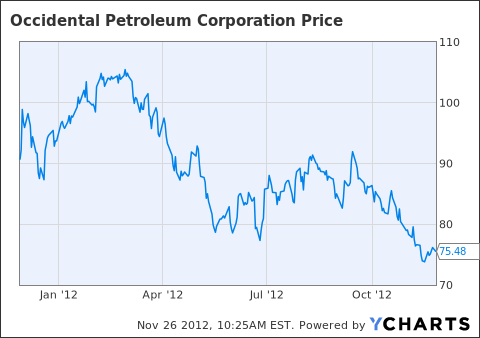 OXY = $75.40
Mkt Cap = $61.16 Billion
EPS (ttm) = $7.26
P/E (ttm) = 10.4
Div (Yield) = $2.16 (2.8%)
The selling may have gone too far. The following YChart maps OXY versus the NYSE Oil and Gas Index (XOI). While both are down over the past year, OXY has underperformed its broader peer group, as measured by the XOI, by over 3x.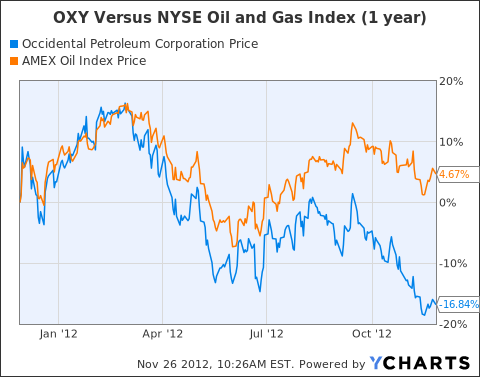 Let's take a look at the fundamentals and see if such a selloff is warranted. CEO Stephen Chazen gave a presentation on November 13th at the BofA Global Energy Conference. You can view that presentation here.
Highlights:
Occidental is an oily company: 60% oil, 22% NGL, 29% gas
61% of production is in the U.S., 39% is international
8 consecutive quarters of production growth
Year-over-year production growth was 8%
OXY was #2 in peer group of 16 in Income/Boe metric ($20.43)
OXY was #5 in peer group of 16 in Cap Spending/Boe ($36.38)
OXY remains the largest operator and oil producer in the Permian Basin
Dividend has increased for 10 consecutive years
The following chart summarizes results of the first nine months 2012 as compared to the year earlier period:
Year-Over-Year First Nine Months 2012 Results

($ in millions, except EPS data)

YTD 2012

YTD 2011

Income from CO

$4,271

$5,187

EPS (diluted)

$5.26

$6.37

Net Income

$4,262

$5,137

Reported EPS (diluted)

$5.25

$6.31

Worldwide oil & gas production (mboe/d) +5%

762

728

U.S. oil & gas production (mboe/d) +8%

469

436

Capital Spending

$7,716

$4,969

Cash Flow From Operations

$8,500

$8,600
And herein lies the cause of the recent selloff. Although production has grown nicely, it is clear EPS and net income growth has slowed despite a significant increase in capital spending.
So what is the company's strategy to improve shareholder returns?
Grow oil and gas production by 5-8% per year.
Target returns of 15% (U.S.) and 20% (International)
Improve operational efficiency across all cost categories
Sharply curtail pure gas drilling and cut back on NGL drilling as well.
Eliminate less productive rigs to improve returns
Exploit existing holdings in California, Permian, Williston Basin, Oman, Bahrain and Iraq
Let's take a look at some of OXY's geographical operations.
California
OXY is the largest acreage holder in California. Q3 production there was 147 mboe/d and is a large component of total U.S. production. It is the largest producer of gas and NGLs in CA. Total CA production growth has been slower than the company expected - in part due to the Elk Hills decline and permitting issues. On a positive note, the company's Elk Hills Gas processing plant is now operational after spending $370 million over the past several years. At the same time, substantial unconventional opportunities are present and the company expects to grow production at Lost Hills (steam flood) from 4 mb/d to 15 mb/d, eventually recovering over 50 million barrels net to OXY.
Permian Basin
Q3/2012 production in the Permian was 209 mboe/d. OXY is the largest producer in the Permian and pumps about 15% of all Permian oil. The company predicts it has another 2.5 BBOE of likely resources to recover. The company has grown its non-CO2 production there by 25% since 2010.
Abu Dhabi
Currently the Al Hosn gas project in Abu Dhabi has been a large capital consumer. The company expects a significant shift in late 2014 when this project will change from a cash consumer to a cash generator. Free cash flow from this project is estimated to be $600 million annually at current prices. Once the project becomes operational, OXY's free cash flow should increase by the delta between cash consumption and cash generation. Based on 2012 capital expenditures for the project, this would equate to a $1.8 billion increase in cash flow.
The question remains: is the sell-off in OXY done and is it time to consider adding the stock to your portfolio? I think the jury is still out. The stock chart still looks rather bearish to me. Currently, the macro investing environment is unstable and risky due to the overhanging fiscal cliff issue. Although production growth remains good at OXY, the company must get a grip on domestic drilling costs and improve net earnings to the bottom line. With the current dividend of $2.16/share, it would yield 3% at $70 and should be considered if the stock were to dip that low. Meantime, I would give OXY another quarter or two to track performance, earnings, production, and costs. That said, the time to buy will certainly be before the 2nd half of 2014 when the investors will begin to price in the large rewards OXY will reap as a result of its substantial investments in Abu Dhabi (as noted above).
Disclosure: I have no positions in any stocks mentioned, and no plans to initiate any positions within the next 72 hours. I wrote this article myself, and it expresses my own opinions. I am not receiving compensation for it (other than from Seeking Alpha). I have no business relationship with any company whose stock is mentioned in this article.