Guidance Software Inc. (NASDAQ:GUID) reported third-quarter earnings per share that surpassed the Zacks Consensus Estimate by more than 40%, marking the third positive earnings surprise in the past 4 quarters. Given these factors and a year-to-date return of 63.3%, this Zacks #1 Rank (Strong Buy) provider of digital investigative solutions looks to be an attractive investment opportunity for growth-seeking investors.
Strong Third Quarter
On November 1, Guidance Software reported third quarter earnings of 10 cents per share, beating the Zacks Consensus Estimate of 7 cents by 42.9% and the year-ago earnings of 3 cents by 233.3%.
Revenue jumped 34.1% from the year-ago quarter to $36.6 million, marginally surpassing the Zacks Consensus Estimate. Product revenue (48% of total revenue) increased 17.4% to $17.4 million; services and maintenance revenue (44.5% of total revenue) surged 29.4% to $16.1 million; and subscription revenue (7.5% of total revenue) was $2.6 million.
Operating profit jumped 93% year over year to $4.1 million. Operating margin expanded 340 basis points (bps) to 11.1%, primarily attributable to top-line growth.
During the quarter, Guidance Software added 65 new EnCase Enterprise customers and 20 new customers of EnCase eDiscovery.
For 2012, the company expects non-GAAP revenue to increase 23% to 25% over the previous year to between $129.0 million and $131.0 million. Pre-tax earnings are expected to be between 37 cents and 41 cents per share.
Earnings Estimates Move Higher
The Zacks Consensus Estimate for 2012 remains unchanged at 19 cents, representing 280% year-over-year growth. Over the last 30 days, the Zacks Consensus Estimate for 2013 improved 12.0% to 28 cents, representing a year over year improvement of 47.4%.
Premium Valuation
Currently, Guidance Software is trading at a premium to its peers with respect to P/E (55.3x versus 17.2x), P/S (2.1x versus 4.0x) and P/B (7.4x versus 3.9x). Furthermore, the company's Return on Investment (ROI) of 12.7% is much better than the industry average of 4.9%.
Historically, Guidance Software's price has shown positive correlation with earnings growth. The uptrend in earnings estimates should encourage investors as the stock is likely to follow that trend.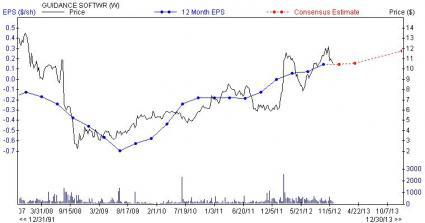 Pasadena, California-based Guidance Software offers digital investigative solutions to corporations and government agencies. Through its EnCase platform, organizations can search, collect and analyze electronically stored information to address human resources problems, litigations, allegations of fraud, suspicious network endpoint activity and defend their data assets.
Guidance Software faces significant competition from EMC Corp. (EMC), Autonomy, Navigant, Iron Mountain (NYSE:IRM) and McAfee in its various operational markets. The company has a market capitalization of $261.37 million.