A few weeks ago, Cleantech Solutions (NASDAQ:CLNT) released some impressive earnings and the stock has run-up from the pre-earnings levels of $2.70 to a high of nearly $5 before settling near $4, as of last Friday's close (November 23). Whenever you have such a big run, there is always a question, "Did I miss the ride or can it go even further." In my opinion, it is still very much undervalued and can go significantly higher.
China-based, Cleantech Solutions is a leading manufacturer of metal components and assemblies, primarily used in the wind power, solar, and other clean technology industries. In the third-quarter press release, Jianhua Wu, Chairman and Chief Executive Officer of Cleantech, said, "Against a weak macro-economic background, we are very pleased to have achieved 48.5% growth in revenues and 107.5% growth in net income during the third quarter of 2012. Our performance was driven by a sharp improvement in demand for our next generation of dyeing machines as well as solid growth in forged products for non-wind applications."
Gross profit for the third-quarter of 2012 increased 64.2% to $4.3 million, versus $2.6 million for the same period in 2011. Gross margin increased to 24.9% during the quarter, up from 22.5%. Net income for Q3 2012 was $2.4 million, or $0.88 diluted earnings per share, compared to $1.1 million, or $0.46 diluted earnings per share, year-over-year.
Fundamentally, many Chinese listed stocks trade with crazy low metrics. In this example, CLNT trailing twelve-month P/E is 2.21, despite 107.5% net income growth. Cleantech is priced at just 14 cents for every dollar per share in revenue and 90% below its book value of $28.66. What is most interesting here is that Cleantech already confirmed in their earnings release that they have already booked 2 additional purchase orders, which are going to be included in the next quarterly report:
Subsequent Events

On October 10, 2012 the Company announced that it has received new and follow-on purchase orders to supply 23 units of airflow dyeing machines and related components to domestic customers, for an aggregate amount of $2.2 million.

On October 31, 2012 the Company announced that it has received a new purchase order to supply 63 units of airflow dyeing machines and related components to a domestic customer for a purchase price of $1.7 million.
Looking over the last 10-Q filed (on November 13, 2012), everything looks normal. As far as one can see, the company is not being sued by anyone and is completely up-to-date on all its financial filings. Best of all, CLNT trades on the Nasdaq CM market, which has higher level of monitoring, as compared to OTC:BB or American Stock Exchange microfloats.
Technical Charting
Charts are also showing positive data. If you look at the weekly chart, it is showing positive movement on large volume. The stock is no longer overbought and there is no resistance until $6.40 and then $8.80.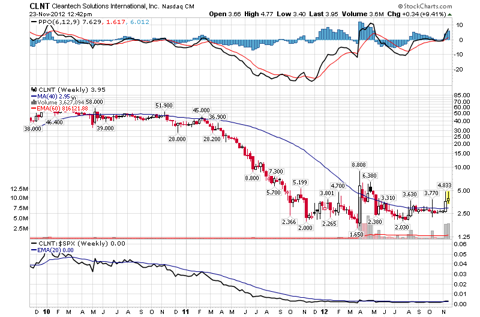 The P&F chart has a near-term target of $6.50 showing.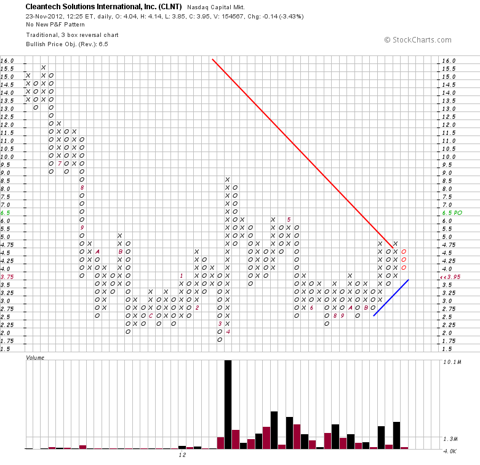 You can also go here for a free full technical analysis.
Conclusion
Investing in micro-cap stocks is always risky. But where there is risk, there is a chance for greater reward. What we have here is a company that looks to be making a positive move up, which is being based on factual (documented) earnings and growth. Will this be sustained? It sure looks like it, but we will need to follow the next few earning reports to see how well they continue to deliver. As long as margin's are going up, that will always be a good sign.
To paraphrase someone who already mentioned this elsewhere, "When companies like Cleantech Solutions are valued on par with their U.S. counterparts, the stock would be trading at US$ 25-30 easily. But again, we are dealing with a Chinese company (which has never previously committed any fraud) and hence you get the huge discount."
In my opinion, the "discount" is still too "large", even with the stock trading around $4. I strongly feel that CLNT should be trading right now in the $6-$8 range, and if the next quarter report is anywhere close to the last one, $10-$12 should be on the way.
Disclosure: I am long CLNT. Prior to writing this article, I was long CLNT via common stock. I wrote this article myself, and it expresses my own opinions. I am not receiving compensation for it. I have no business relationship with any company whose stock is mentioned in this article.