Pater Tenebrarum put it bluntly in his Seeing Alpha article, "The real estate market is totally out of whack and predictability is now a plaything of unpredictable intervention." He went on to examine whether we are in another bubble. His articles rang true based on my experiences as a Las Vegas real estate investor.
The Las Vegas housing market appears to be in great shape. According to the Greater Las Vegas Realtors Association, the median price in October 2012 was $140,000, up 15.7% from a year ago. Furthermore, homes are flying off the shelves with 55% sold within 30 days of being on the market, and 14.6% sold within 31-60 days. However, there are two significant indicators that tell us that the Las Vegas real estate market is not in good health:
Absorption Rate. 2012 price increases are a direct result of an artificially generated supply-demand imbalance, which results from government intervention. A balanced market's absorption rate is typically between 5-7 months, however, in some areas the Las Vegas absorption rate is below one month. It is a seller's market with multiple bids on most properties pushing up prices.
Pending Supply. A healthy market does not have more than one month of pending supply. This pending supply, or shadow inventory, consists of distressed properties not currently listed that are 90 days or more delinquent, those in foreclosure and real estate owned by lenders (REOs). With over two thirds of homeowners upside down on their mortgage, and as many as 75,000 homeowners more than 30 days late on their loans it is reasonable to conclude that there is well over a year of pending supply - more than 12 times that of a healthy market. This is based on the assumption that 36,000 homes is equivalent to one's year's supply since Las Vegas has been absorbing an average of just over 3,000 homes a month since 2009.
These two indicators are linked: as the pending supply increases the rate at which it comes to market, the absorption rate will increase and constrained supply will be removed as an upward pressure on prices. So the question on the minds of cautious investors is when will the supply increase, and will it lead to lower prices?
Pumped up Prices in a Run up to the Election
There is one simple reason for the current situation: market manipulation by Nevada legislators who changed state laws in 2011 to make foreclosures more difficult for lenders.
Assembly Bill 284 (AB284) took effect on October 1, 2011, and made lenders and mortgage servicers subject to criminal prosecution on a category C felony in the event documents making false representation concerning title are filed. Mandatory category C felony charges are imprisonment for a minimum of one year and fines of up to $10,000. Additionally, failure to disclose every prior known beneficiary of the deed of trust in a notarized affidavit could lead to a financial liability of the greater of $5,000 or treble the actual damage, plus attorney fees and costs.
The results of AB284 are clear below. The vast majority of NODs seen in the post-AB284 era have been filed by small lenders and Home Owners Associations who have decent record keeping.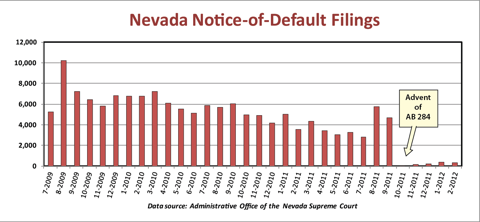 AB284 has dramatically reduced foreclosures in Las Vegas. The result is a lesson in basic economics, with a drop in supply leading to an increase in prices. But what is clear to everyone is that the supply is artificially constrained, and a second lesson in economics could be around the corner: an increase in supply will lead to lower prices. But it is not that simple. We need to examine how much supply there is, how it will be released, what the expected demand patterns are.
How do we estimate the impact of pending supply?
Some commentators are writing off pending supply as nothing to be concerned about, others point to indicators that show Las Vegas is worse off than the rest of the nation:
Rather than stare into crystal balls, let's draw some conclusions based on facts that everyone can agree upon. Foreclosure filings dropped from approximately 3000 to 1000 a month following AB284. AB284 did not remove the need to foreclose on these properties, it just removed the ability to do it, so now one year later we have at least 24,000 units that should have been filed on, but were not because lawmakers in a run up to a general election decided to manipulate the market. Assuming that 70% of these filings would have resulted in foreclosure, that is 17,000 units of pending supply - around four months of inventory.

Another fact is that 20,000 of 375,000 water hook ups in Las Vegas are inactive, and that does not include the unused water in vacant condo units that are master metered, nor does it include Henderson and North Las Vegas. It has also been reported that Southwest Gas and Nevada Energy estimate around 100,000 vacancies. The University of Las Vegas estimates 65,000 vacant homes. Even without the underwater mortgages, and ticking ARM time bombs, we are looking at an inventory of tens of thousands of vacant homes casting their shadow over Las Vegas real estate. Add this to the fact that we know that with every passing month there are two thousand more properties not being foreclosed on that should be.
The Mortgage Bankers Association provided what it considers the facts to be as of October 2012: of the 467,540 loans in Nevada in the second quarter, 9.85%, or 46,053 loans, were past-due. Another 6.09%, or 28,473 homes, were in foreclosure. So a total of 74,526 households statewide not making mortgage payments.
Return of the Foreclosure Flood?
On 27 September 2012, the Nevada Supreme Court issued an opinion that validated the use of the Mortgage Electronic Registration System (MERS). Commentators quickly pointed to this as a sign that a wave of foreclosures is coming, but as ever the situation is not that clear. Yes, the court threw out the notion that having MERS as a nominee or beneficiary invalidates the security interest and prohibits foreclosure, but it does not remove the restrictions imposed on banks by AB284. The court opinion eliminates a major stumbling block faced by lenders and servicers defending wrongful foreclosure claims, but does not remove the restrictions placed on banks by AB284 that inhibit a foreclosure from even starting.
Some point to the fact that Notices of Default have increased steadily in July and August as a sign that the banks are starting to work within the current legislative requirements, and it does seem logical that the significant market force of 75,000 delinquents will eventually overcome the barriers that politicians throw up to stem the tide.
It is my opinion that banks will use a combination of improved administration, short sales, bulk note sales, bulk REO sales, and judicial foreclosures to operate within the post-AB284 environment to work through the foreclosures, and that the post-MERS environment will encourage them to increase the rate of foreclosure. But having enjoyed the impact of the last 12 month price spike, banks are unlikely to increase the rate of supply to a level that would depress pricing. The relaxing of mark to market accounting standards in 2009 removed the banks incentives to quickly liquidate non-performing loans - a further market manipulation that will hold back the rate at which the pending supply comes onto the market. Given current absorption levels, Notices of Default would need to climb to 3,500 a month before I would start being concerned about the impact of increased supply on price levels.
Examining Demand
The majority purchasing continue to be from all-cash investors. In October, GLVAR reported that 54.1 percent of all existing homes sold in Southern Nevada were purchased with cash. A genuine sustainable recovery will only take hold once financed primary homeowners start to dominate, but that is some way off:
When you read reports of a national recovery in housing, it is important to remember that Nevada is in a deeper hole than much of the country, and has further to climb. Nevada had a greater reliance on subprime loans and more loans made to investors than elsewhere. We can see evidence of the disproportionately distressed situation in the fact that the average Southern Nevada loan backed by Fannie Mae and Freddie Mac is worth 129 percent of the value of the home versus 74 percent for the national average loan. Furthermore, just under 13 percent of the home loans were in serious delinquency, which is more than twice the national average of 5 percent. Las Vegas housing issues need to be considered in relation to the local inventory and economic factors. Of course, a national recovery will feed into increased tourist spending in Las Vegas, but it is likely that Vegas's recovery will lag the national recovery.
You may have read good things about the Las Vegas economy, such as the fact that taxable sales have increased 5 percent to 10 percent year virtually every month since mid-2010. Clark County's taxable sales jumped to $2.54 billion in July 2012, up from $2.35 billion in July 2010. However, just as Las Vegas has a shadow inventory of housing, it also has a shadow economy. This shadow economy is fueled by the delinquent borrowers who find their wallets full of the mortgage payments there are no longer making. This extra disposable income is being used to made discretionary purchases, such as clothes, cars and dining. Not until tourists start spending more, and employment increases will we have evidence of a sustainable economic recovery - the building block of a healthy real estate market.
Buying in a Manipulated Market
With so many artificial forces at work, and an uncertain outlook for the economic growth that would lead to a balanced market, it is those that are prepared to take the time to understand the current situation who are making the most profit.
So what makes for a sensible investment strategy in this environment? In my opinion it is to buy Las Vegas real estate, and I continue to do so for my own account. Although we are in a mini bubble that may burst, or at least deflate, double digit unleveraged yields remain achievable on rental properties.
The market suits investors who are buying for yield and not in the expectation of short term capital gain. Such investors are prepared to weather unrealized short term capital loss, and understand that they may see values fall below their acquisition price, before rising above it, during which period they collect their coupon.
Whilst buying good properties in Las Vegas in 2010 and 2011 was like shooting fish in a barrel, a more strategic approach is needed in the current market:
Look for investments outside of the most popular targets. Many home buyers and investors are looking for the same thing: a single family home built after 2000 in South West Las Vegas, priced under $200,000. This is one of the most competitive segments of the market. It has been bid up more than other areas, and the competition reduces the likelihood that you will be able to get a property below market value. There is more value, and more supply, in other geographical areas and at higher price points. Consider that that the west's 89138 has 0.6 months absorption rate versus 2.3 months for the centrally located 89101. For those uncomfortable with the demographics in areas with greater supply, they can target higher value properties in their preferred location.
Las Vegas has six months of supply of properties in the $500,000 to $1,000,000 range, versus less than one month of supply for properties under $99,000. The higher priced market is more illiquid than for cheaper properties, and for those willing to take a position on value and expose themselves to a potentially lengthy sales process there is money to be made. There are even bargains on the MLS: an 8,000 sq ft home was acquired off the MLS two months ago for $730,000 after it had been listed for a week. It was re-listed with no rehab and sold for $980,000 two months after the original purchase. This savvy investor simply recognized that the original listing was below market value and was able to come in with a quick close, cash purchase. He could have been stuck for a long time with a property that has significant carrying costs and a small rental market, but this risk was mitigated by the discount he correctly judged he was getting. Another way to buy at a discount to market and flip is by buying a short sale, rehabbing and re-listing as a traditional sale. With fewer sales going through at this price level a cash buyer can come in and make the market.
Another way to make money from the higher priced segment is to lease the properties as vacation rentals. When executing this strategy I work with a vacation rentals company on the underwriting so that we have a realistic expectation of nightly rate and occupancy. There are certain features and locations that make good vacation rentals, and if these are in place then double digit yields are achievable, even after the 30% management fees paid to the vacation rentals company. Being able to lock in these yields on properties over $500,000 is not easily achievable with long-term rentals.
The multi-family sector has advantages over single family homes and condos which boost yields. These advantages include no HOA fees and economies of scale. You can buy a 4-plex for the same as a single family home, but it will generate double the gross rent. There are some significant risks that need to be mitigated, but this market has less competition and is not as overheated as that for single family homes and condos.
Go commercial. The commercial sector in Las Vegas is within reach of many investors, but they don't feel comfortable buying a 3,000 sq ft office for $300,000. It is worth investing the time to get familiar with multiple asset classes to weigh them up against residential.
Disclosure: I have no positions in any stocks mentioned, and no plans to initiate any positions within the next 72 hours. I wrote this article myself, and it expresses my own opinions. I am not receiving compensation for it. I have no business relationship with any company whose stock is mentioned in this article.