More or less we all know that central bank policies in the U.S. and Europe have failed in this economic circle. Central banks have exhausted all known policy tools and have invented a few new ones and yet, the desired economic effects have yet to materialize. Now both the ECB and the Fed have their backs against the wall, with very few options on how to proceed from now on.
We can debate all day on why this time around central banking policies have failed, but it is fair to say that we might all agree on demographic dynamics, high level of consumer and sovereign debt and the fact that the world has changed with the use and evolution of the internet.
Whatever the reasons are, the fact remains that interest rates can't go any lower and asset purchases have not persuaded markets to break out and rally to new highs. Everywhere you look in the western world the markets have gone nowhere for a decade or so.
The problem with purchasing assets, is that this policy will not necessarily put money into the economy. It might put money in the hands of the market, but not necessarily in the real economy. In order for that to happen, there has to be real demand and people must have steady paying jobs.
Credit has not been enough to propel stocks to new highs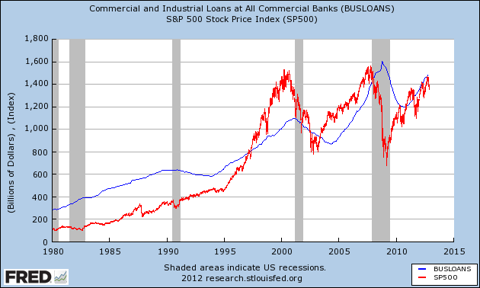 If we look at the above chart, we will see that the S&P 500 index has been in tandem with total commercial and industrial loans for a long time. However there was a disconnect several years ago. While total credit was down a little in the 90s, the S&P Index rose to new highs and when new loans rose to new highs, the S&P almost doubled.
But look what has happened since mid 2000. Total commercial and industrial loans rose to new highs as of 2006, but the S&P failed to reach new highs. In fact, during the last recession, while loan volume fell, but, nevertheless was still higher than the peak of 2002, the S&P 500 index corrected much more than the lows of 2003.
This is evidence that no matter how low interest rates are and how much money banks loan out and how cheap money is, the S&P so far, has not reacted and preformed as it did many years ago.
Valuations are not expensive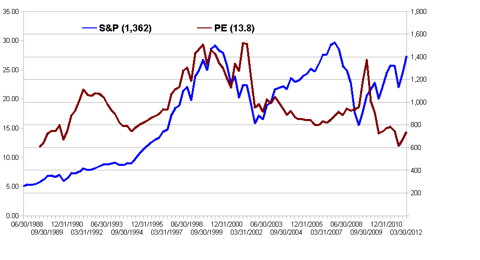 Given the amount of money the Fed poured into the market, one wonders why the market is selling so cheap. The Price/Earnings ratio of the S&P 500 has not been this low for 20 years. One has to wonder if the market is miss-pricing things or, if there is something else going on. Might it be that we are in the midst of tectonic market changes and we are not aware of them yet?
Stocks are relatively inexpensive also
MSFT Net Income Quarterly data by YCharts
The above chart shows how multiples have come down over the years. What has changed so much that stocks like Microsoft (NASDAQ:MSFT), Oracle (NYSE:ORCL), Cisco (NASDAQ:CSCO) and IBM (NYSE:IBM) trade at such a low multiples compared with many years ago?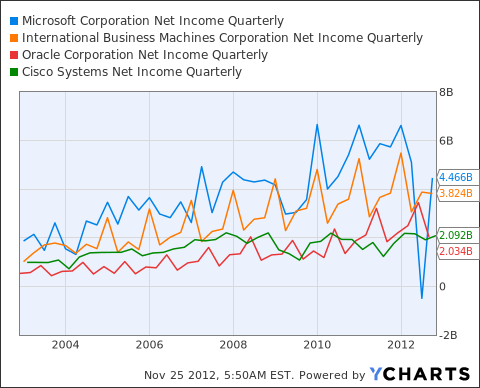 MSFT Net Income Quarterly data by YCharts
If one looks at the above charts, earnings are higher and not lower than what they were years ago. What has changed and has stocks are trading so cheap?
The employment picture has changed
One can debate as to what has happened, but I think the main culprit is the average investor. See, institutional investors are always in the market, they have nowhere to go. It is the participation of the average investor and mass psychology that drive stock prices up and lift valuations. And if people don't have a decent job, they cannot become investors. If we look at the below chart, we will see evidence of this.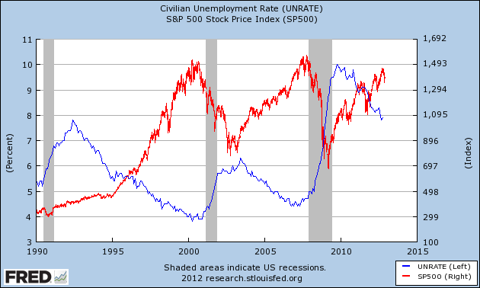 My best guess is that unemployment needs to come down by a lot and probably in the 4-6% range in order for the market to get a real lift. And by a real lift, I mean in terms of valuations and not necessarily a lift due to higher corporate profits.
People need to have jobs to invest. They will not buy stocks when they are unemployed. And if the average individual does not buy stocks, institutional buyers are simply not enough for the market to receive higher valuations and thus to be able to go to new highs.
Bottom line
We can debate all day why stocks and multiples are not what they used to be, but what is evident from the above data is that the market has a different system of pricing stocks these days.
What is also evident is that central bank policies have failed to propel markets to new highs, even though stocks are relatively cheap and corporate profits are stronger than ever.
So don't look to central banks for market guidance, because they have exhausted all their tricks and so far failed to propel markets to new highs. And don't bother with the Fed model also.
My best guess is that the average individual investor needs to become an active participant, in order for the market to see new highs and in order for multiples to rise.
So watch the unemployment rate from now on, because I think it will be the best guidance, as to when valuations and the S&P 500 will reach new highs. For when we see unemployment below 6% and falling, that's when I think markets will be propelled to new highs, without necessarily corporate after-tax profits rising.
Disclosure: I have no positions in any stocks mentioned, and no plans to initiate any positions within the next 72 hours. I wrote this article myself, and it expresses my own opinions. I am not receiving compensation for it (other than from Seeking Alpha). I have no business relationship with any company whose stock is mentioned in this article.