Do you like stocks with high, sustainable dividends and low debt? If so, here are some stock picks for you to consider. But before I introduce the stocks, here are the screening criteria for today's screen:
1. Premium
> 30 Years of Consecutive Dividend Increases
This criteria screens most of the stocks within the whole universe of stocks and is one of the most important criteria, in my opinion. Stocks that have increased their dividends consistently are rare, and provide investors with much more security than holding onto other stocks. This ensures that any company listed in this article has to be the cream of the crop as it needs to have a consistently growing stream of profits and a strong business which is able withstand recessions or downturns in the economy.
2. High-Dividend Picks
Dividend Yield > 3%
Payout Ratio < 60%
As dividends are mainly used to boost returns, a company with a high dividend would work better in producing high returns over the long run in an investor's portfolio.
Even so, a yield does not just have to be high, it also has to be sustainable. Therefore, the next criteria (payout ratio < 60%) was included in the screen to confirm that a company's dividends are sustainable. The definition of payout ratio is the net income given out as dividends. A company with too high a payout ratio indicates that it may not be able to support the dividend in the future, especially during recessions or downturns, which are inevitable. Many companies will have to depend on their cash reserves to further expand in those times.
3. Keeping Debt Down
I like stocks with low debt as it proves that the company has the ability to generate enough capital and expand itself without borrowing much money. This ensures that the company has a stable business model, which can provide it with enough return over the long term. In addition, this ratio shows the proportion of equity and debt the company is using to finance its assets, and the higher the ratio, the more debt, rather than equity, is financing the company. A high level of debt compared to equity can result in volatile earnings and large interest expenses. Therefore, I believe that an debt/equity number kept below 0.5 is a reasonable criterion.
4. Other Criteria
EPS Growth Past 5 Years > 5% (year-over-year)
The criteria that a company's EPS should have gone up at least 5% year-over-year for the past 5 years was set to confirm that a company's business is still strong and not starting to decline. 5% may seem like too low a number for some, but one has to keep in mind that these companies have a long history and most likely have matured businesses.
(Please also note that the dividend charts you will be seeing later into the article have limitations - the software only has the dividend information up to a certain year and not the full history of the dividend payments. I apologize in advance for the inconvenience caused.)
Here are the stocks for today:
| | | | | | |
| --- | --- | --- | --- | --- | --- |
| Company | Sector | Dividend Yield | Payout Ratio | EPS Growth Past 5 Years | Debt/Equity Ratio |
| Automatic Data Processing (NASDAQ:ADP) | Technology | 3.10% | 55.39% | 9.01% | 0.00 |
| Genuine Parts Comp. (NYSE:GPC) | Services | 3.15% | 48.30% | 5.40% | 0.16 |
| Universal Corp. (NYSE:UVV) | Consumer Goods | 4.05% | 32.42% | 5.18% | 0.32 |
1. Automatic Data Processing
Pros:
Steadily Increasing EPS: $1.68 (2003), $2.82 (2012)
Buying Back Shares: 594.8M shares outstanding (2003), 484.2M shares outstanding (2012)
Decreasing Long Term Debt (almost negligible): 84.67M (2003), 16.8M (2012)
Cons:
Insiders own a negligible 0.17% of float
Underperformed S&P 500 YTD (5.34% vs S&P 11.7%)
Dividend Chart: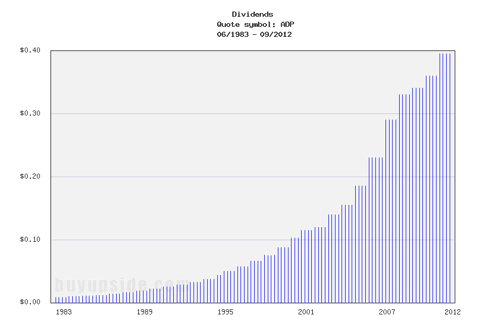 Automatic Data Processing, Inc. provides business outsourcing solutions. The company operates in three segments: Employer Services, Professional Employer Organization Services, and Dealer Services. The company was founded in 1949 and is headquartered in Roseland, New Jersey.
2. Genuine Parts Corp.
Pros:
Paid Dividends since 1948 and increased dividends yearly since 1957.
Buying Back Shares: 174.38M shares outstanding (2002), 155.65M shares outstanding (2011)
High ROE: 20.98%
Cons:
Low Insider Ownership: 0.32%
Auto Company, therefore it is a cyclical stock. Cyclicals have the tendency of dropping more during recessions
Dividend Chart: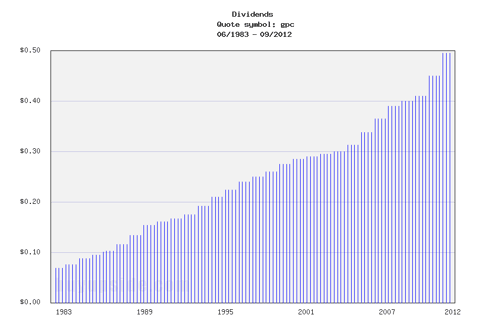 Genuine Parts Company distributes automotive replacement parts, industrial replacement parts, office products, and electrical/electronic materials both in the United States and around the world. The company was founded in 1928 and is headquartered in Atlanta, Georgia.
3. Universal Corp.
Pros:
Low Valuation: P/E of 9.03, P/B of 0.94, P/S of 0.47
High Current Ratio: 4.56
Decreasing Days Inventory Number: 589 (2003), 165 (2012)
Cons:
Inconsistent Free Cash Flow: The company had negative FCF in 4 out of the last 10 years
Inconsistent Earnings: Earnings ranged from -$0.12 (2006) to $5.68 (2010) over the past 10 years
Dividend Chart: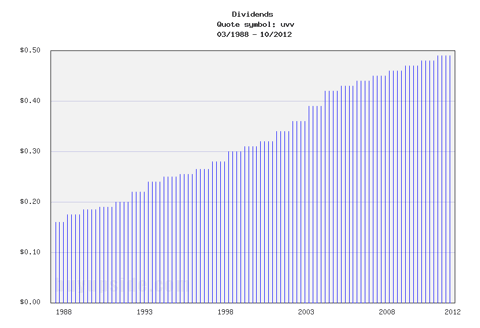 Universal Corporation operates as a leaf tobacco merchant and processor worldwide. The company was founded in 1888 and is headquartered in Richmond, Virginia.
The Takeaway
The stocks here are stable and suitable for holding long-term and should be a part of any investor's portfolio, not just for the dividends but also for their stability and their other qualities listed in the article above. Nevertheless, please still do your due diligence before investing in these stocks.
All the figures/prices in this article are based on the closing figure/price of 26th November 2012.
Disclosure: I am long GPC. I wrote this article myself, and it expresses my own opinions. I am not receiving compensation for it (other than from Seeking Alpha). I have no business relationship with any company whose stock is mentioned in this article.