By Larry Baer
Gold and silver have been trading sideways for most of 2012, but these precious metals may make higher prices their New Year's resolutions. Although this market has been choppy and range-bound, gold appears to be poised for a possible breakout to the upside.
Gold (December) issued a buy signal on the daily chart Friday (Nov. 23) following a buy signal last Monday (Nov. 19), which was gold's first buy signal since the trend changed to the upside. Gold is now super-trending to the upside and has closed above major resistance areas on the daily chart, which now acts as support. I define a super-trend as any market that trends above its nine-period simple moving average (SMA).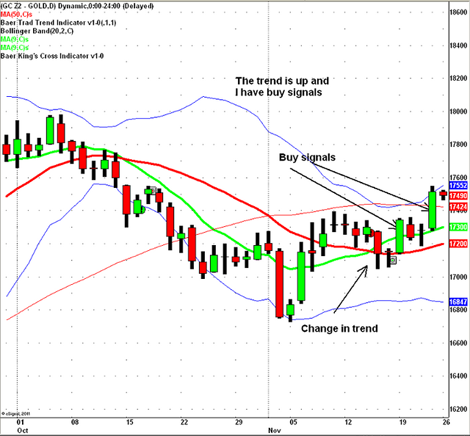 The trend remains up on the weekly chart and gold has little resistance overhead. Taking a look at gold's weekly chart, you can see that gold has been stuck in a range for some time, and if gold takes out its September highs of around $1,800, I feel that gold may move considerably higher.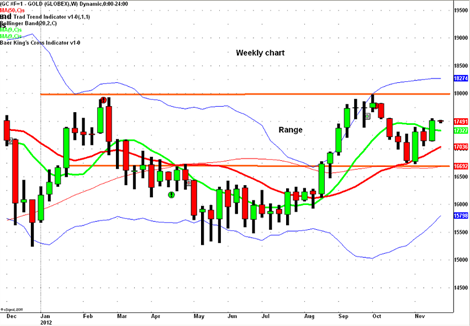 Gold prices, as seen on the monthly chart, have basically been locked in sideways movement since August 2011. The trend remains to the upside on the monthly chart. For gold to break out of its range on the weekly chart, it also needs to close above $1,800.
If gold does indeed take out the $1,800 level, it'll generate a buy signal on the monthly chart. That suggests that gold has a way to go to the upside.
Silver
Silver (December), similarly to gold, appears to be emerging from the constraints of its recent range-bound shackles.
Silver suggested two buy signals last week on Monday (Nov .19) and Thursday (Nov. 23) almost immediately after the trend changed to the upside. Silver continues to make new highs for November and is positioned above strong support.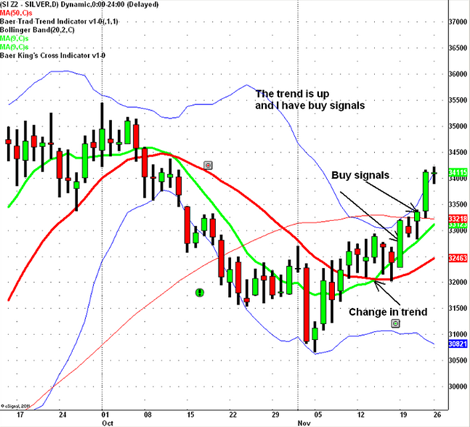 After declining for most of October, silver had an outside week the first week of November, as it came down to support at its 20-period SMA. Since then, silver has been making higher highs.
On the weekly chart, the trend remains to the upside, as last week, silver was able to pierce and close above major resistance (nine- and 100-period SMAs). The key area to watch is the $35.45 level, and if silver is able to take out this level, this will suggest it has broken out of its range and prices may move significantly higher.
On the monthly chart, even though the trend is down, the king's cross countertrend buy signal suggested in August has not been negated. Silver has been able to close above its nine-period SMA so far in November, a bullish indicator.
The king's cross is my attempt to account for why, shortly after a change in trend, a market often puts in its extreme. What I discovered is that the trend had not actually changed; rather, it was just an event -- a news event, short or long covering, etc. -- that caused a correction. After this "event," the market would often turn around and resume its previous trend.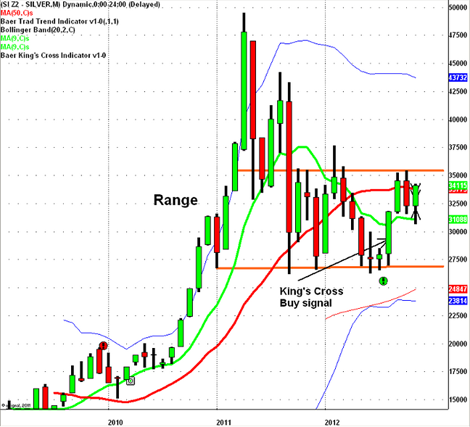 Economic Downturn and Hedge Funds
Many major hedge funds are wagering that the rally in gold will continue. U.S. Securities and Exchange Commission filings show that two of the largest hedge funds -- Paulson & Co. and Soros Fund Management LLC -- have both significantly increased their holdings of the yellow precious metal.
Paulson & Co. raised its holdings of gold by 26% in the second quarter, which now exceeds the official reserves of Brazil. Soros Fund Management LLC bolstered its gold portfolio by 49% in the third quarter.
The U.S. Federal Reserve looks to continue economic stimulus and low interest rates, which in theory will eventually put pressure on the U.S. dollar. This could propel gold prices higher in two ways: A dwindling U.S. dollar tends to support commodity prices, and if the dollar slides, flight-to-quality traders most likely will flee to gold as a safe haven.
Even with the looming "fiscal cliff," eurozone debt woes and unrest in the Middle East, it seems that investors who have been on the sidelines since the economic downturn in 2008 are beginning to take interest in the market once again.
Disclaimer: Futures, options and forex trading is speculative in nature and involves substantial risk of loss. These recommendations are a solicitation for entering into derivatives transactions. All known news and events have already been factored into the price of the underlying derivatives discussed. From time to time, persons affiliated with Zaner, or its associated companies, may have positions in recommended and other derivatives.