Since the early-2000s, the medical device industry has exploded, with effective and cost-reductive innovations being the catalyst for this growth. Several medical device systems have become the standards of care in their respective segments where their presence was neither expected nor fathomable at one point. In addition, new innovations are changing the way that illnesses are being treated. Knee implants can be customized to a patient's body by ConforMIS; surgical systems are being created that allow for complete laparoscopic surgery via a single incision by SPIDER Surgical; and a miniaturized implantable neurostimulation device is being developed to treat migraines by Autonomic Technologies.
Medical imaging is currently better than it has even been, with MRIs and other technology giving doctors the ability to see into a patient's body, making diagnosis and treatment easier. With medical devices becoming so effective in prolonging lives and adding to the quality of life, (and thus lucrative) innovations have been forthcoming as companies spring up and try to create useful medical devices in this highly valuable market. These innovations have found widespread acceptance from both doctors and patients, as they save lives, contribute to quality of life and drive down the costs of care associated with patients.
Many of these innovations have bridged the gap from intriguing innovation to lucrative medical devices. In the last decade, Thoratec and Heartware International have become billion dollar companies on the strength of effective medical devices, with Thoratec (NASDAQ:THOR) valued at $2B and Heartware (NASDAQ:HTWR) valued at $1.22B. Serving a patient class in dire need of interventions, these two companies have grown significantly due to their ability to relieve symptoms and preserve a decent quality of life. Minimally invasive procedures and interventions have also gained significant traction in the last few years. Intuitive Surgical (NASDAQ:ISRG) has become a $21 Billion company on the strength of making surgeries safer; it allows surgeons to perform minimally invasive surgery for ailments that previously required more extensive, invasive surgery and has become a preferred choice for patients in some circles. Edwards LifeSciences (NYSE:EW) has become a $10B company-with stock prices cresting recently on the strength of effective cardiac medical devices, including a minimally invasive alternative to open heart surgery.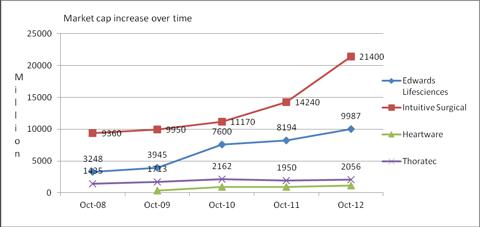 While minimally invasive advances and interventions have become prevalent in the medical device space, there has also been a fair amount of M&A activity recently. Smaller companies that create a new healthcare device or innovation that is effective, tend to draw interest from larger companies intrigued in adding a new advance to their portfolio and throwing their resources behind a novel device that may become a lucrative solution for an illness that they may not have any solutions for, at the moment. Large healthcare firms (firms with a market capitalization over $1B) are acquiring smaller companies with breakthrough innovations to add revolutionary devices to their respective product portfolios, maintain competitive advantage and profitability, complement and strengthen existing product offerings, and court new patients (customers) with new devices.
Within the last few months, several larger healthcare companies have acquired smaller companies that were developing cutting-edge innovations. Medical device maker Boston Scientific (NYSE:BSX) recently acquired Rhythmia Medical to strengthen their offerings in the highly lucrative cardiac arrhythmia market. Should Rhythmia Medical's technology be approved in the US and Europe, Boston Scientific will launch the technology in conjunction with its catheters on a limited basis in 2013, and then pursue full market launch in 2014. (Source).
Edwards LifeSciences has recently finalized a deal to purchase a private Dutch company (BMEYE) for $42MM that makes non-invasive heart-monitoring equipment that it said will complement existing Edwards technology. Edwards Lifesciences sells heart valves and hemodynamic monitoring equipment, and BMEYE focuses on advanced hemodynamic monitoring. The acquisition helps Edwards to diversify its product line and modernize, as they are gaining advanced versions of vital monitoring technology due to current BMEYE products and others in BMEYE's pipeline.
Stryker (NYSE:SYK) announced in mid-October that they had finalized a deal to pay up to $135MM to acquire a privately held stent maker, Surpass Medical. The move will allow them to be more competitive within the neurological intervention space, as Surpass has created a non-invasive approach to treating brain injuries. Surpass Medical has developed a flow diversion system, called the NeuroEndoGraft, that is inserted through a small incision in the groin and endovascularly navigated into cerebral arteries to treat brain aneurysms.
This approach allows neurologists to treat aneurysms with a shorter procedure time than normal and without having to open the skull. While Stryker has acquired a medical device firm that focuses on neurological interventions, some speculate that Boston Scientific could acquire another company that operates in the neuro space. More specifically, this company, MRI Interventions (OTCQB:MRIC), creates a surgical platform for minimally invasive intracranial procedures that could change the way that neurological diseases are treated.
Like the firms that were acquired (as mentioned, above), MRI Interventions has pioneered a groundbreaking innovation. The revolutionary ClearPoint system is a platform that builds on existing MRI suites to make intracranial procedures safer and far less invasive. The ClearPoint system can be implemented into thousands of hospitals across the nation because it builds on the MRI technology that most hospitals already have, using hardware, disposable components, and a software system, to allow doctors to accurately target areas in the brain, deliver drugs to the brain, or pinpoint therapy to a region of the brain in a way that has never been possible. Cleared by the FDA in June 2010, the key innovation with this system is intraprocedural visualization - the ability to see what's going on within the brain during a procedure through the use of real-time intraoperative magnetic resonance imaging (MRI).
The implications for this technology are extensive: neurosurgeons can more accurately and effectively treat brain tumors, neurologists can accurately target parts of the brain affected by neurological disorders, and drug companies can ensure that therapies are reaching their targeted ends in the brain. The system gives rise to amazing possibilities and advancement in brain and potentially cardiac surgery (though application in heart procedures are only being tested out at this stage). The ClearPoint system makes invasive neurological procedures safer, and clinicians can now tailor new research into previously untreatable forms of brain cancer, potentially giving way to life saving breakthroughs and discoveries. Already ClearPoint has been utilized in drug therapy trials (Tocagen) in a procedure for patients with an aggressive form of brain cancer at UCSF Medical, and at Memorial Sloan Kettering, in a pediatric brain cancer clinical trial.
ClearPoint has a target population of about 2.2 million late stage neuro-patients with indications across a list of neurological disorders including, but not limited to: Alzheimer's, Parkinson's disease, Dystonia, brain tumors, OCD, major depression, epilepsy, and Huntington's Disease among others. Presently, The advantages of ClearPoint over traditional neurosurgery are numerous:
Direct, high resolution visualization of the brain during the procedure
Patient is under general anesthesia instead of being awake
Procedures are shorter (less than 3 hours instead of up to 8 hours)
Simple procedure
Not limited to specialized neurosurgeons (3500 neurosurgeons in the US can learn and adopt the system)
Attractive economy for hospitals and doctors
What makes ClearPoint unique is the fact that unlike other surgical systems, the learning curve is fairly short and it builds on technology in the hospital, easing the burden of implementation. Clearpoint actually opens up the market, as it gives more neurologists the ability to conduct this type of surgery. As a commercial stage company, MRIC is looking to see growth in 2012 and beyond, as usage increases. It is estimated that there are about 124,000 invasive brain procedures in the US annually, and the company seeks to capture 10% of that market share. With the system being sold for $180K and the disposable component going for $7.3K, the company can pull in millions annually in recurring revenue, if they achieve that market share, as a new disposable component must be used for each case.
Revenues for the first 9 months of 2012 are up 20% this year over last year's first 9 months, (3, 195,587 vs 2,653,983) and 2012Q3 revenue was up 4% over 2012Q2 revenue, (1,131,828 vs 1,083,760) continuing the trend of continued revenue growth. While revenues grow, R&D expenses also continue to fall. R&D expenses have fallen 44% through the first nine months of 2012 versus the first nine months of 2011 (1,749,253 vs. 3,133,635) due largely to the company's movement from development to commercialization of ClearPoint. After going public in May, MRI Interventions secured about $6MM in financing, and the firm holds $8MM in assets. MRI Interventions also has the support of established partners in the healthcare space (such as Boston Scientific, Tocagen, and BrainLabs AG) and of thought leaders in the neurology space, as well.
MRIC looks appealing for a large healthcare company that wants to add revolutionary neurological interventions to its portfolio or may want to jump into the neurological space. The technology has strong potential to take off and gain significant market share, due not only to patients who are in serious need of intervention and want a minimally invasive solution, but also due to the drug companies that can save millions by using this technology to ensure that neurological drugs are effective.
Other surgical platforms have become successful because of their ability to make procedures safer for a patient class with far more options and that can forecast lasting success for Clearpoint, which can become the market leader in a space with no established surgical platform. Like Thoratec and Heartware, the patient class targeted here is in serious need of an effective medical intervention, and like the success of Intuitive Surgical and Edwards LifeSciences, MRI Interventions is utilizing a minimally invasive approach to treatment. That being said, ClearPoint has immense growth potential. As the medical device market moves towards minimally invasive solutions, and M&A activity trends towards acquisition of profound innovations, MRI Interventions may be an appealing target for a large healthcare company shopping for a platform technology in the nuero space.
Disclosure: I am long OTCQB:MRIC. I wrote this article myself, and it expresses my own opinions. I am not receiving compensation for it. I have no business relationship with any company whose stock is mentioned in this article.