Overview
For decades, the use of savings and money market accounts have been the best strategy for safeguarding cash and earning a small amount of interest. However, over the past few years, interest rates have declined to nearly 0%. The current nominal rates for savings and money market accounts range from 5 to 100 basis points, depending on the bank or investment firm and amount of assets invested. In real terms though, these types of cash holdings are losing value against the change in prices of goods and services. As discussed in a previous article, "The Importance of CPI As An Investment Benchmark", investors can use the Consumer Price Index as a measure to determine the real return of any security holdings. From November 1, 2010 to October 31, 2012, CPI has increased by approximately 5.75%. During the same two year period, if an investor held funds in a money market account yielding 5 basis points annually, the real return on those funds would be approximately -5.65%.
Investors, institutional and retail, large and small, need some form of security, whether it's a cash account or something else, that maintains its net asset value and earns enough of a yield to keep pace with the changes in the prices of goods and services.
Recommendation: Short-Term Bond ETFs and Mutual Funds
ETFs and Mutual Funds with investments specifically in short-term bonds provide a yield comparable to CPI with a limited amount of volatility and risk. With respect to the latter, these funds have relatively low exposure to changes in interest rates due to the average maturity of these holdings. Additionally, most of these holdings are considered investment-grade based on the credit rating of the issuer.
The following securities are suggestions for this investment strategy based on their short-term bond classifications. Please note that there are other short-term bond funds available for investment. These funds invest their capital in various allocations of public sector (treasuries, municipals, etc.) and private sector bonds.
Exchange Traded Funds
1. Vanguard Short-Term Bond ETF (NYSEARCA:BSV)
2. iShares Barclays 1-3 Year Credit Bond Fund (NYSEARCA:CSJ)
3. SPDR Barclays Capital Short-Term Corporate Bond ETF (SCPB)
4. Vanguard Short-Term Corporate Bond ETF (NASDAQ:VCSH)
Mutual Funds
1. Janus Short Term Bond Fund (MUTF:JASBX)
2. T. Rowe Price Short Term Bond Fund (MUTF:PRWBX)
3. PIMCO Low Duration Fund (MUTF:PLDDX)
The graphs below simulate a hypothetical investor deciding to buy $10,000 worth of the above securities, and a security mirroring the performance of CPI on November 1, 2010.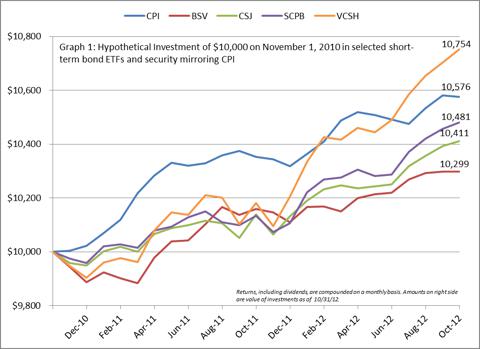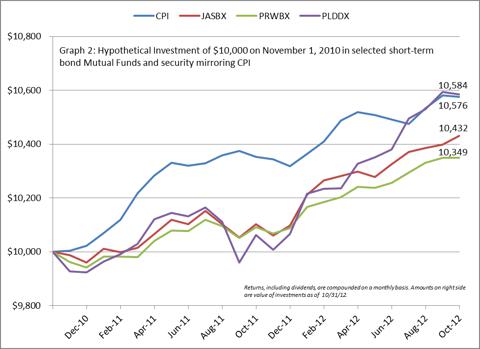 Sources: Bureau of Labor Statistics (bls.gov) and Yahoo Finance (finance.yahoo.com)
Analysis and Conclusions
Based on the above data, VCSH outperformed CPI over the period, and PLDDX performed in line with CPI over the period, thereby maintaining or exceeding a real return of 0%. VCSH outperformed all other securities primarily due to its concentration in corporate bonds, which are in demand due to low yields and risks of the alternatives (i.e., treasury yields, sovereign debt (nationally and locally), etc.). Corporate bonds should continue to outperform alternatives due to the prolonged issues of sovereign debt issuers and low treasury yields.
In summary, investors should pursue alternatives to savings and money market accounts to attempt to close the return gap with CPI. This article recommends the use of short-term bond ETFs and Mutual Funds as an alternative based on low downside risk and higher yields. Although most of the aforementioned short-term bond investment vehicles underperformed CPI over the two-year period examined, the negative real return incurred by these securities is significantly smaller than the real losses from a savings or a money market account.
Disclosure: I have no positions in any stocks mentioned, and no plans to initiate any positions within the next 72 hours. I wrote this article myself, and it expresses my own opinions. I am not receiving compensation for it (other than from Seeking Alpha). I have no business relationship with any company whose stock is mentioned in this article.
Additional disclosure: I am long JASBX and PLDDX.