Mortgage REITs (mREITs) success depends, in large part, on its ability to acquire assets at favorable spreads over its borrowing costs. These spreads have been shrinking ever since the Fed entered the scene to buy an unprecedented amount of mortgage-backed securities (MBS) and agency debt via a series of quantitative easings (QE).
QE1 (11/25/2008) - $500B MBS & $100B Agency Debt
QE1.5 (3/18/2009) - $750B MBS, $100B Agency, & $300B LT Treasuries
QE2 (11/3/2010) - $600B in Long-term Treasuries
QE3 (9/13/2012) - $40B MBS per month (open-ended)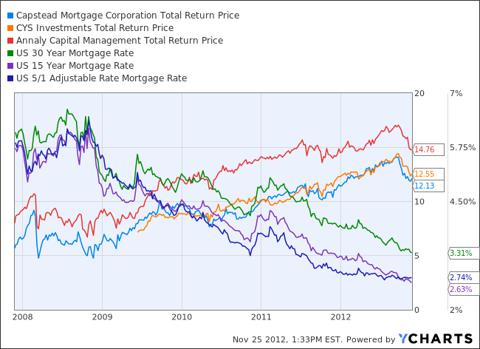 Mortgage REITs have been taking it on the chin recently because of the open-ended nature of QE3 and the looming fiscal cliff. As spreads between short and long rates compress, mREITs begin to face headwinds and dividends are subject to be cut.
Mortgage REITs invest in two types of MBS: Agency and Non-Agency. Agency MBS are mortgage bonds which are guaranteed by a government agency or government-sponsored enterprise such as Fannie Mae, Freddie Mac, or Ginnie Mae. Non-Agency MBS are mortgage bonds which are issued by banks and financial companies not associated with a government agency. These securities have no credit guarantee other than the quality of the loans behind them, and any other structural credit protection provided by the terms of the bond deal they belong to. In acquiring MBS, mREITs compete with a host of other financial institutions and account for only 2% of all purchases.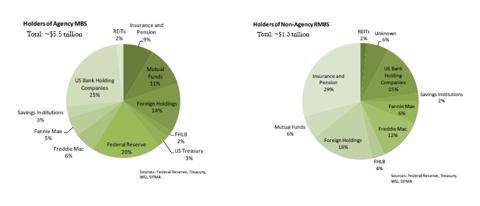 CMO, CYS, and NLY are three mREITs that are currently trading below tangible book value and near 52-week lows which make them to be more attractive.

Source: Seeking Alpha
CMO -Capstead Mortgage Corporation
CYS -CYS Investments Inc.
NLY -Annaly Capital Management, Inc.
It is worth noting that QE3 will boost mREITs' book values through higher MBS prices while lowering interest rate spreads through higher prepayments and lower reinvestment rates, which diminishes interest income (all partially offset with derivative hedging, if any). To this point, when mREITs are faced with lower reinvestment rates while their own shares are trading below tangible book value and offer better risk-adjusted yields, mREITs can elect not to reinvest at lower rates but to instead buy back their stock in order to bolster shareholder value. NLY announced last month that it would do just that and other mREITs may follow their lead.

CMO Strategy: CMO focuses on investing on a leveraged basis in a portfolio of residential mortgage pass-through securities consisting almost exclusively of adjustable-rate mortgage (ARM) agency securities. CMO's focus on ARM agency securities is what differentiates it from other mREIT peers because the coupon interest rates on mortgage loans underlying ARM securities reset to more current interest rates within a relatively short period of time. This allows for a recovery of financing spreads diminished during periods of rising interest rates and provides for smaller fluctuations in portfolio values and better protection of book value from changing interest rates, when compared with portfolios that contain a significant amount of fixed-rate mortgage securities. Click here for CMO's Q3-2012 Earnings Transcript.
CMO Portfolio:

CMO Leverage: Portfolio leverage (repurchase arrangements and similar borrowings divided by long-term investment capital) decreased slightly to 8.0:1 by September 30, 2012 from 8.2:1 at December 31, 2011.

CYS Strategy: CYS seeks to provide consistent returns to investors through a combination of dividends and capital appreciation by investing in agency residential MBS. These agency RMBS are collateralized by either ARM loans with interest rates that reset monthly, hybrid ARMs that typically have a coupon rate that is fixed for an initial period (typically three, five seven or ten years) and thereafter resets at regular intervals, or fixed rate mortgage loans. Click here for CYS's Q3-2012 Earnings Transcript.
CYS Portfolio:

CYS Leverage: Portfolio leverage (calculated by dividing repurchase agreements plus payable for securities purchased minus receivables for securities sold by net assets) was 7.7:1 at September 30, 2012 and December 31, 2011.

NLY Strategy: NLY seeks to generate net income for distribution to its shareholders from its investment securities in MBS and from dividends it receives from its operating subsidiaries. NLY's capital investment policy provides that at least 75% of total assets will be comprised of high quality MBS and short-term investments. The remainder of assets (comprising not more than 25% of total assets), may consist of MBS and other qualified REIT assets which are unrated or rated less than high quality but which are at least "investment grade" (rated "BBB" or better) or, if not rated, are determined by management to be of comparable credit quality to an investment which is rated "BBB" or better. In addition, NLY may directly or indirectly invest part of this remaining 25% of assets in other types of securities, including without limitation, unrated debt, equity or derivative securities, to the extent consistent with NLY's REIT qualification requirements. Click here for NLY's Q3-2012 Earnings Transcript.
NLY Portfolio: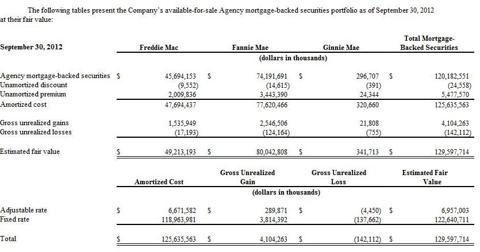 NLY Leverage: Portfolio leverage (debt-to-equity ratio) increased modestly to 6.0:1 at September 30, 2012 from 5.4:1 at December 31, 2011.
Conclusion
In light of a low-yielding bond market and with overnight money at microscopic levels, investors might consider buying these marked down mREITs (all yielding double-digits) to diversify and give an added boost to their fixed income portfolio. In addition, investors might consider the iShares FTSE NAREIT Mortgage Plus Capped Index Fund (BATS:REM) which provides a broader diversification into the mREIT space. REM seeks investment results that correspond generally to the price and yield performance, before fees and expenses, of the FTSE NAREIT All Mortgage Capped Index. REM has total net assets of $852.8 million and an expense ratio of 0.48%.
Disclaimer: Please note the fact that a general recommendation made of a particular security, commodity, or investment area does not mean it is suitable for you or should be purchased by you. For example, we may already have purchased such securities at a lower cost and/or the position for you may represent too much concentration in one security or industry. Before deciding to invest you should carefully consider your investment objectives, level of experience, and risk appetite. The possibility exists that you could sustain a loss of some or all of your initial investment and therefore you should seek advice from an independent financial advisor if you have any doubts.
Disclosure: I am long REM. I wrote this article myself, and it expresses my own opinions. I am not receiving compensation for it (other than from Seeking Alpha). I have no business relationship with any company whose stock is mentioned in this article.
Additional disclosure: I may initiate a long position in CMO over the next 72 hours.