Gold miner stock exchange traded funds have lagged the performance of physical gold funds, however, investors with some risk tolerance have kept faith that long term performance will pay off. The fiscal cliff does include tax hikes and this could further cloud the performance of gold miner shares.
"Both gold-mining stocks and metal-backed exchange-traded funds ostensibly offer investors exposure to gold. But, in practice, gold-mining stocks have lagged badly. The sector is essentially flat over the past five years, while gold has more than tripled in value," Tatyana Shumsky wrote for The WSJ.
The SPDR Gold Shares (GLD) has gained 6.6% since mid-August, while the Market Vectors Gold Miners (NYSEARCA:GDX) trailed with a 3.3% gain for the same time period. Last week, GLD has pulled back as gold spot prices have settled at $1,727.70. GDX has dropped 4.56%, as various Latin American mining firms have posted lower earnings due to higher overhead, reports Trang Ho for Investor's Business Daily. Adding to the problem is wasted capital that many mining firms are guilty of due to acquisitions.
"The relationship of gold miners to gold and the correlations are surprisingly low," Tim Dyer of Sage Capital said. Fears of the fiscal cliff are driving down the same path as the stock market, while gold bullion is a hard asset that investors believe can hold its value during the foreseen crisis, Dyer said.
The tax rate on long term capital gains for equities is expected to jump from 15% to the ordinary income rate of 23.8%, for those income earners over $250,000. Dividend taxes are set at 15% currently but could rise to 43.4%. Gold bullion stocks are taxed as collectibles at 28%, and is expected to rise by 3.8%, reports Shumsky. Gold mining stocks are classed as equities, so the fiscal cliff does h ave harsh implications for further investment in this sector.
"On the bright side, any fiscal-cliff-inspired moves are likely to be a one-time event rather than an ongoing phenomenon," says Bart Melek, senior commodity strategist with TD Securities.
SPDR S&P Metals and Mining ETF (NYSEARCA:XME) does hold some gold mining stocks, but also invests heavily in steel and coal focused companies. The fund is down 5.4% over the past month.
Market Vectors Gold Miners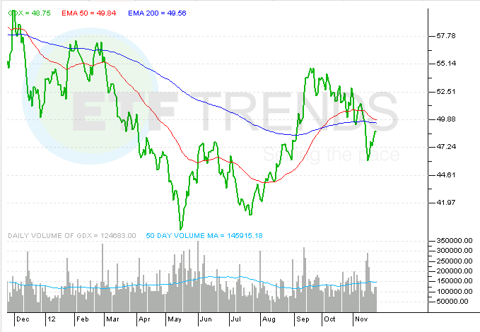 Tisha Guerrero contributed to this article.
Full disclosure: Tom Lydon's clients own GLD.
Disclosure: I am long GLD. I wrote this article myself, and it expresses my own opinions. I am not receiving compensation for it. I have no business relationship with any company whose stock is mentioned in this article.