VIX - Market Sentiment:
Tuesday S&P futures were down to mostly flat heading into the opening bell of trading. Markets were attempting to digest the news of European leaders reaching a Greek deal, lowering their debt payments. Although this news initially sent futures higher news that the OECD slashed global growth forecasts for 2013 down to 2.9% continued to put downward pressure on equities. The headlines from CNBC and other news agencies seem the need to say the words "Fiscal Cliff" every 30 seconds highlighting risks in the market. The NYMO Oscillator continues to settle now reading just 36.44. The reading again after today should fall slightly possibly back near 15.00, but remains under the overbought level of 80.00.
The spot CBOE Volatility Index (VIX) rose more than 1.5% as the market continued to look for direction. Volatility ETF (NYSEARCA:VXX), 2x ETF (NASDAQ:TVIX), and alternative 2x ETF (NYSEARCA:UVXY) were able to recover some in the afternoon trading session as VIX futures popped just slightly. In yesterday's sonar report (here) I noted the massive call roll in the VIX. After digging a little deeper it appears this may be the same customer who bought the January 25-35 call spread another 100K times just a few short days earlier. This now gives the trader a massive 200K+ contracts of the 25-35 call spread costing them a massive 5.4M in net premium. This hedge would explode to the upside if the VIX went north of 30 in January but it appears the rest of the world does not believe this to be the case. December VIX calls just cannot catch a bid and therefore pressure will continue to mount on these volatility ETFs until someone is willing to step up and buy some front month volatility.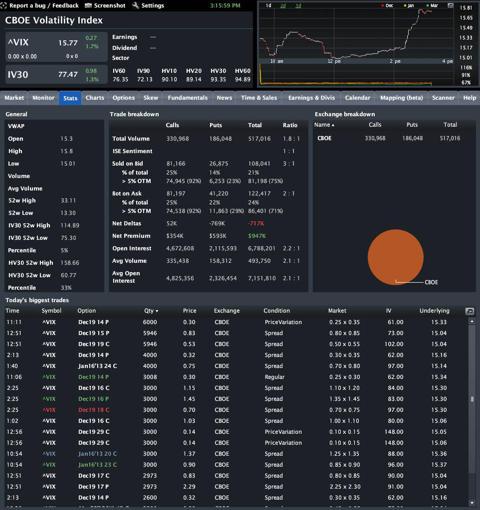 Statistics and Screenshot Provided By LiveVol
VIX futures are below.
Yesterday
· December VIX futures 15.73
· January VIX futures 17.48
· February VIX futures 18.70
Today
· December VIX futures 16.15
· January VIX futures 17.85
· February VIX futures 19.00
Options Paper:
Unless something drastically changes it appears we are headed for another just average 13-14M option paper day with VIX, S&P ETF (SPY) and Apple (NASDAQ:AAPL) leading the way. For those who follow me and my trades on Twitter know I was in and out of a short yesterday but did not trade AAPL today. Interesting today was AAPL which has been seeing volume explode in recent sessions take a breather. The biggest stand out point in AAPL today was call premium sellers and put premium buyers to the tune of 7.3M. AAPL is running into resistance as the 200 dma is now approaching 600.00 and as the stock continues to try to power higher this should provide significant resistance and the options market is confirming this theory. AAPL should meet a "Death Cross" technical event within the next 5-7 trading sessions which could kick some computers into sell mode. This event happens when the 50 dma moves below the long-term support of the 200 dma. Keep an eye on these levels as a move above or break lower could accelerate as longs and shorts chase performance.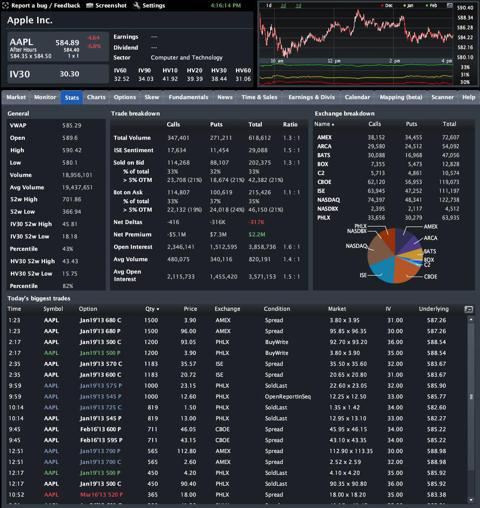 Statistics and Screenshot Provided By LiveVol
Last week on the sonar (here) we saw tech stocks getting OTM calls being bought. Today this theme continues with the purchase of VMware (NYSE:VMW) calls. Yesterday the 87.50 strike calls were bought and today they were followed up with almost 4K of the December 100 strike calls being bought. The initial purchase was at .45 raising premium to .60 as the calls continued to move. VMW has been a good winner on the sonar report in the past but the market feels a little toppy to me up here so I do have orders in for this but am trying to get a fill at much lower prices. If VMW volatility comes in or the price drops some then I will get into this trade. Options volume was more than 5x average daily volume and calls outnumbered puts more than 3:1.
Popular ETFs and equity names with bullish / bearish paper:
Bullish Option Flows - ISE & % OTM calls bought on offer
Pandora (NYSE:P) 80%
International Paper (NYSE:IP) 67%
Micron (NASDAQ:MU) 61% continued put buying continues
DryShips (NASDAQ:DRYS) 60% as stock continues to be beat up
OmniVision (NASDAQ:OVTI) 53%
Activision (NASDAQ:ATVI) 51%
Apache (NYSE:APA) 51%
MetLife (NYSE:MET) 50%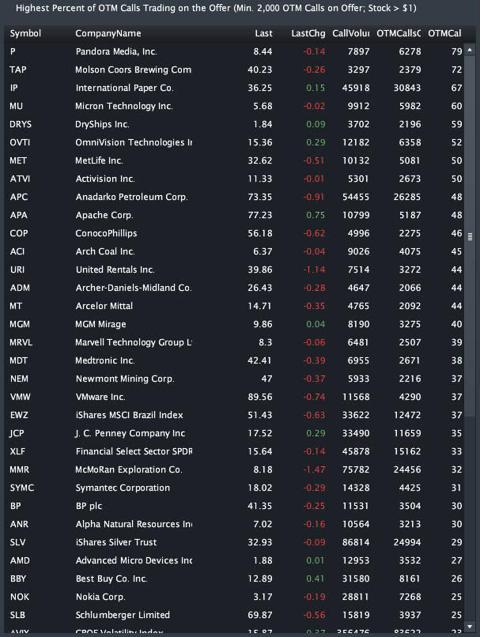 Statistics and Screenshot Provided By LiveVol
Bearish Option Flows - ISE & % OTM puts bought on offer
Lousiana-Pacific Corp. (NYSE:LPX) 96%
Constellation Brands (NYSE:STZ) 94%
Pitney Bowes (NYSE:PBI) 87% Puts have been the theme in this name as it just gets beaten lower
Nexen (NXY) 75%
Nordstrom (NYSE:JWN) 70%
Financial ETF (NYSEARCA:XLF) 47%
Home Depot (NYSE:HD) 44%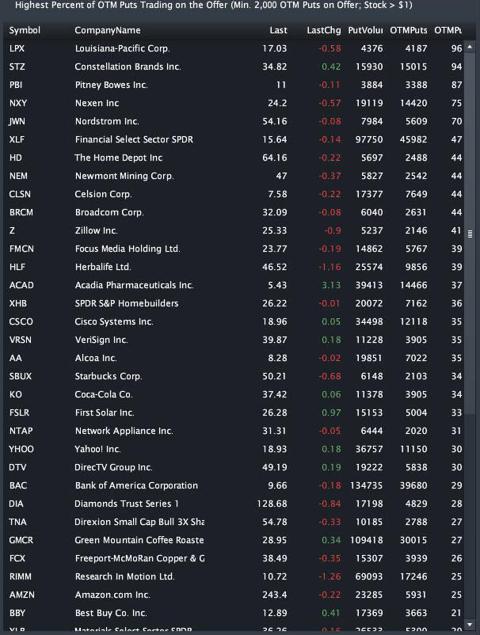 Statistics and Screenshot Provided By LiveVol
As always happy trading and stay hedged.
Remember equity insurance always looks expensive until you need it!
Disclosure:
I am long: AGNC, APC, KERX, MTGE, WLL
I am short: GMCR, FXE, SPY
Trades today: Shorted GMCR, Scalped EBAY, entered orders for VMW,
Disclaimer: The opinions in this document are for informational and educational purposes only and should not be construed as a recommendation to buy or sell the stocks mentioned or to solicit transactions or clients. Past performance of the companies discussed may not continue and the companies may not achieve the earnings growth as predicted. The information in this document is believed to be accurate, but under no circumstances should a person act upon the information contained within. I do not recommend that anyone act upon any investment information without first consulting an investment professional as to the suitability of such investments for his or her specific situation.
Disclosure: I have no positions in any stocks mentioned, and no plans to initiate any positions within the next 72 hours. I wrote this article myself, and it expresses my own opinions. I am not receiving compensation for it (other than from Seeking Alpha). I have no business relationship with any company whose stock is mentioned in this article.