Cyber attacks, cyber crime and network threats are increasing in volume, intensity, and sophistication as 2013 approaches. Such attacks threaten our national security and do billions of dollars of damage to our economy. 2013 will usher a new set of cyber security challenges as our online economy and businesses continue to grow and broaden.
Mobile data usage will continue to explode, business will continue to shift to the "cloud", email "phishing" will become even more sophisticated, and DDOS (Distributed Denial of Service) attacks will do increased economic damage. Add to the above the new and disturbing news of state sponsored cyber attacks such as those from Iran or "hacktavist" groups like "Anonymous" and one can quickly see how investing in a basket of cyber security stocks could juice your portfolio returns in 2013.
Below are five internet security stocks to consider adding to your portfolio, as governments and businesses increase security expenditures to protect national security, client information, mobile data, networks, and online operations.
1) VeriSign, Inc. (NASDAQ:VRSN)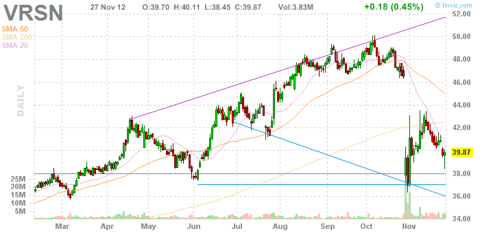 VeriSign Business Summary From Yahoo Finance:
VeriSign, Inc. provides Internet infrastructure services to various networks worldwide. It offers registry services that operate the authoritative directory of .com, .net, .cc, .tv, and .name domain names, as well as the back-end systems for various for all .gov, .jobs, and .edu domain names. The company also provides network intelligence and availability services that provide infrastructure assurance to organizations comprising Verisign iDefense security intelligence services, managed domain name system services, and distributed denial of protection services. VeriSign, Inc. was founded in 1995 and is headquartered in Reston, Virginia.
VeriSign Snapshot:
| | |
| --- | --- |
| Market Cap | $6.22B |
| Share Price (11/27/12) | $39.87 |
| 52 Week Low/High | $32.02/$50.15 |
| Analyst Target Price | $45.78 |
| 5Y EPS Est Growth | 15.87% |
VeriSign is a key internet infrastructure play that has and continues to play a vital role in the expansion and protection of the internet. From VeriSign's website: "We have the unique vantage point to anticipate network availability challenges and cyber threats, plus the deep insights and services to mitigate them." It also sports a sparkling record of growing profit margins, revenue growth, earnings per share, and net income.
Shares have been down recently as it awaits an expected pending review from the U.S. Department of Commerce and Justice Department to retain its ".com Registry Agreement renewal with Internet Corporation for Assigned Names and Numbers (ICANN) to serve as the authoritative registry operator for the .com registry." This review, while important, is standard operating procedure and was last done in 2006 and is fully expected to be approved.
Hedge-fund Lone Pine Capital LLC initiated a new position of 9.44M shares in the 2nd Quarter which was a welcome $460M vote of confidence. I expect strong share price appreciation once the Commerce/Justice Department review is complete with a breech of the 52 week high in 2013.
My Rating For VeriSign: Strong Buy
2) Fortinet, Inc. (NASDAQ:FTNT)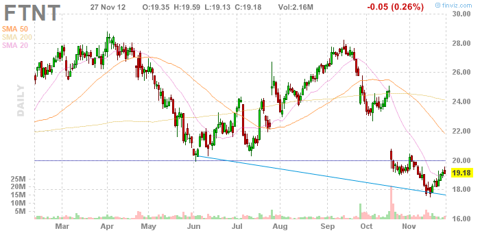 Fortinet Business Summary From Yahoo Finance:
Fortinet, Inc., together with its subsidiaries, provides network security solutions to enterprises, service providers, and government entities worldwide. Fortinet, Inc. was founded in 2000 and is headquartered in Sunnyvale, California.
Fortinet Snapshot:
| | |
| --- | --- |
| Market Cap | $3.07B |
| Share Price (11/27/2012) | $19.18 |
| 52 Week Low/High | $17.53/$28.82 |
| Analyst Target Price | $27.05 |
| 5Y EPS Est Growth | 19.50% |
For the seventh straight year Fortinet, the largest security platform vendor, was named to Deloitte's Technology Fast 500TM. This accomplishment underscores Fortinet's fast growing and profitable history. It is expected to continue the fast pace with five year EPS growth projections nearing 20%. This is a pure play on internet and network security and shares are trading near the lower end of its 52 week range.
14 of 20 analysts rate Fortinet a buy while six have it at a hold. Fortinet carries no debt and now would be an ideal time to start building a position considering the share price and security climate. It does face increasing competition from network security specialist Sourcefire (NASDAQ:FIRE) but I expect Fortinet will top its 52 week high of $28.82 in 2013.
My Rating For Fortinet: Buy
3) Sourcefire, Inc.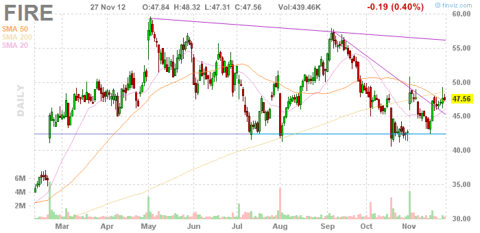 Sourcefire Business Summary From Yahoo Finance:
Sourcefire, Inc. provides intelligent Cybersecurity technologies to commercial enterprises and government agencies worldwide. Sourcefire, Inc. was founded in 2001 and is headquartered in Columbia, Maryland.
Sourcefire Snapshot:
| | |
| --- | --- |
| Market Cap | $1.43B |
| Share Price (11/27/2012) | $47.56 |
| 52 Week Low/High | $29.25/$59.64 |
| Analyst Target Price | $57.00 |
| 5Y EPS Est Growth | 20.60% |
Sourcefire's mission is to be the leader in intelligent cybersecurity solutions. It was recently named to the Forbes' 25 Fastest Growing Technology Companies list. It has grown sales the past five years by nearly 30% and is projected to grow EPS at a nearly 21% clip over the next five years. Sourcefire beat top and bottom line estimates for quarter ended September 30th (Q3) reported on November 1st. It also raised its guidance for the fourth quarter due to increased demand for its network security software.
Sourcefire's CEO stepped down on October 2nd, 2012 for health reasons and passed away on October 19th, 2012 from colon cancer. Chief Technology Officer, Martin Roesch, is serving as interim CEO. Sourcefire operates in 180 countries and provides service to defense contractors, financial institutions, IT companies, healthcare providers, telecommunication companies, and retailers. Sourcefire shares have bounced off support at $42 per share four times in the last four months. Based on the market cap I believe Sourcefire also presents a compelling valuation for a potential buy-out by a larger player.
My Rating For Sourcefire: Strong Buy
4) Check Point Software Technologies Ltd. (NASDAQ:CHKP)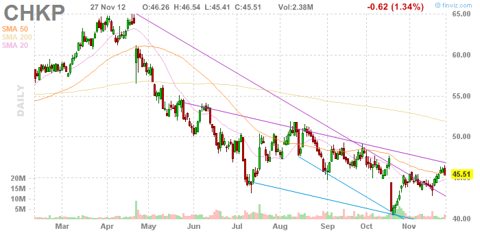 Check Point Business Summary From Yahoo Finance:
Check Point Software Technologies Ltd. develops, markets, and supports a range of software, and combined hardware and software products and services for information technology (IT) security worldwide. Check Point Software Technologies Ltd. was founded in 1993 and is headquartered in Tel Aviv, Israel.
Check Point Snapshot:
| | |
| --- | --- |
| Market Cap | $9.43B |
| Share Price (11/27/2012) | $45.51 |
| 52 Week Low/High | $40.60/$65.00 |
| Analyst Target Price | $54.14 |
| 5Y EPS Est Growth | 11.10% |
Check Point's shares have suffered recently due to softer guidance for the 4th Quarter. The company reported 3Q earnings on October 17th, beating estimates on the bottom line by a penny but missing estimates slightly on the top line. The company is in excellent financial shape with no debt and $1.74B in cash and short term investments and strong operating cashflow.
Israel's recent skirmish with Hamas in the Gaza Strip exposed massive cyber attacks being perpetrated by Hamas. Israel also recently commissioned and funded a National Cyber Bureau to research and develop cyber security. As an Israeli company, Check Point is well positioned to capitalize on these recent developments. Even though Check Point softened guidance for Q4, I believe, given the security climate, shares provide a compelling value with a forward P/E of 13.08 and hovering within five dollars of their 52 week low.
My Rating For Check Point: Buy
5) Palo Alto Networks, Inc. (NYSE:PANW)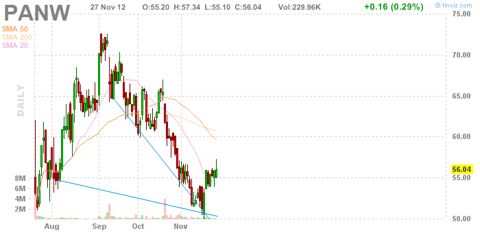 Palo Alto Business Summary From Yahoo Finance:
Palo Alto Networks, Inc. operates a platform that allows enterprises, service providers, and government entities to secure their networks and safely enable various applications running on their networks. The company was founded in 2005 and is headquartered in Santa Clara, California.
Palo Alto Snapshot:
| | |
| --- | --- |
| Market Cap | $3.81B |
| Share Price (11/27/2012) | $56.04 |
| 52 Week Low/High | $50.01/$72.61 |
| Analyst Target Price | $69.40 |
| 5Y EPS Est Growth | 40% |
Palo Alto Networks IPO'd in July of 2012. It is a high-flyer and richly valued with a forward P/E of 133 but it has developed a very innovative next generation enterprise security platform that customers are willing to pay for. During its first public earnings release for fiscal Q4, it grew revenues 88% Q/Q and had a net loss of nearly 30% lower Q/Q. It also expanded its customer base to over 9000 customers.
On October 18th Palo Alto completed a secondary offering, selling 4.8M shares at $63 per share. Palo Alto looks very promising but as with all high-flyers it must maintain incredible growth to support its valuation. Given the innovative products and the growing need for top-shelf security solutions, I believe Palo Alto makes the grade as a worthy flyer.
My Rating For Palo Alto: Buy
In conclusion, I believe each of these stocks individually make a compelling play on the increased attention and spending on cyber security as 2013 approaches. Investors could also create their own mini 'cyber security ETF' and buy shares of each company.
Financial data and graphs sourced from FinViz and Yahoo Finance.
Disclosure: I am long VRSN. I wrote this article myself, and it expresses my own opinions. I am not receiving compensation for it (other than from Seeking Alpha). I have no business relationship with any company whose stock is mentioned in this article.
Disclosure: This article is informational and intended to spur thought and discussion. This article is NOT a substitute for your own extensive due diligence and does NOT qualify as investment advice. Do NOT buy or sell stocks based on this article alone. I do not short stocks nor do I invest in options.