What's the difference between a fad and a transformational technology? Essentially, that's the question to answer when looking at SodaStream (NASDAQ:SODA). The University of Maine Student Investment Club, SPIFFY, and I did a deep dive in this company recently to discuss SODA's earnings prospects. The main question that came up was whether this is a niche product that some casual soda drinkers will try and switch to, or is this the revolutionary technology that will change our soda consumption habits much like what the Keurig (NASDAQ:GMCR) did for coffee? In this article, I'll attempt to answer that question with a deep dive of the company financials so that we come to a reasonable entry point based on valuation and technicals.
Overview
SodaStream's vision is to "revolutionize the beverage industry by providing a better alternative and environmentally friendly way for consumers to prepare their own refreshing carbonated beverages." The company is a fairly new listing on NASDAQ, when the company IPO'd in 2010 after being primarily owned by the private equity Fortissimo Capital Fund since 2006. This technology has been around for quite a while, as this company (in one form or another) has been around since the turn of the 20th century. However, the technology has historically been used to create sparkling water from the tap in Europe.
SodaStream over the past few years has been attempting to use the system more broadly by introducing syrups that are healthier soda alternatives to well-known brands that include high fructose corn syrup or aspartame in diet options, and by spinning the product as environmentally friendly. This last point has allowed it to have appeal to green investors as well. As the CEO Daniel Birnbaum discussed with the Wall Street Journal recently, the company is taking on its targeted competitors Coca-Cola (NYSE:KO), Pepsi (NYSE:PEP) and Dr. Pepper / Snapple (NYSE:DPS) head on.
According to the form 20-F, "the United States differs from most European markets because of the higher propensity in the United States to consume carbonated beverages rather than sparkling water. This is requiring us to market our products differently than we have in our key European markets." Management is correctly realizing that an appealing flavor of the soda is the first key to their success in the United States market. In addition to its privately branded syrup flavors that target popular sodas, SodaStream is also partnering with V-8 Juice Blends (NYSE:CPB) and Kraft (NASDAQ:MDLZ) for Country Time and Crystal Light to bring more credibility to their flavor profiles.
The second key to its success are distribution partners, as selling the carbonation machine is an important initial sale, but the company sells its CO2 containers for the recurring revenue that acts as a subscription model. This figure will be the one measure to watch to see if SodaStream is translating initial sales to recurring revenue. SodaStream has been very successful over the past year in gaining high-profile distribution partners for both avenues. Wal-Mart (NYSE:WMT), Macy's (NYSE:M), Bloomingdale's, Target (NYSE:TGT) and others are all signed up to sell the carbonation machine. However, there is a wrinkle as the sale point also must be certified to handle, sell, and accept returns of CO2 containers. Now that Wal-Mart has been approved to sell these containers, I'd expect other competitors (such as Target) to follow suit.
Sales Breakdown
Taking this data and looking at it another way, how many CO2 Refills were sold per Soda Maker? See the chart below.
| | | | | |
| --- | --- | --- | --- | --- |
| 2007 | 2008 | 2009 | 2010 | 2011 |
| 10.30 | 8.78 | 8.05 | 5.36 | 4.90 |
We're seeing above that there is an increasing amount of CO2 abandonment and more casual soda drinkers creeping into the numbers of CO2 sales. Note that the 2007 - 2009 numbers speak to a more pure European sales model (creating sparkling water - not soda). According to SodaStream, one carbonator is expected to create between 170 to 310 twelve ounce serving sizes. The average U.S. consumer drinks 487 cans of soda per year. If there are two persons using the Soda Maker in each household and drink the average amount of soda, you'd expect to see a floor level of CO2 usage to be between 3 - 6 containers per year (depending on strength of carbonation). With the above chart representing CO2 / SodaMaker sales below 5, we're seeing a dangerous trend for the company. In my opinion, this will be the be the test to whether this product is a fad or has staying power.
Another way to slice revenue is by geographic region.
SODA Geographic Region Revenues for Year Ended 12/31/11
(in thousands, priced in Euros)
Western Europe
Central and Eastern Europe, Middle East & Africa
The Americas
Asia-Pacific
Revenues
118,071
23,800
64,668
16,195
Reportable Segment Income Before Income Tax
34,581
5,077
315
3,773
What you see with the chart above is emphasizing how important the U.S. story is to top line growth. I was very surprised by the next line item that shows gross income per geographic unit. The Americas represent a 0.49% gross profit margin for the company in 2011. There's an Amazon.com (NASDAQ:AMZN) thread here - don't buy the stock for what they've done, but what they will do. At some point, the stock is supposed to grab great profit margins but there will always be an excuse of how much investment is required to get to that level. Its very difficult to believe profit margins will continue to be delivered on strong U.S. revenue, when it's Western Europe that is driving the majority of the profit for SODA.
Innovation Key to Keurig-Like Industry Change
According to the company's 20-F filing, SodaStream is currently developing several products such as: an under-sink sparkling water dispenser, a soda maker with a built-in filter, a single-serve soda maker, and a designer-styled point of use water station. I feel that the single-serve soda maker is the game changer for the U.S. market. Like the Keurig, many consumers prefer freshness to their beverages and the current SodaStream setup creates on a 1-Liter basis. A creation or partnership (a la Nalgene) for a permanent single serve (20 oz or less) container system would match the consumption styles of the U.S. consumer more.
Additionally, the intellectual property rights of SodaStream's system is vital to its success. Per the 20-F, "our current patent portfolio is limited and certain patents of ours that cover significant aspects of our products will expire in the near future." This is worrisome when taking on giants such as Coca-Cola or Pepsi, especially if they begin to adopt the technology. Successfully fighting patent or trademark litigation against Fortune 500 companies with huge legal teams would be an immense challenge.
Gaza Strip Conflict Pressures SODA Stock Price
As seen on Seeking Alpha's market currents for SODA on 11/15, "Israeli-based SodaStream ( -2.5%) could see a disruption to operations with over 30K reservists being called up to duty in the nation. The company disclosed previously in a regulatory filing that the absence of key employees or officers could have an impact on its business (SEC 20-F filing)." Since, SodaStream has taken to twitter to downplay the effect of the call-up will have on production facilities. The worry is that all male adult citizens and permanent residents of Israel under the age of 42 must perform military reserve duty annually and SODA's management team will be stripped of its talent for an indefinite amount of time (if they indeed became active reservists). I think this impact is being a bit overblown, as five of the 10 Executive Officers of SODA are over 42, which includes the CEO, CFO, Director of Global Operations and Sales Director. None of the Board of Directors is under the age of 42.
Valuation
The next 5 years' earnings growth is estimated to be 30% per year, while compared with the S&P at 9.54%. For the next year alone, earnings growth is estimated to be nearly double the S&P while trading at 17x earnings versus the S&P trading at 14x. This was the base case for why I looked at the stock in the first place. However, after my analysis I don't believe this company really has much enterprise value over the long term. The bulls will make the case that this company is the next Keurig, but I'd argue that the dynamics of the coffee industry are not that of the soft-drink industry.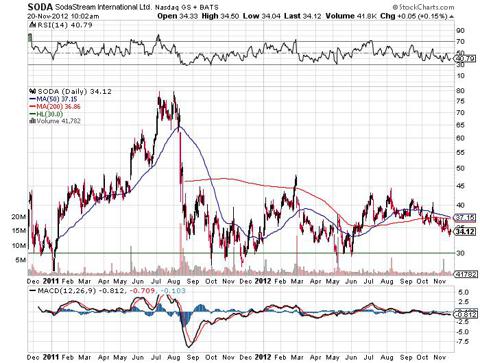 (Source)
The above chart shows a tested and affirmed level of $30 over the past year. For those investors believing in the SODA story, this should make for an attractive entry point. It is my belief that lowered expectations by management will continue to create large drops in stock price, similar to what was experienced in 2011. For this, I'd be more in agreement with the 56% of the float that is shorted and couldn't recommend a long position in this company.
Disclosure: I have no positions in any stocks mentioned, and no plans to initiate any positions within the next 72 hours. I wrote this article myself, and it expresses my own opinions. I am not receiving compensation for it (other than from Seeking Alpha). I have no business relationship with any company whose stock is mentioned in this article.
Additional disclosure: Any compensation received from Seeking Alpha will be donated to Literacy Volunteers of Bangor (www.lvbangor.org), a local organization that increases life opportunities and more stable family relationships through raised literacy abilities for adults.