Sarepta (NASDAQ:SRPT) has been on fire in 2012. Its share price has risen from $3 to $30 as of November 27th, 2012. SRPT's lead drug Eteplirsen has shown tremendous promise. What the drug can do for patients with Duchenne Muscular dystrophy is amazing. Data presented in July and in October were great, and the stock price has followed. In 2013, I believe SRPT will get early approval further boosting the price to new highs.
One stock that I have been following lately is Neuralstem (NYSEMKT:CUR). This might be the stock to own for 2013 and into 2014. They have been doing stem cell injections into lumbar spinal cords and cervical areas in patients with Amyotrophic Lateral Sclerosis (ALS). This disease can be very debilitating, very similar to Duchenne Muscular Dystrophy, the condition that SRPT has been aiming to treat. The data published by CUR in stem cell showed clear signs of disease stabilization in a subset of ambulatory patients on the ALS Functional Rating Scale (ALSFRS-R), as well as a Forced Vital Capacity (NASDAQ:FVC) and Hand-Held Dynamometer (HHD) scales.
One patient, Ted Harada has been showing amazing signs of improvement. Even doctors have had to reassess him to make sure that his diagnosis of ALS was correct. He showed significant improvement in motor function, one that usually regresses in patients with ALS. You can the patient's story here.
Scientific improvement could be seen too in this graphs.

Here when it becomes interesting. In October 2012, Dr. Eva Feldman, MD, PhD, presented safety results and showed that the transplantation of the stem cell into the spine was safe and feasible. This is great as now CUR can push into further studies, into Phase 1b and 2 in 2013.
Fundamental Analysis
Market cap of $80 million
Float $59.6 million
Cash of $10 million
Debt = 0
Insiders ownership 13% of float
Please note that the recent offering at $1 per share should minimize the need of additional funding in the mid term.
In the third quarter of 2012, the company reported a loss of approx $2.5 million. CUR is burning cash at a rate of $500,000-$700,000 approximately per month, so the $10 million cash in the bank should be good to last them for 2013. Note that each patient being tested with the stem cell injections will cost CUR approximately $130,000, so as 18 patients are enrolled, one would expect $2.3 million that will be needed between 2013 and 2014.
Unless a partnership occurs, I expect more shares to be issued mid-to-late 2013. Partnership could bring in another $10 million, and I look for this to happen in early to mid-2013.
Technical Analysis
As you can observe in the daily chart, CUR has broken the descending trendline on some strong volume. This bodes well for the short term, and I believe the next resistance is at 1.40.
If we observe the weekly chart, we can see how CUR has been showing signs of institutional buying as the volume has been increasing over 1$. It is also forming a nice bull flag on the weekly.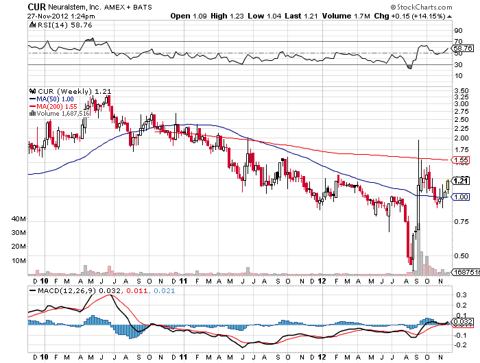 The future
Of note is that another significant milestone was the approval of the ischemic stroke trial in China. CUR will be injecting direct doses of NSI-566 into the stroke area, and if results are as positive as the initial trials on the patients with ALS, this can be enormous for the company and their stock price. They have also enrolled into a Phase 1b study that uses NSI-189 that can stimulate new neuron growth and increased volume in the hippocampus, which can help cognitive disturbances and psychological conditions.
Conclusion
One should be cautious investing in CUR as the company still reports quarterly losses but this is to be expected in a company that is just getting started. I believe that more financing will be done in 2013, but I also expect a partnership soon, that will push the stock to higher levels.
I have worked with patients diagnosed with ALS and stroke throughout my career. The patient tends to deteriorate fast, and doctors that I have talked to have spoken highly of stem cell research and how it can help these patients. I believe CUR is just getting started and I highly believe that with good results, CUR can reach levels that SRPT has reached in 2012. My target remains $2 by the end of 2012, to $8-10 by end of 2013.
Disclosure: I am long CUR. I wrote this article myself, and it expresses my own opinions. I am not receiving compensation for it (other than from Seeking Alpha). I have no business relationship with any company whose stock is mentioned in this article.