NetSol Technologies (NASDAQ:NTWK) posted an earnings surprise of 20% in its fiscal first quarter, as shares have climbed nearly 50% year to date. In addition to all this, the Zacks #1 Rank (Strong Buy) provider of IT and enterprise applications solutions remains significantly undervalued, as its forward price-to-earnings (P/E) multiple and price-to-book (P/B) multiple are significantly lower than industry averages.
NetSol's Superb Fiscal Q1
NetSol reported strong fiscal first quarter results on November 14, including earnings per share of 12 cents that exceeded the Zacks Consensus Estimate by 20%. The result also jumped sharply from last year's loss of 30 cents.
Revenue advanced 77.8% from the year-ago quarter to $11.1 million, a record first quarter sales for NetSol. License revenue was $3.2 million, compared with $1.1 million last year. Services revenue was $5.8 million, compared with $3.1 million. Maintenance Fees remained flat at $2.0 million.
Gross profit surged 148% year over year to $5.32 million, driven by improved demand for NetSol products. Although operating expenses soared 28.4%, NetSol reported operating profit of $1.5 million, versus a loss of $0.8 million in the year-ago quarter.
The strong first quarter earnings and robust business pipeline encouraged NetSol to reiterate its positive guidance for fiscal 2013. The company continues to forecast revenue of $46 million - $49 million, with earnings per share in the range of 80 cents to $1.00.
Earnings Estimates
The Zacks Consensus Estimate for NetSol's fiscal 2013 is at 85 cents, reflecting earnings growth of 118.8% from 39 cents a year ago. As for fiscal 2014, the Zacks Consensus Estimate has climbed 60% in the last 3 months to $1.12, reflecting 31% earnings growth from the year-ago period.
Valuation Continues to Impress
NetSol's forward price-to-earnings (P/E) multiple of just 7.52 and its price-to-book (P/B) multiple of 0.62 are significantly lower than the industry averages of 21.44 and 2.54, respectively. The stock looks attractive with respect to the price-to-sales (P/S) multiple of 1.09, compared with industry average of 2.14. (A P/E below 15.0, a P/S ratio less than 1.0 and a P/B ratio under 3.0 generally suggests a value stock.)
Moreover, NetSol's Return on Equity (ROE) of 6.6% and Return on Investment (NYSE:ROI) of 6.3% are in line with peer group averages, while its Return on Asset (ROA) of 5.3% is better than the peer group average of 4.5%.
Historically, earnings estimate revisions have had an impact on Netsol's prices. The chart indicates an uptrend in 2013 and 2014 earnings estimates, which should encourage investors as the stock is likely to follow the trend. Also, since shares have not reacted to the positive estimate changes yet, upside appears likely in the next few months.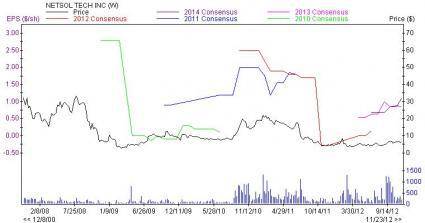 Calabasas, California based NetSol Technologies offers the NetSol Financial Suite ("NFS") for the global financing, leasing and lending industry. It also offers customized application development, systems integration, business process engineering services and the smartOCI e-procurement search engine.
The company has an extensive global presence with offices in San Francisco, London, Bangkok, Beijing and Lahore. NetSol's joint ventures and strategic partnerships include names such as Oracle Corp. (ORCL - Analyst Report), IBM (IBM - Analyst Report), Microsoft Corp. (MSFT - Analyst Report) and SAP AG (SAP - Analyst Report).