During a time in the U.S. economy when uncertainty and situations like the "fiscal cliff" define the mood on Wall Street, investors are beginning to search for more stable and long-term investments. Over the past two years, investors have been hungry for stocks that show tremendous stock-price upside. Today, the situation is slightly different as the level of uncertainty has increased dramatically and stability weighs as heavily on the minds of investors as growth. Dr. Pepper Snapple (NYSE:DPS), McDonald's (NYSE:MCD), DuPont (DD), Merck & Company (NYSE:MRK), and General Electric (NYSE:GE) are positioned to provide investors with a package of stability and strong yield into the precarious times that await the world economy.
Dr. Pepper Snapple has performed well over the past year due to strong earnings year-over-year along with a valuation that is cheaper than its rivals Coca-Cola (NYSE:KO) and Pepsi (NYSE:PEP). The company currently has a PEG ratio lower than that of Coke or Pepsi and has delivered a profit margin of roughly 10% consistently. Fundamentally, Dr. Pepper Snapple produces a wide variety of beverages that are in large part low-price and recession proof. Though the same case could be made for Coke and Pepsi, they do not offer the low valuation in conjunction with the high yield of Dr. Pepper Snapple. For these reasons, Dr. Pepper Snapple is a strong buy now and into an uncertain economy.
Yield: 3.10%
Stock Price/Dividend Yield Chart: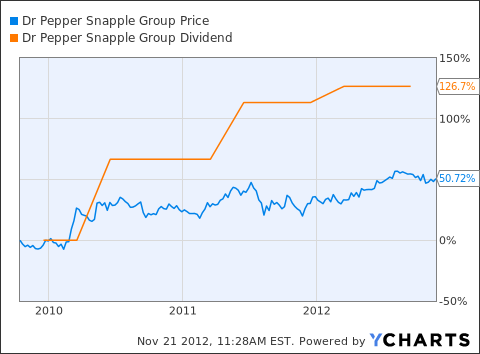 DPS data by YCharts
McDonald's has long been a favorite amongst stability-hungry investors. This is in large part because of its strategic position in the marketplace, being low priced and well operated. During the recession of 2008, McDonald's performed well and the company is in a similar position today. Though McDonald's reported a weaker-than-expected third quarter last month, the company is preparing to embark upon a more aggressive advertising campaign that highlights the value of its offerings. McDonald's position in the fast-food market with over 33,000 locations worldwide gives it fundamental strength that is nearly unmatched. In addition, McDonald's profit margin is nearing 20% and the stock is trading at an EV/EBIDA below 10. This in combination with a 3.60% dividend, makes it a solid stock into the uncertain times ahead.
Yield: 3.60%
Stock Price/Dividend Yield Chart: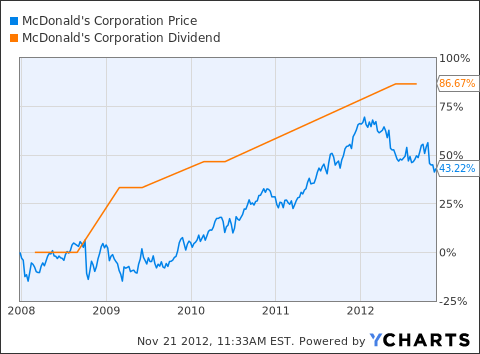 MCD data by YCharts
DuPont has long been considered one of the most diversified companies of its size. With products that service over a dozen major industries, DuPont is not reliant on one particular sector's performance. Though reporting less than favorable earnings in the past quarter, DuPont is still positioned well and stands as a stable and diversified company. From a financial position, the company is priced at 12 times forward-earnings (7.99 EV/EBIDA) and is achieving a 27.46% return on equity. This in conjunction with the company's 4.0% yield and past track record gives DuPont stability into the future.
Yield: 4.0%
Stock Price/Dividend Yield Chart: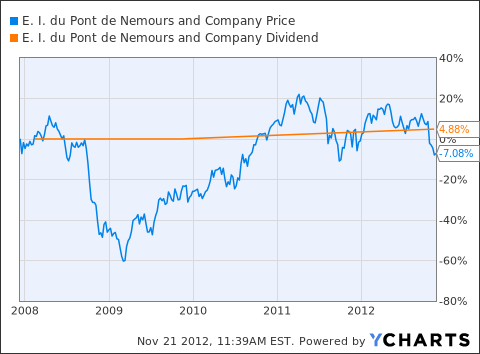 DD data by YCharts
Merck & Company is a strong yield play and has a solid and stable business model centered around pharmaceuticals. MKM reported on Tuesday that it has upgraded Merck to a "buy" and has put forth a price target of $51 per share (a 15% increase over its current trading value). This in addition to Merck having a stable and varied portfolio of pharmaceuticals makes it a stable and strong company that returns a near 4.0% dividend.
Yield: 3.90%
Stock Price/Dividend Yield Chart: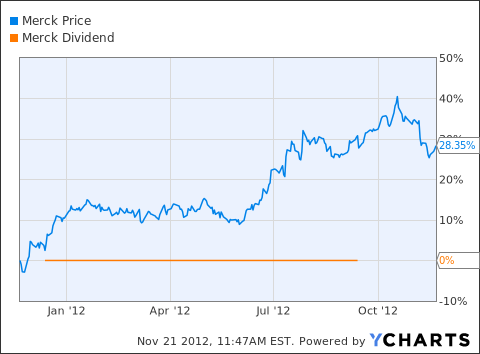 MRK data by YCharts
General Electric has long been viewed as one of the most diversified companies in the world that offers solutions and products across myriad sectors. The company has a profit margin of nearly 10% and has achieved quarterly earnings growth year-over-year of 8.30%. General Electric's past year performance of being up over 40% is a direct results of the company's performance and expectation that EPS growth will be above 10% for the next five years.
Yield: 3.30%
Stock Price/Dividend Yield Chart: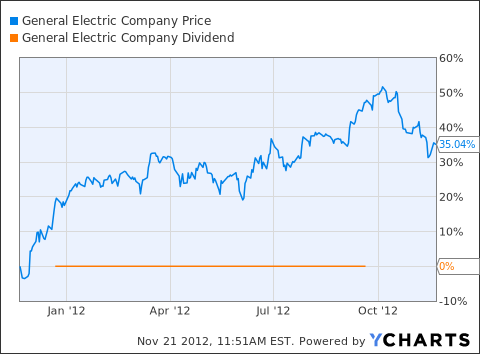 GE data by YCharts
Conclusion: For these aforementioned reasons, these five companies are positioned to achieve continued stability and high yields into the uncertain future of the global economy.
All financial metrics referenced above were obtained from Yahoo Finance, CNBC Analytics, S&P Capital IQ, and Thomas Reuters.
Disclosure: I have no positions in any stocks mentioned, and no plans to initiate any positions within the next 72 hours. I wrote this article myself, and it expresses my own opinions. I am not receiving compensation for it (other than from Seeking Alpha). I have no business relationship with any company whose stock is mentioned in this article.