We are lowering our rating on Vale S.A. (NYSE:VALE) from buy to neutral. Though we still appreciate Vale for its low-cost operations and its strong balance sheet, a weak economic outlook combined with declining iron ore prices and slower-than-expected growth in China remain headwinds for the company. Vale's Basic Materials segment also continues to struggle. We expect Vale to trade in line with iron ore prices, which are highly dependent on the Chinese demand scenario. We don't believe Vale is a buy-and-hold story anymore. We advise investors to avoid this stock unless we see clear signs of a bottom in the iron ore market.
The recent increase in iron ore prices driven by massive planned infrastructure spending in China, the biggest consumer of iron ore in the world, seems to have halted. Iron ore prices were up at the end of the month for the first time in the last six months. The price of the commodity increased by ~15% in October. However, from April to October and in the first nine months of 2012, the price was down 23% and 25%, respectively. As we mentioned earlier, the October increase in prices seems to have waned. Iron ore prices dipped 3% last week, and as Chinese mills retreat from the spot market, prices are facing further downward pressure.
Iron Ore Prices in the Last Six Months
Click to enlarge images.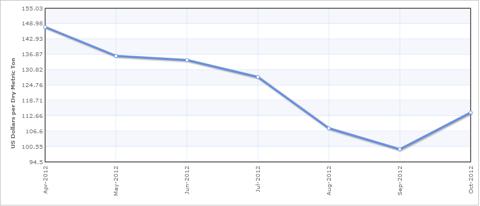 Source: Indexmundi.com.
Market Sentiment
"It looks like the softer trend will continue with steel prices still weak. Mills are not in a rush to buy," said an iron ore trader in Shanghai, referring to the price of the raw material. "Mills are buying in small lots from the ports instead of buying new and bigger seaborne cargo, especially those who think prices will drop some more this week," said another trader in Shanghai.
The Rebar contract on the Shanghai Futures exchange for May delivery was trading at a session low of 3,545 yuan ($570) a ton, only 10 yuan higher than the two-month low of 3,533. Moreover, in recent weeks, iron ore stocks at major Chinese ports have dipped below 90 million tons from the late-October figure of ~95 million. The declining inventory of the commodity at Chinese ports indicates that buyers prefer purchasing smaller volumes at the port.
Additionally, the South China Morning Post reported last week that the "Big Three" of the mining industry -- namely, Vale S.A., BHP Billiton (NYSE:BHP), and Rio Tinto (NYSE:RIO) -- dumped huge volumes in China in anticipation of an expected dip in prices. According to traders, the combined reported volume of 600,000 was significantly higher than usual.
A trader interviewed by Reuters said that "sentiment will start to weaken from this point onward," and he expects benchmark iron ore to drop to $115 a ton in the near term.
Vale S.A.
Vale S.A., based in Brazil, is one of the largest mining companies in the world. It is involved in the exploration, production and sale of basic materials in Brazil and the rest of the world. The company has operations in Brazil, Canada, Australia, Japan, China, South Korea, Singapore, and Switzerland. The company has four main operating segments -- namely, Bulk Materials, Base Metals, Fertilizers, and Logistics. Three quarters of the company's revenue (2011 figures) comes from its Bulk Materials segment. Among its bulk materials, iron ore generates the highest revenue, accounting for 78% of segment revenue and 58% of the revenue of the whole company. Base Materials accounted for 16% of the company's revenue in 2011, whereas the Fertilizers segment accounted for 6% of the same.
Last month, the company reported its Q3 2012 results, beating analysts' expectations by 22% on the back of stronger iron ore volumes and better-than-expected realized prices. Vale reported an adjusted EBITDA of $4.4 billion, vs. consensus estimates of $3.6 billion. On the other hand, net income -- at $1.7 billion -- was down 66% year over year and 37% quarter over quarter.
After declining by as much as 57% in Q1 2012, Vale's quarterly cash flow from operations (CFO) has been increasing for the past two quarters. Vale reported Q3 2012 CFO of $5.7 billion.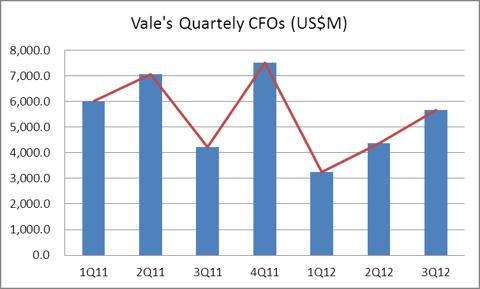 Financials
The company is trading at a forward P/E ratio of 7.2 times, which is not much higher than RIO's 6.9 times but much lower than BHP's 13.8 times. Vale's stock has lost almost a quarter of its value year to date. Vale has a dividend of 3.5%, higher than both RIO's and BHP's dividends of 3% and 3.2%, respectively. Last year, the company increased its dividend by 50%; its dividend ended up at $0.58 per share and, since then, Vale has only increased it by 1 cent.
Vale's Historic Dividend Yield

Source: Dividata.
The company has a debt to equity ratio of 36%; however, in the past five years, (2007-11) the company has decreased its D/E ratio from 53% to 29%.
| | | | |
| --- | --- | --- | --- |
| Comp Sheet | Vale | Rio | BHP |
| Forward P/E (1 year) | 7.2x | 6.9x | 13.8x |
| PEG ratio (5 year expected) | N/A | 0.5 | 1.9 |
| EV/EBITDA (NYSE:TTM) | 5.35x | 4.6x | 6.5x |
| Dividend yield | 3.50% | 3.00% | 3.20% |
| Long-term earnings growth rate | N/A | 17.00% | 6.00% |
| Share price Performance (YTD) | -24.50% | -7.60% | -5.00% |
Source: Yahoo Finance.
Conclusion
Vale has a strong balance sheet. It operates low-cost mines and its resources are high in mineral content, which helps it support a growth in its production. However, Vale is no longer a buy-and-hold story. The company's cash flows are highly levered to iron ore prices, and iron ore prices are showing a downward trend. We do not expect a significant increase in iron ore prices in the near future, unless Chinese demand returns and European debt issues are resolved. Declining iron ore prices and the weak economic outlook remain the two major headwinds for Vale. Moreover, its Base Metals segment continues to struggle. It reported an operating loss of $350 million in the most recent quarter, down 14% from Q2 2012 loss of $361 million.
A sharp rebound in iron ore prices will help Vale report strong results and will make us bullish on the stock.
Disclosure: I have no positions in any stocks mentioned, and no plans to initiate any positions within the next 72 hours.
Business relationship disclosure: The article has been written by Qineqt's Basic Material Analyst. Qineqt is not receiving compensation for it (other than from Seeking Alpha). Qineqt has no business relationship with any company whose stock is mentioned in this article.