American Woodmark Corporation (NASDAQ:AMWD) recently announced a positive earnings surprise of nearly 200% in its fiscal second quarter, which sent earnings estimates soaring in the past seven days. This manufacturer and distributor of cabinets and vanities reached its 52-week high of $28.25 on Nov. 26 and became a Zacks No. 1 Rank (Strong Buy) on Nov. 21. Shares have advanced by a robust 101.4% year to date.
What Makes American Woodmark a Growth Pick?
On Nov. 20, American Woodmark posted fiscal second-quarter earnings per share of 14 cents, trouncing the Zacks Consensus Estimate by 180% and significantly rebounding from a loss of 21 cents in the year-ago quarter. This marked the company's fifth positive surprise in the past eight quarters.
Net sales increased 24% from the year-ago quarter to $159.8 million, driven mostly by a more than 40% sales growth in the new-home construction business. Total revenue also beat the Zacks Consensus Estimate of $140 million. The company distributes its products through two sales channels: Home Center and New Construction.
Gross profit margin expanded 300 basis points to 15.5% on the back of a rise in sales volume and lower fixed overhead expenses.
Soaring Earnings Momentum
All five estimates for fiscal 2013 have advanced in the past seven days, boosting the Zacks Consensus Estimate by 54.2% to 37 cents. This suggests a year-over-year increase of 149%. For fiscal 2014, the Zacks Consensus Estimate has jumped 23.1% to 96 cents over the same time frame, as three of four total estimates headed upward. This represents a year-over-year surge of 158.7%.
Premium Valuation
American Woodmark currently trades at a forward P/E of 82.47 times, reflecting a 258.6% premium to the peer group average of 23.00 times. Also, on a price-to-book basis, shares trade at 3.08 times, a substantial premium to the peer group average of 1.07 times. Again, its price-to-sales ratio of 0.72 is at a premium to the peer group average of 0.44. Given its strong fundamentals, the premium valuation is justified.
Chart Echoing Strength
Shares of American Woodmark have been trending upward since the beginning of the year. The company rallied to hit a new 52-week high on Nov. 26 at $28.04, suggesting a bullish growth for the rest of 2012. The stock has been consistently trading above its 200-day moving average since March 9, 2012. It has also remained above its 50-day moving average since Aug.14, 2012.
Volume averages roughly 75,000 daily. The year-to-date return for the stock is 101.4% compared to the S&P 500's return of 10.1%.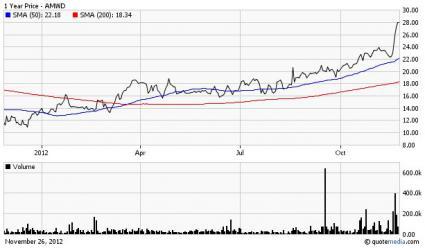 Founded in 1980 and headquartered in Winchester, Va., American Woodmark Corporation manufactures and distributes kitchen cabinets and vanities for the remodeling and new home construction markets. The company's leading brands include American Woodmark, Timberlake, Shenandoah Cabinetry, Potomac, and Waypoint Living Spaces. The company has a market cap of $411.5 million.