Exxon (XOM) against Chevron (CVX). Two oil behemoths pitted against each other. Which one is best for growth?
Exxon is the world's biggest oil company, and was world's biggest company, surpassed by Apple earlier this year. Both are dividend stars and have been paying out to shareholders for many years. How do Exxon and Chevron compare head to head? Which is the better investment for growth?
Overview
| | | | | | | |
| --- | --- | --- | --- | --- | --- | --- |
| | Market Cap | Revenues 2011 (Billion) | Profit 2011 (Billion) | Barrels Oil produced per day | Gas Production per day (m3) | Employees |
| | | $486.4 | $40 | 2.3 Million | 11,061 Million | 103,000 |
| | | $253 | $26 | 1.8 Million | 139.7 million | 57,000 |

Historic Growth
The starting point of this comparison is historic growth.
| | | | | |
| --- | --- | --- | --- | --- |
| | 5-Yr EPS Growth | 3-Yr EPS Growth | 5-Yr Revenue Growth | 3-Yr Revenue Growth |
| Exxon | 3.33% | 30.85% | 4.92% | 16.67 |
| Chevron | 7.34% | 31.56% | 2% | 12.62% |
Exxon has the highest revenue growth between the two firms but Chevron produces the better EPS growth. Chevron has outperformed Exxon over the longer 5-Yr EPS period due to its faster recovery from the credit crunch in 2008.
Why is this the case and will it carry on?
Chevron managed to recover faster than Exxon due to its revenue composition and consequently its profit margins.
Profit Margins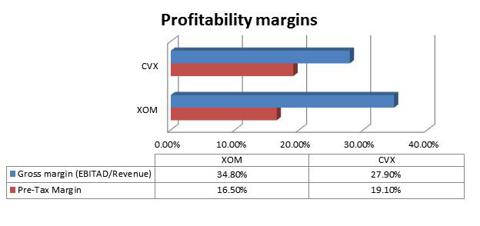 Even though Chevron has a smaller gross margin than its larger competitor, it is significantly more efficient - with a net profit margin 2.6% above that of Exxon. Simply put Chevron generates 19.1 cents for every dollar in revenue. On the other hand Exxon generates only 16.5 cents, for every dollar in revenue.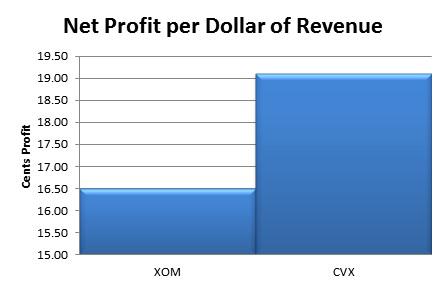 Revenue Composition
To understand why Chevron produces a better net profit margin, we need to look more into the product mix and revenue composition of the two firms.
| Company | Refining and Distribution | Hydrocarbon Exploration and Production | Other |
| --- | --- | --- | --- |
| XOM | 81.1% | 9.9% - Worldwide leader | 9% |
| CVX | 71.7% | 27.7% | 0.6% |
Surprisingly Chevron has the higher oil production as a percentage of revenue. The majority of Exxon's revenue comes from the process of refining. This has a significantly lower margin than the production of oil.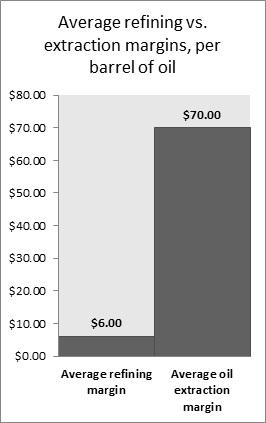 Both firms rely significantly on the revenue generated through refining. However this can seriously impact profits.
This year oil majors have benefited as refining margins have been higher in Europe and the United States, as supply problems have been rife. However most analysts predict oil refiners can expect margins to come back down to earth in 2013 as global capacity returns.
If we lay the EBITDA of each firm over the movement in refining margins we get a picture of how changes in these margins can significantly affect earnings.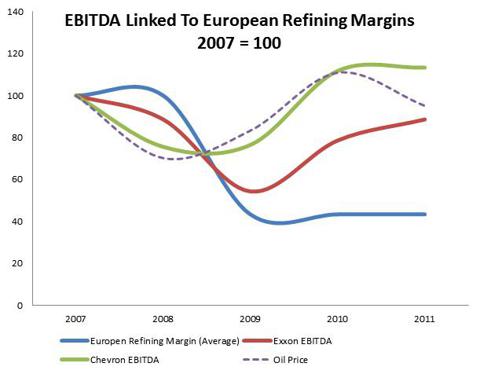 Exxon was hit significantly harder than Chevron during 2008. The overweight position of refining in Exxon's revenue stream took its toll on earnings. Chevrons earnings have recovered more in line with the recovery in the oil price after 2008. Meanwhile Exxon's earnings are only just coming back into line, after the refining margin collapse in 2008.
Exxon is huge; however its mix of products and high reliance on refining is holding growth back. With refining margins half of what they were in 2008, Exxon Mobil has not been able to generate the same level of free cash flow, without sizable capital expenditure.
On the other hand, Chevron's comparatively high exposure to oil production has not affected the company's profit to the same level. This is demonstrated through the faster recovery to pre-2008 profitability levels.
Exxon's huge size and stable income stream make it a more stable investment. However I believe Chevron is geared for growth, thanks to its higher margin business and larger net profitability margin.
Disclosure: I have no positions in any stocks mentioned, and no plans to initiate any positions within the next 72 hours. I wrote this article myself, and it expresses my own opinions. I am not receiving compensation for it (other than from Seeking Alpha). I have no business relationship with any company whose stock is mentioned in this article.