On November 27, 2012, Acadia Pharmaceuticals (NASDAQ:ACAD) announced the successful results from its pivotal Phase III trial evaluating the efficacy, tolerability and safety of pimavanserin in patients with Parkinson's disease psychosis (PDP). Although only top-line results, the data looks like a "Home Run" for management.
A Little Background Info
PDP is a debilitating psychiatric disorder that occurs in up to 50% of patients with Parkinson's disease. In the U.S., we estimate this is 500,000 patients (source). PDP is characterized by the presence of hallucinations and delusions. Hallucinations are most common and are often visual, but may also include somatic or other sensory phenomena. Delusions commonly involve paranoia, and can be profoundly disturbing and debilitating. PDP represents a major inflection point in the course of Parkinson's disease progression, and is the number one driver of why patients enter nursing homes or long-term care facilities.
PDP is associated with increased caregiver burden and increased mortality. Currently, there are no therapies approved to treat Parkinson's disease psychosis. Acadia's pimavanserin is a potent and selective 5-HT2A inverse agonist. The drug is designed to regulate the optimal combination of dopamine (D2) receptor blockade and 5-HT2A inverse agonism, thus reducing symptoms of PDP without impairing motor function, a major side effect of current off-label antipsychotic use, and thereby significantly improving the quality of life for patients with the disease.
The Trial Design
The pivotal Phase III trial, referred to as the -020 Study, was a multi-center, double-blind, placebo-controlled study designed to evaluate the efficacy, tolerability and safety of pimavanserin as a treatment for patients with PDP. A total of 199 patients were enrolled in the study and randomized on a one-to-one basis to receive either 40 mg of pimavanserin or placebo once-daily for six weeks, following a two-week screening period including brief psycho-social therapy designed to draw forward placebo response.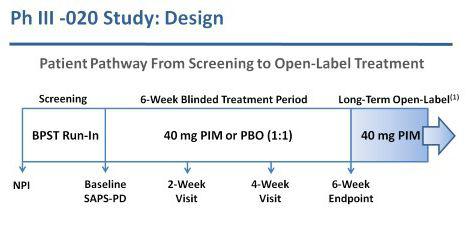 The trial enrolled patients only in the U.S. with severe PDP as defined by the neuropsychiatric inventory (NPI) scale (NPI score > 6). Patients also received stable doses of their existing anti-Parkinson's therapy throughout the study.
Primary Endpoint…
The primary endpoint of the -020 Study was antipsychotic efficacy as measured using the "SAPS-PD" scale, which consists of 9-items from the hallucinations and delusions domains of the Scale for the Assessment of Positive Symptoms (SAPS). Pimavanserin met the primary endpoint in the Phase III trial by demonstrating highly significant antipsychotic efficacy as measured using the 9-item SAPS-PD scale (p=0.001).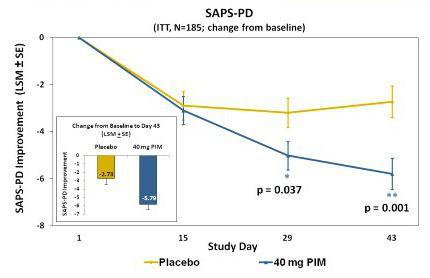 Secondary Endpoints
Motoric tolerability was a key secondary endpoint in the study and was measured using Parts-II and -III of the Unified Parkinson's Disease Rating Scale (UPDRS). After 43 days on treatment, patients taking pimavanserin experienced a -1.69 change in UPDRS vs. -1.40 for the placebo. The results show that pimavanserin is non-inferior to the placebo (i.e. has no negative effects on motor function). We believe this is extremely important in the marketing of the drug because the leading off-label antipsychotic therapies, clozapine and quetiapine, negatively impact motor function and carry significant side effects such as increased parkinsonism, orthostasis, sedation, confusion, and drooling. Clozapine also requires weekly phlebotomy to monitor for potential agranulocytosis.
Another secondary endpoint was Clinical Global Impression Improvement (CGI-I), which was highly statistically significant in favor of pimavanserin (p=0.001). Management also assessed a number of exploratory endpoints, all which demonstrated strong support for the antipsychotic efficacy of pimavanserin. One secondary endpoint was the Caregiver Burden Scale, an assessment done by the caregiver to provide a quantitative assessment of burden associated with the patient's functional/behavioral impairments, the circumstances of at-home care, as well as the caregiver's health, social life and interpersonal relations. Results were statistically significant (p=0.012).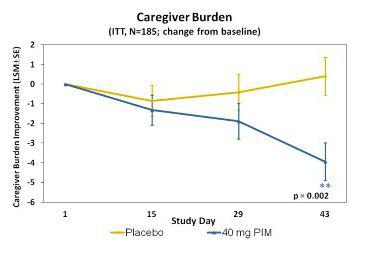 Acadia also assessed the impact on sleep using the SCOPA-sleep scale, which was designed to enable the investigator to evaluate nighttime sleep and daytime wakefulness in Parkinson's patients. Pimavanserin demonstrated significant improvements on both nighttime sleep (p=0.045) and daytime wakefulness (p=0.012) on SCOPA.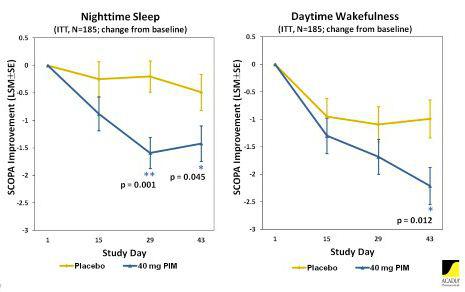 Safety & Tolerability
Acadia reported that pimavanserin was safe and well tolerated in the -020 Study. Based on a preliminary safety analysis, the most common adverse events were urinary tract infection (11.7% placebo vs. 13.5% pimavanserin) and falls (8.5% placebo vs. 10.6% pimavanserin). Adverse events were generally characterized as mild to moderate in nature. The only serious adverse events (SAE) that occurred in more than one patient were urinary tract infection (1 placebo vs. 3 pimavanserin) and psychotic disorder (2 pimavanserin). In the past we have noted that 90% of the patients who completed the -020 Study elected to roll over into the ongoing open-label safety extension study, dubbed -015. Patients were only eligible to participate in the extension study if the treating investigator also deemed them to be likely to benefit from continued treatment with pimavanserin.Pimavanserin looks like a safe and highly tolerable drug. Safety and tolerability data from the previous Phase III studies, -012 and -014, are consistent with the findings from -020. We would like some additional clarity on the two cases of psychotic disorder seen in the pimavanserin arm during -020, but as of now this remains on the only potential safety blemish on an otherwise very clean profile.
Our Analysis Of The Data and Market Opportunity
As noted above, we think these data are a Home Run for management. The results are highly statistically significant and the safety profile is very clean. We even learned about new potential marketing advantages for the drug, including highly statistically significant results on the Caregiver Burden scale and improvements in both nighttime sleep and daytime wakefulness. Dr. Stuart Isaacson, M.D., Associate Professor of Neurology, FIU College of Medicine, Miami, FL and Director of the Parkinson's Disease and Movement Disorders Center of Boca Raton, FL called the results a "game changer" on Acadia's conference call.
PDP is a high unmet medical need and a debilitating effect on patients with Parkinson's disease. There truly are no effective medications for patients with PDP. Clinical management of PDP starts with primary prevention; but PDP progresses rapidly as the Parkinson patient deteriorates, and often ends with the undesirable use of atypical antipsychotics.
Prescription tracking data shows that half of Parkinson's disease patients are taking antipsychotic agents to control PDP, which may lead to worsening Parkinson's symptoms. A paper published by Dr. Laura Marsh, MD, in Primary Psychiatry (2005;12(7):56-62) does an outstanding job of highlighting the issues with the current treatment paradigm for PDP. From the paper:
Atypical antipsychotics with a low potential for inducing parkinsonism (rigidity, bradykinesia, and tremor) are used in PD. Among those currently available (clozapine, risperidone, olanzapine, quetiapine, ziprasidone, and aripiprazole), only quetiapine and clozapine are consistently recommended.

Clozapine is currently the gold standard of antipsychotic agents in PD given its demonstrated safety and efficacy in controlled trials without worsening parkinsonian symptoms. Sedation or confusion can occur at low doses in this fragile population and most patients respond to <50 mg/day, though some require higher doses or an additional low dose in the mornings. The most common side effects are sedation, orthostasis, confusion, and drooling. Motor fluctuations worsen in some patients, but dystonia, dyskinesias, and tremor can improve. Weekly phlebotomy is required to monitor for potential agranulocytosis. Any inconvenience of this is offset by therapeutic benefits.

Quetiapine is a common first choice because it can be used without the risk of agranulocytosis and weekly blood monitoring. However, quetiapine has not been subject to controlled trials. Its safety and efficacy profile in open-label studies is favorable, but inadequate symptom control or increased parkinsonism or motor fluctuations can occur. Lower doses are used initially because patients with hypotension or orthostasis may not tolerate higher doses. Sedation and confusion are common side effects, but a recent open-label study showed improved cognitive functioning on quetiapine.
For the reasons outlined above, we see pimavanserin as serving a fairly high unmet need. We know of no other drug under late-stage development for PDP, and believe that pimavanserin should have meaningful market exclusivity upon launch. As such, we think that Acadia and its commercialization partner could capture up to a third of the market. At a price similar to antipsychotics, pimavanserin offers a $400 million U.S. opportunity.
$378 Million = 1 Million PD patients x 50% with Psychosis x 33% Penetration x $2,500 per year.
Label Expansion Key To Sales Upside
Beyond the initial indication in PDP, we believe pimavanserin has potential utility in Alzheimer's disease psychosis (ADP), a disease with similar manifestations to PDP. The ADP market plays out in similar fashion to PDP, only potentially five times as large. Statistics show the number of American's living with Alzheimer's disease to be roughly 5.4 million, roughly 50% of which will develop some form of psychosis as the disease progresses. In July 2012, management reported promising mechanistic data with pimavanserin in a preclinical rodent model of the disease. This data was published in Behavioral Pharmacology (Price et al., "Pimavanserin, a 5-HT2A Receptor Inverse Agonist, Reverses Psychosis-like Behaviors in a Rodent Model of Alzheimer's Disease,") in July 2012. If pimavanserin is a $400 million drug in the U.S. for PDP, with similar data in ADP, it's a blockbuster drug.
And So is Partnering
Now that the top-line data from -020 has been released, and the stock is up roughly 150% as of the writing of this report, management has some flexibility on when to partner the drug. Acadia exited the third quarter 2012 with approximately $23.1 million in cash, cash equivalents, and short-term investments. We find this to be sufficient to fund operations into the second half of 2013. Acadia burned $4.8 million in the third quarter 2012 and $15.3 million during the first nine months of the year.
We remind investors that Acadia has an At-the-Market Issuance Sales Agreement ("ATM") active with MLV & Co. LLC. During the third quarter 2012, Acadia sold approximately 3.49 million shares of common stock pursuant to its ATM at approximately $2.00 per share, resulting in net proceeds (after 3% fees to MLV) of roughly $6.8 million. The ATM allows for up to $20 million in sales, leaving $14.2 million yet untapped. We expect management to raise this $14.2 million shortly, as the cost of the confirmatory Phase III program, dubbed -021, is an estimated $15 million. Given the current stock price, this $14.2 million can be raised by issuing about 2.5 million shares, or around 4.5% dilution to the current basic share count of 56.6 million. We note there are an additional 4.4 million warrants outstanding with an exercise price of $1.38 per share that could bring in another $6.1 million to the company.
Ultimately, Acadia needs to partner pimavanserin. The drug and market opportunity are too big to go alone, and investors would benefit from having a big pharma partner help Acadia navigate the new drug application (NDA) filing process and potential FDA curve balls around chemistry, manufacturing and controls (CMC). Plus, Acadia is focusing only on North American right now with pimavanserin. There is obviously meaningful sales opportunity for the drug in Europe and Asia. Acadia needs a partner help to enter these markets.
Now that the results from the -020 trial are out and positive, we suspect that management will have little trouble finding a development and commercialization partner for the drug. The question remains, when to partner? We remind investors that Acadia did previously have a deal to commercialize pimavanserin with Biovail. Biovail paid Acadia $30 million upfront with the potential for $365 million and 15-20% royalties on sales back in May 2009 pre-Phase III. It's clearly worth a lot more now.
With respect to the -021 Study, we expect many of the same sites will be used from -020. Management may look to expand more in Canada for -021, but we do not expect any significant enrollment outside of North America. On today's conference call, Executive Vice President of Development, Roger G. Mills, M.D. said, "We don't plan to mess with a winning team." That's smart. Now is not the time to get cute. The trial worked because Acadia enrolled PDP patients with severe psychosis and found ways to mitigate placebo response. If the product is eventually approved, we expect sizable use in earlier-stage PDP patients.
Dr. Isaacson noted on the call that as a treating physician, if there is a drug that works then he would not wait for symptoms to materialize in severe form. We suspect most caregivers will agree, and use pimavanserin far earlier in the real world setting than the strict entry criteria instituted in the -020 study. The Caregiver Burden Scale management assessed in the -020 Study was brilliant - pure marketing ammunition.
That being said, we think Acadia will leave much of the label expansion work into APD and schizophrenia for the partner. Management sees pimavanserin as a pipeline-product. Much of the back-end potential from the Biovail deal was based on expanding the label into ADP and schizophrenia. We think Acadia will be looking for a similar deal in 2013, but in the near-term will push forward with the -021 Study alone. That means, do not expect a deal to be announced in the next month. Instead, expect Acadia to tap its ATM or even do a secondary offering.
Our Model Says $6 Is Fair
Pre-data we believed the stock was worth around $2.50 per share. We have now made some pretty significant changes to our model post-data. We have dramatically reduced the discount rate (risk) in our DCF model, and are now using a discount rate of 13.8% (risk free of 1.75% + equity risk premium of 6.0% x 100% firm adjustment). We have also adjusted up slightly our peak sales estimate for pimavanserin in PDP, from $312 million in the U.S. based on 25% penetration to $378 million in the U.S. based on 33% penetration. The data from -020 are that good. On a global basis, with positive data in ADP that matches what we got today in PDP, pimavanserin is a $2+ billion drug. We also assume that Acadia does partner the drug in 2013, and lands $50 million upfront and up to $500 million backend potential with 20% royalty on sales.
We are leaving our rating at "Neutral" because the stock is so near our $6 target. We would not chase the stock here. Pimavanserin is still three years from commercialization. However, if we are correct in our assumption that Acadia does raise capital via the ATM or a secondary in the near-term, investors could get a good buying opportunity. This is clearly a stock we like. The single biggest catalyst for the shares is the signing of a deal in 2013. We recommend using pullbacks to establish a position prior to that event.
Disclosure: I have no positions in any stocks mentioned, and no plans to initiate any positions within the next 72 hours. I wrote this article myself, and it expresses my own opinions. I am not receiving compensation for it. I have no business relationship with any company whose stock is mentioned in this article.
Disclaimer: PropThink is a team of editors, analysts, and writers. This article was written by Jason Napodano, CFA, one of our contributors. We did not receive compensation for this article, and we have no business relationship with any company whose stock is mentioned in this article.You should assume that as of the publication date of any report or letter, PropThink, LLC and persons or entities with whom it has relation ships(collectively referred to as "PropThink") has a position in all stocks (and/or options of the stock) covered herein that is consistent with the position set forth in our research report. Following publication of any report or letter, PropThink intends to continue transacting in the securities covered herein, and we may be long, short, or neutral at any time hereafter regardless of our initial recommendation. To the best of our knowledge and belief, all information contained herein is accurate and reliable, and has been obtained from public sources we believe to be accurate and reliable, and not from company insiders or persons who have a relationship with company insiders. PropThink was not compensated to publish this article. Our full disclaimer is available at www.propthink.com/disclaimer.