SYSCO Corporation (NYSE:SYY) is the largest North American food service distributor, controlling 17.5% of the estimated $225 billion market. The Company provides products and related services to approximately 400,000 customers, including restaurants, healthcare and educational facilities, lodging establishment and other foodservice customers. Almost 100% of the Company's sales are derived from North America. Although food distribution is a low-margin and capital-intensive business, economies of scale and strong customer relationships have allowed SYSCO to post returns on invested capital that have consistently exceeded the estimate of its cost of capital. SYSCO enjoys a wide economic moat through its expansive distribution network and extensive product offering. SYY will be a solid cash flow investment to hold through any economic condition as SYY is less sensitive to the economic cycle due to its defensive nature in the consumer food sector.
Recent Earnings and Dividend Increase
On Nov. 5, 2012, SYY reported net earnings for the Q1, 2013 of $286.59 million or $0.49 per share, compared to $302.65 million or $0.51 per share for the year-earlier quarter. The adjusted earnings (excluding special items) of 58 cents beat the Zacks Consensus Estimate of 50 cents by 16%, as reported from Zacks, "The upswing in the results was driven by solid top-line growth, prudent expense management and moderating cost environment." Sales were $11.09 billion, compared to the $10.59 billion for the same quarter of fiscal 2012. Gross profit was $2 billion, compared to $1.95 billion a year ago. Operating income was $478.78 million, compared to $509.34 million for the same quarter of fiscal 2012. As said by Bill DeLaney, Sysco's president and CEO, "Solid sales growth and effective overall operating expense management contributed to increased adjusted EPS in our underlying business for the quarter. Volume gains drove our top line growth as food cost inflation moderated from the historically high levels experienced in recent quarters." Despite weakening consumer sentiment in the food service and distribution industry, SYY reported record quarterly sales in the Q1, 2013. In this quarter, the volume gains drove growth and food cost inflation eased from the very high levels seen in most of 2012. Looking forward, the average estimate for the second quarter remains unchanged at 43 cents a share, and the average estimate for the fiscal year is $2.01 per share, down from $2.02 ninety days ago. The earnings call transcript for Q1, 2013 SYSCO management discussion from Seeking Alpha can be read here.
On Nov. 6, 2012, BMO Capital Markets reaffirmed the "market perform" rating on SYY and currently has a $28.00 price target. Analysts at Cantor Fitzgerald also reiterated a "hold" rating with a $28.00 target price.
On Nov. 14, the Board of Directors had approved a 3.7% increase in the quarterly cash dividend to $0.28 per share from the current $0.27 per share. The new dividend is payable on January 25, 2012, to common shareholders of record on January 4, 2012.
Fundamentals Overview and Technical Analysis
With the data obtained from MorningStar, SYY's key stats will be compared to its competitors in the food distribution industry to evaluate where SYY stands fundamentally. The main competitor includes Kroger Co. (NYSE:KR). Despite the lower EPS growth, SYY achieved a stronger revenue growth (3 year average) of 4.8, as compared to the industry average of 2.2. SYY also attained a stronger operating margin of 4.3%, ttm, and a higher net margin of 2.6%, ttm, as compared to the averages of 3.7% and 2.1% respectively. SYY also generates higher ROE of 23.2, comparing to the average of 18.0, and has a healthier debt-to-equity of 0.6, as compared to the average of 1.4. SYY is currently under-valued with P/E of 16.5, comparing to the industry average of 18.4.
SYY closed at $31.27 with 0.74% gain on Tuesday. The volume of 4.05M is 33.66% more than the 30 day average of 3.03M. SYY had been trading in the range of $27.05-$31.90 in the past 52 weeks. As seen from the chart below, the MACD (12, 26, 9) indicator started to turn bullish on Nov. 24, 2012, and the MACD difference continued to diverge. SYY managed to close above its 50-day MV of $30.83 since Nov. 23, 2012. The momentum indicator, RSI (14), is also showing an increasing buying momentum at 62.75. The next resistance is $31.84, R1 pivot point, followed by $32.61, R2 pivot point. The short-term technical trend for SYY is bullish.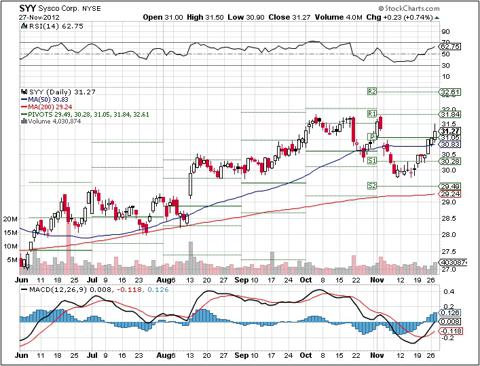 Source: StockCharts.com
Options Play
SYY is a solid cash flow investment for long-term. In the short-term, SYY is technically bullish. A bullish credit put spread will be reviewed below for bullish investor who would like to acquire the stock at a discount price while gaining some upside potential.
Short 1x May 18, 2013 Put at the strike price of $29.00 for the credit of $0.75
Buy 1x May 18, 2013 Put at the strike price of $26.00 for the cost of $0.35
The maximum profit is $0.40, and the maximum risk/margin required is $2.60 ($3 loss - $0.40 credit received). If SYY closes above $29.00 on May 18, 2013, 15.38% profit will be gained. If SYY closes below $29.00 upon options expiration, the cost for acquisition will be $28.6, which is 8.54% lower than the current trading price of $31.27. The projected dividend yield will be 3.92% based on the acquired cost of $28.6 and projected dividend of $0.28 per quarter. Cash flow investors should be comfortable with 3.92% annual dividend yield with this solid, stable, consumer defensive stock.
Note: All the prices are quoted from the closing of November 27, 2012 and all calculations are before fees and expenses. Investors and traders are recommended to do their own due diligence and research before making any trading/investing decisions.
Disclosure: I have no positions in any stocks mentioned, but may initiate a long position in SYY over the next 72 hours. I wrote this article myself, and it expresses my own opinions. I am not receiving compensation for it (other than from Seeking Alpha). I have no business relationship with any company whose stock is mentioned in this article.