It is hard to believe that in only 14 months the year 2014 will be here. Back in October I took my first look at Pershing Gold (NASDAQ:PGLC) and concluded that the company looked interesting for a non-producing gold company, but that it wasn't far enough along for me to invest in.
I decided to revisit the Pershing story this week and was quite surprised to learn that the company is now targeting first production in 2014:
LAKEWOOD, Colo., Oct. 10, 2012 (GLOBE NEWSWIRE) -- Pershing Gold Corporation is pleased to announce that it has retained Roscoe Postle Associates USA, Ltd. ("RPA") to provide an evaluation and an updated resource estimate for the Relief Canyon Mine project, located along the west flank of the Humboldt Range in Pershing County, Nevada. The resource estimate is expected to be completed in the fourth quarter of 2012, with a new Canadian National Instrument 43-101 compliant Technical Report available in the first quarter of 2013. In addition, RPA has been asked to complete a Preliminary Economic Analysis of the Relief Canyon Mine project in early 2013.

Data from Pershing Gold's 2011 and 2012 drill programs (126 holes totaling approximately 61,000 feet of drilling) will be included in RPA's evaluation of the Relief Canyon Mine vicinity. Most of the holes drilled in the Relief Canyon Mine vicinity were located outside of the existing open-pit mines and have identified new mineralization in all directions around the current boundary of the open-pit mines.

Larry Hillesland, VP of Exploration and Development commented, "The selection of RPA to provide engineering services for the Relief Canyon Mine project is a significant step in our goal to advance the project from mineral resources to a producing gold mine. RPA is known world-wide for resource estimates and mine design," and went on to say, "This is the next step towards reaching our target of producing gold in 2014."
The stock market isn't going to wait to see the production in 2014 before it revalues the company. As we get into 2013 good old Mr. Market is going to start anticipating the start up of production and the share price is going to start to reflect that.
If I want to beat Mr. Market and get into this name I'm going to have to do it sooner rather than later.
There are a few reasons that Pershing Gold intrigues me. Those reasons are:
- The company acquired its assets on the cheap by buying the Relief Canyon Mine out of bankruptcy in August 2011 and I'm a sucker for a bargain hunter
- The Relief Canyon Mine has since 1984 produced 140,000 ounces of gold so this is more of a development and not exploration story
- The Relief Canyon Mine currently has indicated and inferred resource of 248,000 oz and Pershing has indicated that in thinks that its new NI 43-101 Report will show an increase in that figure to 600,000 to 750,000 oz. That is a material piece of information that could change value of Pershing's assets.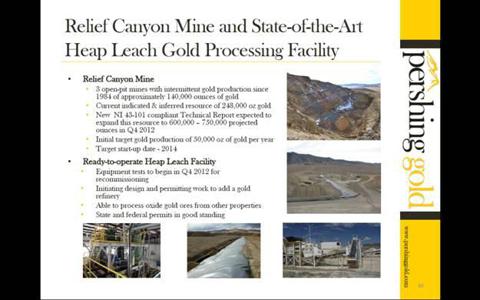 The potential for the resource increase is quite appealing obviously. What makes Pershing more appealing to me than most junior mining stories is the existence of this shareholder:
LAKEWOOD, Colo., June 20, 2012 (GLOBE NEWSWIRE) -- Pershing Gold Corporation is pleased to announce that Coeur d'Alene Mines Corporation (NYSE:CDE), (TSX:CDM) ("Coeur") has purchased 10,937,500 shares of Pershing Gold Corporation Common Stock in a private placement priced at $0.32 per share.
Coeur d'Alene 's presence as a shareholder is a very big positive for me because:
- A well known and respected company is interested in Pershing and its assets
- It provides some financial backing in case another small equity raise is needed
- Coeur d'Alene's Nevada Packard mine is directly to the north of Pershing which makes Coeur d'Alene a bit of an expert on the region and a natural acquirer of Pershing if things pan out
If Pershing was an oil company I'd likely already have invested because I am bullish on that commodity long term. I'm more agnostic on the future of gold prices though, and that keeps holding me out of this one for now. The clock is ticking though with what could be a positive resource update coming, so I likely don't have too long sit on the fence.
Disclosure: I have no positions in any stocks mentioned, and no plans to initiate any positions within the next 72 hours. I wrote this article myself, and it expresses my own opinions. I am not receiving compensation for it (other than from Seeking Alpha). I have no business relationship with any company whose stock is mentioned in this article.