Murphy Oil Corporation (NYSE:MUR) is acting to generate shareholder value. The company announced, on October 16, plans to separate its downstream business operations. This decision was announced less than two weeks after a meeting with hedge fund Third Point LLC to unlock shareholder value. The proposed 2013 spinoff will take advantage of currently - and potentially continuing - downstream profit margins. The separation of the two businesses promotes a catalyst to invest in each independent business niche.
Murphy Oil Corporation announced the following actions:
announcement of a $2.50 special dividend payable on December 3rd,
enactment of a $1 billion share buyback plan,
announcement of a 2013 separation of the downstream operations into an independent company, pending IRS approval.
Murphy Oil Corporation is currently focused on upstream (exploration and production or E&P) and downstream (refining, storage, marketing and retail distribution) crude oil, natural gas and refined products operations in the U.S., Canada, U.K. and Malaysia, and to a lesser extent in other parts of the world.
Proposed Downstream Spinoff Entity in 2013
Murphy Oil USA (MOUSA), a wholly owned subsidiary, focuses on downstream activities such as the storage, marketing and distribution of crude oil and natural gas through Murphy USA branded gas stations in 23 states, primarily next to Wal-Mart (NYSE:WMT) supercenters. MOUSA also operates seven product terminals.
MOUSA manages the company's marketing and distribution operations and is supported by Murco Petroleum in the UK.
Wal-Mart Partnership: Murphy Oil USA has a strategic marketing partnership with Wal-Mart that has grown well over the years, with over 1,000 stations in Wal-Mart parking lots across the upper Midwest and southeast regions. Of its 1,155 gas stations across 23 states, 1,012 are on Wal-Mart parking lots while 143 are on stand alone sites. Its strategic partnership with Wal-Mart gives it an edge over its competitors as a strategically positioned, high traffic, low price and high volume fuel seller with niche merchandise marketing.
Post Spinoff: Proposed Upstream Operations
The company's upstream subsidiary, Murphy Exploration and Production Company (Murphy EXPRO) is based in Houston, Texas, and Murphy Oil USA is based in El Dorado, Arkansas.
Murphy has sizable exploration and production operations in Eagle Ford Shale and the Gulf of Mexico in the U.S., in Calgary and off the east coast of Canada, in the North Sea region of the UK and in Malaysia. In addition, the company has international operations in Australia, Brunei, the Republic of Congo, Indonesia, the Kurdistan region of Iraq and Suriname.
Dividends
Murphy Oil Corporation has consistently paid and increased dividends per share, at a compounded annual dividend growth rate of 12%.
Its most recent quarterly dividend, $0.3125 ($1.25 annualized) is payable December 3, 2012. With shares trading at $57.05 as of November 27th, Murphy offers a dividend yield of 2.1%.
Shares
Murphy Oil Corporation shares have performed well above the market and slightly better than peers over the past decade. While the market's been mostly flat, Murphy Oil Corporation shares are up about 180%. Over the past year, shares have traded between $43.29 and $65.60, and as of November 27, 2012, shares were in the middle of their 52-week range at $57.05 with a market capitalization of $11.09 billion and a price-to-earnings ratio of 16x on annual earnings per share of $3.59.
Historical Performance
Revenue rose significantly from $16.9 billion in 2009 to $27.7 billion in 2011. Net income also rose but not at the same pace as revenues. Even so, the company increased cash dividend payouts by 6% year on year. Net cash from operations increased from $1.9 billion in 2009 to $2.1 billion in 2011.
Net property plant and equipment increased from $9.1 billion in 2009 to $10.5 billion in 2011. Long-term debt declined substantially from $1.4 billion to $249.6 million, and stockholders' equity was up from $7.3 billion to $8.8 billion in 2011 ($45.31 per share).
Company debt primarily consists of short-term and long-term notes payable with total long-term debt at roughly 50% of cash on hand.
The company primarily sells gasoline, kerosene, diesel, home heating oils, residuals, asphalt, LPG and other petroleum products. Its convenience stores (attached to gas stations) sell merchandise such as beverages, tobacco products and snacks.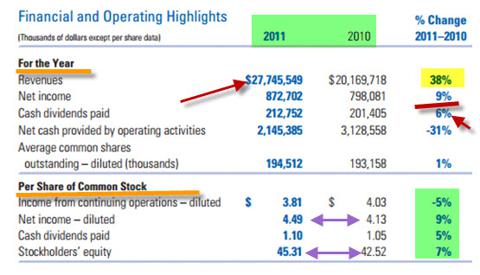 Operationally, Malaysia contributed most significantly to crude oil with 48,551 barrels per day (bpd) in 2011, followed by Canada with 30,049 bpd and the U.S. with 17,148 bpd.
Malaysia and Canada drove natural gas sales while, perhaps not surprisingly, petroleum sales were the highest in the U.S.
Q3 2012 Results
In its third quarter ended September 30, 2012, Murphy reported E&P income of $221.1 million, down 19.1%, and R&M income of $42.8 million, down 37.9%. E&P made up 96.6% of total income. Net income for the quarter was $226.7 million, down 44.2%. Diluted earnings per share and was $1.16, down from $2.09 in the year ago quarter. Income was lower because of a drop in North American natural gas prices, weaker margins at retail stores and unfavorable foreign exchange rate effects.
In the quarter, the company decided to sell its E&P operations in the U.K. and expects the transaction to be completed by year end. As a result, these operations are categorized as discontinued.
In the quarter, Murphy produced 105,796 barrels per day of oil and 454.6 million cubic feet of natural gas per day, for a total of 181,558 barrels of oil equivalent per day, up from 174,801 BOE per day in the year ago quarter. Average oil prices were $96.09 per barrel up from $95.95 a year ago. Natural gas prices dropped significantly in North America from $4.20 a year ago to $2.61 this quarter.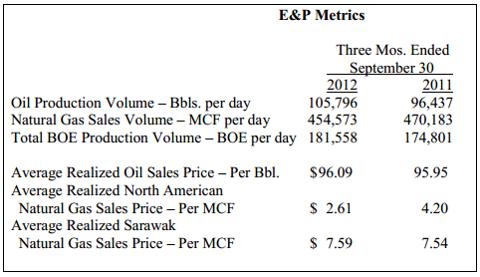 Eagle Ford and new wells in Malaysia resulted in higher oil production volumes which were partially offset by production decreases tied to maintenance and rig work over.
Natural gas volumes were down due to lower production in British Columbia because of depressed North American natural gas prices. Gas volumes were also lower due to offshore maintenance activities.
Refining and marketing suffered from weaker margins at retail and ethanol operations. Wholesale gasoline prices were up significantly in the quarter but could not be fully passed on as cost increases to retail customers and therefore impacted revenue and profits. High corn prices also impacted margins on ethanol production.
As the table shows, Malaysia was the most significant contributor to exploration and production revenue and income followed by the United States and Canada. While the U.S. contributed the most to refining and marketing revenues, profits were hit by various factors (discussed above). U.K. operations performed better than expected due to stronger refining margins. Overall, the company reported total revenues of $7.1 billion in the quarter, down slightly from $7.2 billion in the year ago quarter.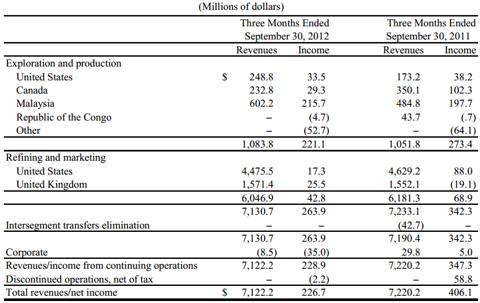 Cash Flow, Balance Sheet
In the quarter, the company generated $754.1 million from operating activities, primarily benefiting from $330.3 million in depreciation expenses and $111.7 million in deferred income tax charges, partly offset by an increase in working capital. The bulk of its investing cash use was for property additions, with $953.1 million used for investing activities. In the quarter, the company received $393 million from new debt issued, which was partly offset by $60.7 million paid out as dividends, with $335.1 million provided by financing activities. The company had a net increase in cash of $145.1 million and ended the quarter with $816.7 million in cash and cash equivalents.

At quarter end, the company had total assets of $16.6 billion, up 17.3% since the beginning of the year, long-term debt of $1.2 billion, up almost four-times, and stockholders' equity of $9.6 billion, up 9.6%.

Financially, Murphy Oil has strong cash flow, a $1.5 billion revolving credit facility and capital raised from a recent debt offering that matures in 10 years. At quarter end, Murphy had $1.3 billion in cash and short term investments, $1.2 billion in long-term debt and a leverage ratio of 11%.
Reserves
The table below shows proved reserves as of December 31, 2011. Malaysia led with 57.2 million barrels of oil followed by Canada with 32.6 million and the U.S. with 20.8 million barrels. Total proved developed reserves totaled 118 million barrels of oil.
Canada led on natural gas with 427.1 billion cubic feet, followed by Malaysia with 210.5 bcf and the US that with 58.2 bcf. Total proved developed natural gas reserves totaled 711.6 bcf.
In addition the company has 220.2 million barrels of proved undeveloped oil and 1,106.1 bcf of proved undeveloped natural gas.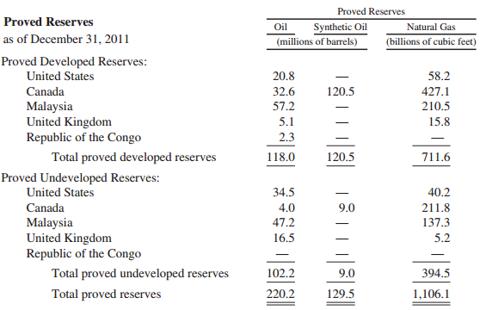 Over the years, Murphy Oil has consistently increased production at a compound rate of over 12%, while continuously adding new reserves that exceed existing reserve depletion. Going forward, the company expects production increases based on proved reserves.



Downstream
Murphy's downstream operations include Murphy USA retail outlets and Murphy Express stores in the U.S., and 459 stores in the U.K. In the U.S., each store averages 277,715 gallons of pumped gasoline per month and $158,144 in monthly merchandise sales. Fuel margins are less than merchandise margins on a percentage basis.
Merchandise Sales
Murphy's retail outlets carry beverages, tobacco products, snacks and other items. In 2011, company had merchandise sales of $2.1 billion up from $1.7 billion in 2009 ($158,144 per store month with margins averaging 12.8%)

As the table below shows, gasoline and diesel account for higher sales than kerosene and other petroleum products. In the U.K., diesel and home heating oils outsell gasoline by volume.
In addition, downstream operations include refineries with total capacity of 135,000 barrels. Declines over the recent years reflect strategic portfolio divestments or planned reductions in output based on plant maintenance needs and market conditions.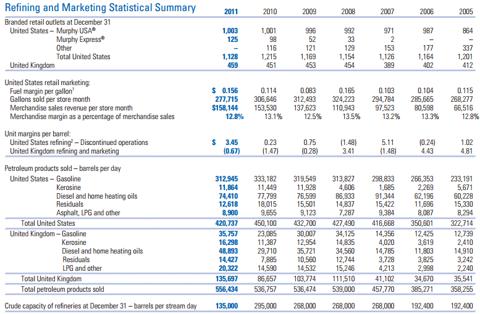 Other Downstream Assets
The company also owns i) ethanol production facilities for renewable fuels; ii) a stake in a crude oil pipeline that connects storage facilities to its refineries, and iii) in the U.K., a refinery with capacity of 135,000 barrels per day which the company plans to divest.
Refining and marketing (R&M) operations generated earnings of $190.3 million in 2011, up from 130.6 million dollars in 2010 with gains largely attributable to better retail fuel margins and higher merchandise sales. The company plans to divested its U.K. refining and marketing operations by the end of 2012.
Within the U.S., R&M operations had earnings of $223.6 million in 2011, up from $165.3 million in 2010. U.K. R&M operations reported a loss of $33.3 million in 2011 on the heels of a $34.7 million loss in 2010. Profits were impacted by ongoing weakness in Europe that reduced demand for refined products and caused an industry-wide oversupply that also drove down prices
Business Outlook
Petroleum product prices are fairly volatile and impact revenue and profit predictability. While the company monitors such volatility, unexpected macroeconomic events are hard to predict or plan for. Therefore, the company buffers itself with substantial cash to continue capital expansion projects through weaker periods.
Company strategy
Murphy focuses on developing unexplored basins, complementing its offshore business with unconventional onshore plays in North America, developing and operating fields safely and cost effectively, and always maintaining a sustainable profitable oil weighted portfolio. Its strategy includes balancing stable long-term production from North American onshore fields to offset cyclical production and volatility from offshore platforms.
The graph below shows its existing resources base as of December 2011 (EFS is Eagle Ford Shale, Msia is Malaysia). The pie chart (to the right) shows planned investments for 2013 with a focus on Eagle Ford and Malaysia, and developing Seal (E&P in Canada).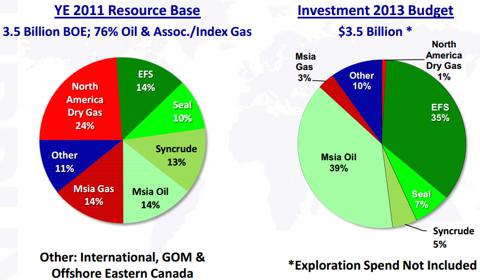 On the development front, Murphy is focused on opportunities in the Eagle Ford Shale region in East Texas, Tupper West in Canada, and a heavy oil project also in Canada, with new development, drilling and enhanced oil recovery techniques for higher output. Internationally, the company sanctioned six development projects in Malaysia and one in U.K.'s North Sea.
As of 2012, global production was well ahead of U.S. production and will likely stay higher in the coming years. In the U.S., production declines in Montney will be more than made up by gains at Eagle Ford.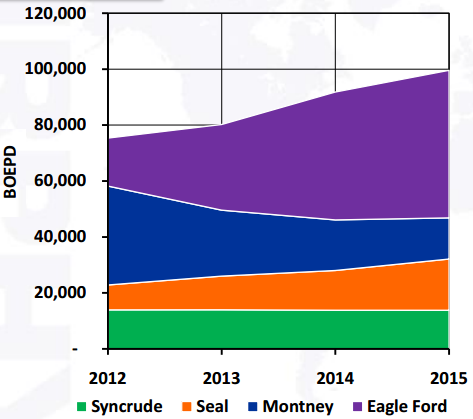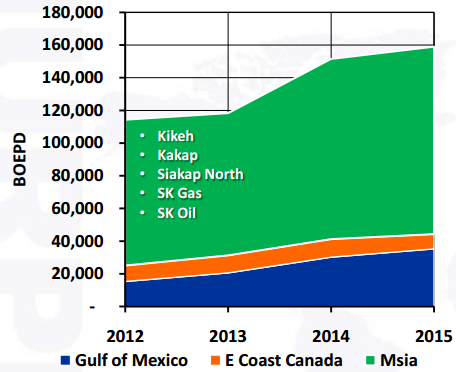 And, as the graph below shows, over the past 10 years, Murphy's exploration efficiency has been well above its peers on value creation per dollar invested.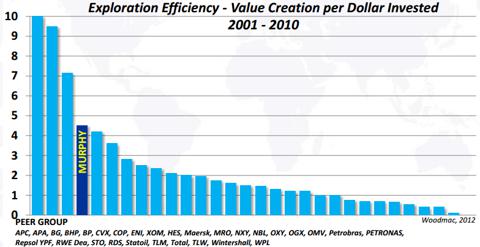 Spinoff
On October 16, 2012, Murphy announced plans to spin off its U.S. downstream operations - Murphy Oil USA Inc. - to shareholders as an independent publicly traded company. With this spinoff, the company plans to pay a special dividend of $2.50 per share in addition to regular dividends, and plans to buy back $1 billion of outstanding common stock. As part of this transaction, it also plans to divest U.K. downstream operations and is reviewing options.
Spinoff Rationale
With two separate entities, the company hopes to free up each business to focus on its own strategic priorities with financial targets best suited to each market opportunity, so each business can allocate resources and deploy capital consistent with its strategic goals, and so investors can value each business independently based on its performance and prospects.
After the spinoff, Murphy USA (new entity) will continue its retail gasoline and convenience merchandise operations and own seven distribution terminals and two ethanol facilities in Texas, and North Dakota. Murphy Oil, the parent company, will become an independent E&P company focused on operations in the U.S., Canada and Malaysia. UK downstream operations will remain with the parent till they are divested.
The spinoff is intended to be a tax free transaction to existing shareholders and is expected to be finalized in 2013.
After the transaction, Murphy Oil will be a global E&P company with over 500 million barrels of oil equivalent (MMBoe) in reserves, with strong production growth prospects.
Seal acquisition
On November 13, 2012, Murphy Oil announced an agreement with Shell Canada Energy whereby Murphy would purchase additional interests in Shell's Seal Lake operations and become their primary operator. Terms of the acquisition were not disclosed.
This acquisition covers 148,531 acres and associated plant and equipment, with production of 2,200 barrels of oil equivalent per day and 14 million barrels of oil equivalent in proved and provable reserves. This acquisition will be completed by year end 2012.
Upon completion on the Seal acquisition, Murphy will have 331,000 acres in the region with total production of over 9,000 barrels of oil equivalent per day. Through this acquisition Murphy plans to further its production and enhanced oil recovery applications. Murphy expects production at Seal Lake to ramp up 25% annually over the next three years.
Summary
Murphy Oil, the surviving parent company, offers a focused play on oil production with a balance between North America and high impact offshore exploration programs, with a history of regularly paying dividends and conservative management focused on operational excellence.
Proposed 2013 Spinoff
With Murphy USA, investors get increased liquidity with the unlocking of value and a focused retail downstream play.
Murphy's earlier spinoff of its timber business has done well for shareholders and handily outperformed the market since 1996.
While Murphy does not trade at a discount to its book value, this spinoff could unlock hidden value and benefit shareholders. However, special situations such as spinoffs are often accompanied by decreases in share price as institutional holders look to offload their holding. So investors could also consider averaging their investments over an extended period.
The brass tacks
Murphy is a well-capitalized, well run operation with solid growth prospects in Eagle Shale, Seal and Malaysia, and this spinoff could just be a prelude to an acquisition by a bigger player (or not… time will tell). In any case, the fundamental soundness of this company and its willingness to divest non-core operations is a positive. In spinoffs, shares of the parent and child company often rise in tandem, so investors could consider this as a potential income generating holding.
Disclosure: I am long MUR. I wrote this article myself, and it expresses my own opinions. I am not receiving compensation for it (other than from Seeking Alpha). I have no business relationship with any company whose stock is mentioned in this article.