Electronic Arts (NASDAQ:EA) is not going to be singing jolly tunes this Christmas. Its lack of an appealing new line of console and PC games, coupled with a desperate attempt to recover players in its online games ,are shaping up to form a disappointing third and fourth quarter for the game producer.
EA develops, markets, publishes and distributes video games for use on platforms including video game consoles, PC and tablets and smartphones. Most notably, EA is behind the production of several big name video game franchises such as Battlefield and Mass Effect, and the major sports video game titles including the FIFA and NHL franchises. EA also owns PopCap Games Inc. and produces games for mobile devices and tablets under this brand.
1) The Current Picture
EA is currently trading at $14.74, which is up from its 52 week low of $10.77. The price to earnings ratio on the shares is 1,506 which is well in excess of the S&P average of 14. There is an average Hold recommendation by analysts with a target share price of $15. Furthermore, EA was downgraded from two to one star on October 31, 2012 by S&P.
| | | | | | | |
| --- | --- | --- | --- | --- | --- | --- |
| Period Ending | Sep-12 | | Jun-12 | | Mar-12 | |
| Total Revenue | 711 | | 955 | | 1368 | |
| Cost of Revenue | 445 | 63% | 205 | 21% | 374 | 27% |
| Research Development | 314 | 44% | 290 | 30% | 284 | 21% |
| Selling, General and Administrative | 311 | 44% | 231 | 24% | 337 | 25% |
| Non Recurring | -2 | 0% | 7 | 1% | 2 | 0% |
| Others | 7 | 1% | 7 | 1% | 6 | 0% |
| | | | | | | |
| Operating Income Before Taxes | -364 | | 215 | | 365 | |
Source: Yahoo Finance
This year to date, EA has been able to generate steady sales but has not been consistently profitable. The large expenditures that go into R&D and SGA eat away the vast majority of the gross revenues. Furthermore, these expenses seem to show a relatively poor correlation with sales, with R&D consistently increasing and SGA fluctuating based on the timing of video game releases.
2) Video Game Industry
The high level of expenses incurred is not in my opinion the result of poor cost-control or inefficiencies on the part of EA. Consumers are demanding more from their video-games, and there is an underlying trend in the industry where big-name and top-selling titles are generating much stronger sales than lesser known or older games. Accordingly, big name producers like Activision Blizzard (NASDAQ:ATVI) and Microsoft (NASDAQ:MSFT) are investing heavily into their franchises to keep their market shares and attempt to meet consumer demands.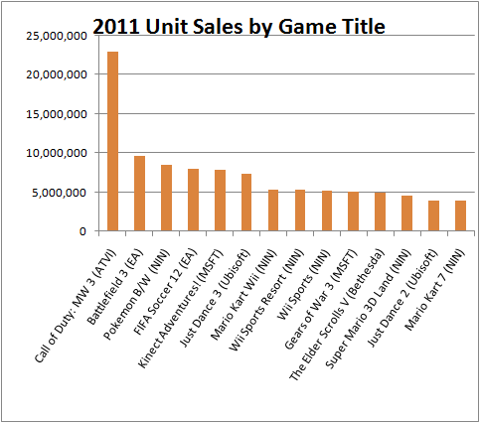 Source: vgchartz.com
EA is competing with developers to capture the big markets with its game titles. Like its competitors it has to make a substantial financial commitment to support its titles and aim them for the top spots. As a result, if the games fail to reach this level, the developer does not stand a chance at recovering its investment. This seems to be a recurring theme for EA this current year, as several of its big name titles have not been able to deliver the expected results:
· Medal of Honor, a long-standing series which together with Battlefield were supposed to compete with ATVI's Call of Duty series, has yielded disappointing results since its release this year. Despite being on the market for 3 weeks, sales have barely reached 0.5M units.
· Need For Speed, another timeless classic, has suffered a streak of disappointing releases, with the latest one selling 0.27M in its 2 weeks on the market.
Two titles released by EA have delivered stronger results this year:
· FIFA 13, the soccer game, outsold its predecessor with 2.6M units sold in the first week, and a total of 4.3M copies to date. This title stands to be EA's strongest game again this year.
· Mass Effect 3, a sci-fi shooter also released earlier this year, is the second strongest title released with a total of 2.6M units sold since release in early 2012.
Competitor Activision Blizzard suffers the same fate with high SGA and R&D expenditures. On the other hand, ATVI is able to spread these expenses over a much larger sales base and deliver a much higher profit per dollar of sales. Its incredibly strong sales in the Call of Duty series allows it to run the same model as EA but with a much higher profit. The most recent release, Call of Duty: Black Ops II has already sold in excess of 6M units in its first week on the market.
Similarly, Microsoft's Halo 4 released several weeks ago has already risen to 3.8M copies sold the first week after its release.
What this means for EA is that there seems to be a recurring theme of relative underperformance by its titles compared to the heavy hitters released by competitors. The success of its competitors and its inability to match their level of sales exacerbates the poor profitability condition which EA currently suffers.
3) The MMORPGs
The massively multiplayer online role playing game Star Wars: The Old Republic (SWTOR) released this year is off to a slow start with subscribers falling below 1M this summer. The release has disappointed expectations and has not been the strong competitor to ATVI's World of Warcraft whose subscriber base jumped back over 10M after the release of the newest expansion pack.
EA responded by modifying the fee structure to include a free-to-play portion. The free-to-play structure has been developed in order to attract new players who would be willing to try the game out up to a certain level. Should they wish to continue after that level, they will have to pay for a subscription.
This fee structure was launched Monday, Nov 19th, and was followed by a rally in the markets boosting the share price by 5%, signaling strong investor confidence. While the markets were delighted to see this development, it could really be seen as a desperate last minute attempt to break even on a project. The results of the free-to-play fee structure are yet to be seen, and will likely have a strong impact on the future valuation.
4) The Holiday Season
The lackluster performance of EA during the course of this fiscal year will inevitably set higher expectations on the following two quarters before their financial year end in March 2013. The year ended March 2012 followed in a similar pattern, as it was strongly supported by the final two quarters which yielded 25% and 33% of the total sales in that year. The sales in the first two quarters of 2012 amount to $1,666M or just 40% of the total sales in FY 2012.
October 2012 (in Q3 2012) saw the release of Battlefield 3 which lifted with ease the sales of that quarter as the game sold 9.6M units in calendar year 2011 alone. Q4 of 2012 saw the release of Mass Effect 3 which as described previously was also well received. So the question stands, will they be able to replicate these figures for the coming quarters?
The coming soon page at EA games lists the following console game titles with the release dates as follow:
| | | |
| --- | --- | --- |
| Game title | Release Date | Predecessor Game unit sales |
| Army of Two: The Devil's Cartel | March 26, 2013 | 1.5M |
| Crysis 3 | February 2013 | 2.1M |
| Dead Space 3 | February 5, 2013 | 2.4M |
| Fuse | March 2013 | No Predecessor |
With no titles bound for the holiday season, EA will have to rely on sales from its recent titles including Medal of Honor and Need for Speed to carry these sales figures. With competitors just recently releasing Call of Duty Black Ops 2 by ATVI and Halo 4 by MSFT, it will be a tough market for those underperforming games to gain market share.
Projections for Q4 of 2013 are a little more positive with some larger title releases. Using the sales of the predecessor in the series to generate a rough estimate of the future sales of the games, the total of these three releases could generate approximately 6M units sales over their lifetimes. At an estimated retail price of $59.99 each, this would generate sales of $360M before direct costs. This may give Q4 2013 a well needed boost, but will certainly fall short of the sales from big name releases seen in Q3 and Q4 2012.
In the short-term outlook, the release of Nintendo's next generation console, the Wii U, will give EA a chance to re-sell its existing big titles as they will be re-released for this new console. These re-released titles will give EA a strong chance to improve its profitability as it will be using mostly existing content, and will have access to a large new market.
Conclusion
The Q3 2013 earnings release scheduled for January 30, 2012 will likely yield disappointing results given EA's poor positioning in the holiday season and the poor performance of its recent titles. The poor performance of its most recent titles leaves a bleak outlook for the near future.
EA may still have some room to recover as it does carry some large name titles that could drive strong future sales. Its announcement that it will begin re-releasing games on the Wii U console may provide some additional sales from existing content.
For the fiscal year ending in March 2013, the titles scheduled to be released in early 2013 may provide some relief from otherwise lackluster results, however this will likely be a very disappointing year for EA.
Disclosure: I have no positions in any stocks mentioned, and no plans to initiate any positions within the next 72 hours. I wrote this article myself, and it expresses my own opinions. I am not receiving compensation for it (other than from Seeking Alpha). I have no business relationship with any company whose stock is mentioned in this article.