Cypress Semiconductor (NASDAQ:CY) is a tricky company to understand. Unlike Intel (NASDAQ:INTC) or Qualcomm (NASDAQ:QCOM), they're highly diversified and don't have a single 'signature' product. Unlike a number of diversified players who are fast followers working on commodity technologies, Cypress works on both long and high-risk bets. One of these recent bets on solar power led to the creation and divestiture of the solar company - Sunpower (NASDAQ:SPWR). However Cypress simultaneously participates in a number of commodity technologies. This yin-yang personality makes them somewhat of a valuation challenge using traditional metrics. But here are 5 reasons that Cypress is both fundamentally and technically timely.
Accidental High Yielder. As can be seen in the YCharts dashboard below - while its dividend history is short, CY has increased dividend yield since it initiated a dividend. It currently yields a healthy 4.5% presently. While earnings projections are dour in tech across the board, CY trades at the low end of Price-to-Sales from a historical perspective.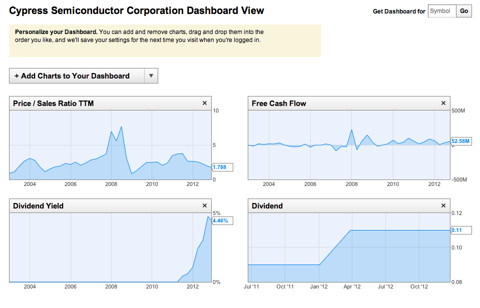 Significant Insider Buy. Cypress's CFO Brad Buss, was one of two insiders who made significant open market purchases at about $9.70/share. A closer look at Brad Buss's market transactions on insidercow.com indicates that Brad is savvy at buying low and selling high. For instance, he sold a significant amount of stock in the $21-23 range in 2011.
Favorable (Technical) short term view. The technical chart below (from stockcharts.com) shows that CY is trading above the 20-day moving average of $9.60 and on its way to the 50-day average of $10.25. The chart also shows that past upward crossings of these moving averages have been money making opportunities.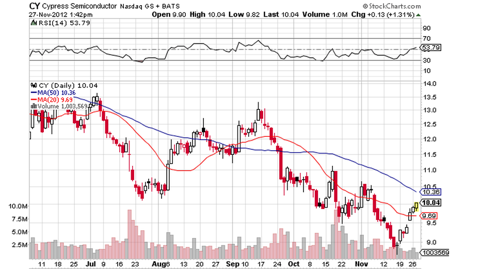 The Very,Very Long Term View. Now taking a 25 year view on the stock below shows that CY is comfortable being volatile and has survived many a scary moment in the merciless world of technology cycles. The chart also shows that the gain from low to high tends to be 10x, and we're closer to low than high.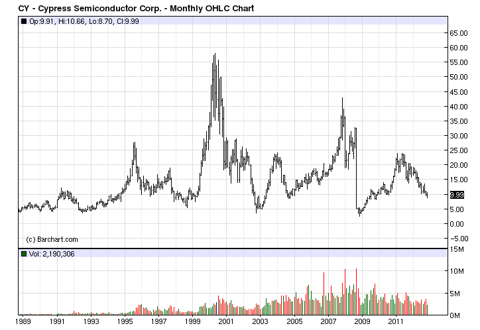 End of Year Rallies. As you can see from the chart below, stocks tend to rally at the end of year for various reasons ranging from holiday euphoria to hedge funds trying to catch up on performance. Typically, lower quality stocks tend to rally even more, because they are oversold from the October fund 'window dressing' activities. Cypress fits the bill of as being viewed as lower quality and oversold.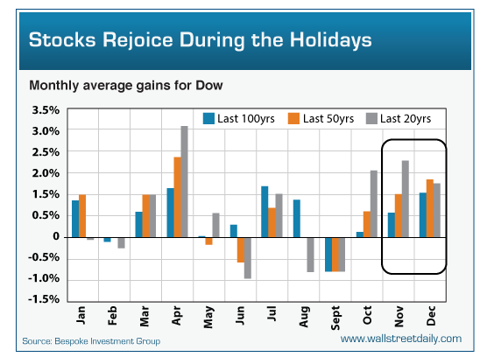 Cypress is not for the faint of heart, and neither is technology investing. But if your research leads you to Cypress, then some of these thoughts might help you understand why now might be a good time.
Disclosure: I am long CY. I wrote this article myself, and it expresses my own opinions. I am not receiving compensation for it (other than from Seeking Alpha). I have no business relationship with any company whose stock is mentioned in this article.