Facebook (NASDAQ:FB) shares have staged a strong rally recently, breaking through a $24 level that had been one of resistance over the past few months. The latest boost to shares has come from a series of positive notes from wall street analysts. It appears that Facebook analysts are starting to warm up to the stock. The real question is should investors do the same after a 36% rally?
Positive Analyst Notes:
Monday morning saw a flurry of analyst activity regarding Facebook. Bernstein analyst Carlos Kirjner, formerly a bear on the name, upgraded the stock to Outperform, and raised his price target from $23 to $33. Kirjner provided the following commentary:
"Monetization of mobile gives Facebook more time to address challenges," he writes, expecting a series of earnings beats (or upward revisions to estimates) over the next year."
Later that morning, another Facebook bear changed his tune on the company. This time it was BTIG's Richard Greenfield, who upgraded the stock from a sell to neutral. Greenfield's premise is that Q4 for Facebook will be huge because the company is stuffing more ads onto its mobile app. Greenfield raised his 2013 revenue forecast to $6.0 billion from $5.6 billion, and his adjusted EBITDA forecast to $3.3 billion from $3.0 billion. Greenfield thinks 2012 Q4 ad revenues will soar by 50% year over year, compared to a 36% year over year rise in 2012's Q3. Overall, Greenfield expects ad revenues to rise by 42% for the quarter, and total revenues to come in at $1.55 billion. That's well above the $1.49 billion current average on the street.
Tuesday morning, analysts at Sterne Agee reiterated their "Buy" rating on the stock and increased their price target from $26 to $32. In a note to clients, analyst Arvind Bhatia stated:
"We continue to believe FB's market opportunity remains quite large...With improved visibility on the company's mobile transactions, the majority of the lock-up expirations now behind us, and the potential opportunity from new products, we remain positive on FB shares."
Overall Opinion / Estimates:
It is clear that analysts have become more positive on the name after Facebook's strong third quarter. The following table shows the average analyst revenue and earnings forecast for 2013 going back to June.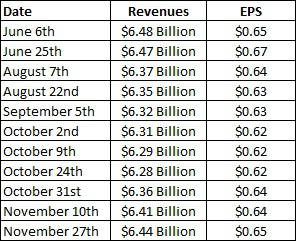 Now the October 24th estimate was before the company announced Q3, and coincidentally, marks the lowest numbers. Since then, estimates have been creeping up, and I think they probably will continue this trend for the short term. Analysts are now starting to believe in Facebook's mobile strategy, which was a big sore point a few months ago. Skepticism over Facebook's mobile monetization was one of the key reasons why the stock kept getting knocked down.
The average price target among analysts has also stabilized. In many of my past Facebook articles, I talked about how the average price target had declined from $38 earlier this year all the way down to $28 just a month or so ago. Currently, the average target stands at $28.59, and I don't believe that includes the change in the Sterne Agee target above. While the average target is getting higher, Facebook shares have also gotten much closer to that target.
Facebook's Big Rally:
My last article detailed how Facebook was about to face its biggest test, a huge lock-up expiration of almost 800 million shares. There seemed to be some trepidation going into that expiration, with the believe that insiders would start selling a ton of shares. Facebook shares had fallen into the low $19s, putting them less than $2 from their public trading low.
Going into the expiration, shares closed the prior day at $19.86. Facebook appeared to pass the test, and shares soared. The 12.6% rally that day rivaled the post-Q3 reaction for Facebook's best day as a publicly traded company. Volume on the expiration day was nearly 230 million shares, topping the volume on the post-earnings day, and the highest volume day since Facebook's first day of trading.
But unlike the post-earnings rally, this rally did not fade. Facebook shares have continued higher, and I'm guessing that short covering has been part of it. The continued optimism from analysts has propelled the name higher still. Since November 9th's close, Facebook shares are up more than 36%, a huge rise.
Comparisons To Others:
Facebook is still a very expensive stock, trading at 50 times this year's currently expected earnings and about 40 times next year's. How does that compare to other names? Well, I've compared Facebook to both LinkedIn (LNKD) and Google (NASDAQ:GOOG). The following table shows current analyst growth projections for both revenues and earnings in 2012 and 2013 for each name.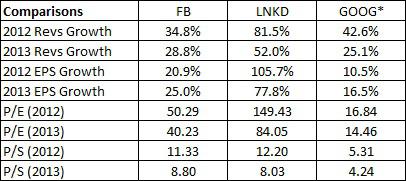 *Google's growth forecast includes Motorola Mobility acquisition.
Now, you might look at this and think LinkedIn trades for a huge premium, but LinkedIn is growing much faster than Facebook at this point. On a price to sales basis, Facebook is actually more expensive than both names for 2013. On a valuation basis, Facebook seems very expensive given the recent rally. Think about it this way. If Facebook were to command even a 20 times earnings multiple say two years from now, which would still be a significant premium to Google's current 14.46 P/E for 2013, Facebook would need to produce $1.31 in earnings per share to justify today's price. Given that 2013 expectations today call for just $0.65, that's a long shot. Even a 25 times multiple would require $1.05 in earnings by 2014.
Final Thoughts:
Facebook's stock has staged an impressive rally lately, as seen in the chart below. The analyst community has really jumped on board, especially as of late. Facebook has seemed to do best when expectations are low, with the Q3 earnings report and latest lock-up expiration being prime examples. At this point, I think shares might start to take a breather. Not everyone is convinced that Facebook will be able to monetize their user base, and their next chance to prove that won't be until mid or late January. With at least 6-8 weeks until their next earnings report, I would think that shares are about to start heading lower again. Facebook appears to be a decent short candidate on valuation currently. But I would recommend that each investor needs to figure out a price that they are comfortable shorting this name at. That could be at current levels or a higher amount if this rally were to continued.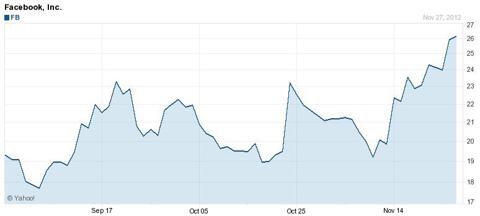 (Source: Yahoo! Finance)
Disclosure: I have no positions in any stocks mentioned, and no plans to initiate any positions within the next 72 hours. I wrote this article myself, and it expresses my own opinions. I am not receiving compensation for it (other than from Seeking Alpha). I have no business relationship with any company whose stock is mentioned in this article.
Additional disclosure: Investors are always reminded that before making any investment, you should do your own proper due diligence on any name directly or indirectly mentioned in this article. Investors should also consider seeking advice from a broker or financial adviser before making any investment decisions. Any material in this article should be considered general information, and not relied on as a formal investment recommendation.