The long-term prospects for Silver Wheaton (SLW) appear bright, as the company is on track for its best year ever with a production forecast of 28 million silver equivalent ounces for this year - and the company is forecasting to grow production to 48 million ounces by 2016 - that's a lot of silverware.
However, in Silver Wheaton's Q3 earnings results released on November 5, 2012, the company noted it produced 7.7 million silver equivalent ounces but only sold 5.1 million ounces. Due to the lower amount of silver sales and also due to lower silver prices, the company's revenues and operating cash flows were down year-over-year. And, since Silver Wheaton's dividend is tied to its cash flows, 20% of operating cash flows, its divided payment this quarter was also lower than in recent quarters.
Silver Wheaton is in the mining business, but doesn't actually own any mines. The company buys silver interest in the mines of other companies for which silver is secondary to the other company's primary mining target - such as gold. Silver Wheaton takes advantage of buying silver low and selling high, while also not having to invest in capital equipment in order to mine the silver it buys and sells.
When searching for new silver interests, the company looks for long-lived projects with low-cost operations and strong management teams which can survive all the phases of the commodity price cycle. Additionally, the company focuses on deals having exploration or expansion upside. Silver Wheaton provides needed capital to mining companies where access to traditional forms of financing, such as debt and equity, are challenging.
On the bright side, Silver Wheaton expects the fourth quarter to pick up, as many mining companies have historically drawn down inventory in the fourth quarter.
Silver Wheaton's stock price has been up and down and back up over the last year as shown below: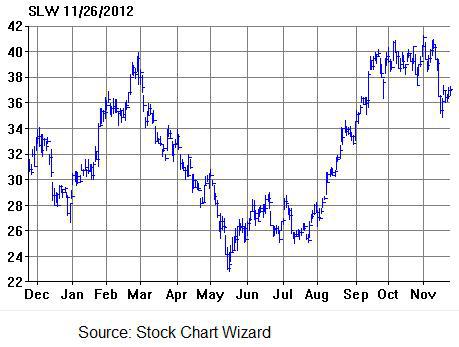 The company's stock price has taken a hit over the last couple of weeks, and this could be a good time to enter a position in Silver Wheaton. However, an investor should tread carefully with this company as it has a pricey Price-to-Earnings ratio (P/E) of 24 and a very pricey Price-to-Sales ratio (P/S) of 19. An investor might consider entering a married put position for the company, as the married put provides limited downside, in case the price of silver plummets, and unlimited upside. So if Silver Wheaton's stock price tanks, an investor doesn't get bit too bad, and if the stock price increases, an investor stands to benefit.
The married put may be entered by purchasing a put option against a long position in the stock. The put option expiration is typically selected several months in the future in order reduce the per day cost of the put option "insurance."
Using PowerOptions, a variety of married put positions with June 2013 expiration are available for Silver Wheaton as shown below: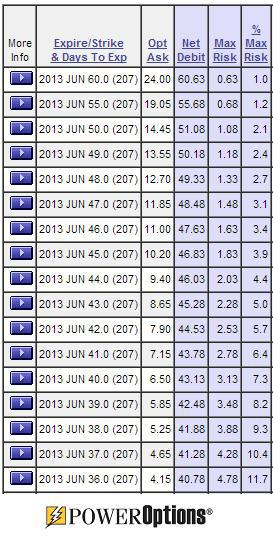 The married put using the 2013 Jun 39 put option looks attractive with a maximum percent loss of 8.2%. However, when taking into account Silver Wheaton's expected dividend payment during the holding time, the percent maximum loss is reduced slightly to 8%. So, even if the price of Silver Wheaton's stock goes to zero, the maximum loss which can be sustained is 8%. The details for the Silver Wheaton married put trade are shown below:
Silver Wheaton Married Put Trade
Buy SLW (existing or purchased)
Buy SLW 2013 Jun 39 Put at $5.85
A profit/loss graph, including the expected divided payment, for one contract of the Silver Wheaton married put is shown below: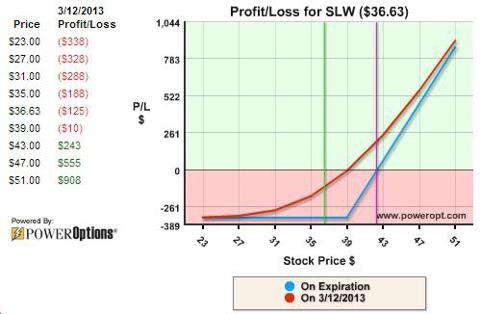 For a stock price below the $39 strike price of the put option, the value of the married put remains unchanged. If the price of the stock increases, the married put position also increases. And, if the price of the stock increases to above the $39 strike price of the put option, then income methods may be applied in order to receive income and reduce risk.
Look forward to hearing your comments below!
Disclosure: I have no positions in any stocks mentioned, and no plans to initiate any positions within the next 72 hours. I wrote this article myself, and it expresses my own opinions. I am not receiving compensation for it (other than from Seeking Alpha). I have no business relationship with any company whose stock is mentioned in this article.